MLB.com Columnist
Richard Justice
Though young, Gallo may hit ground running
Leap from Double-A a tall order, but slugger has natural ability to learn quickly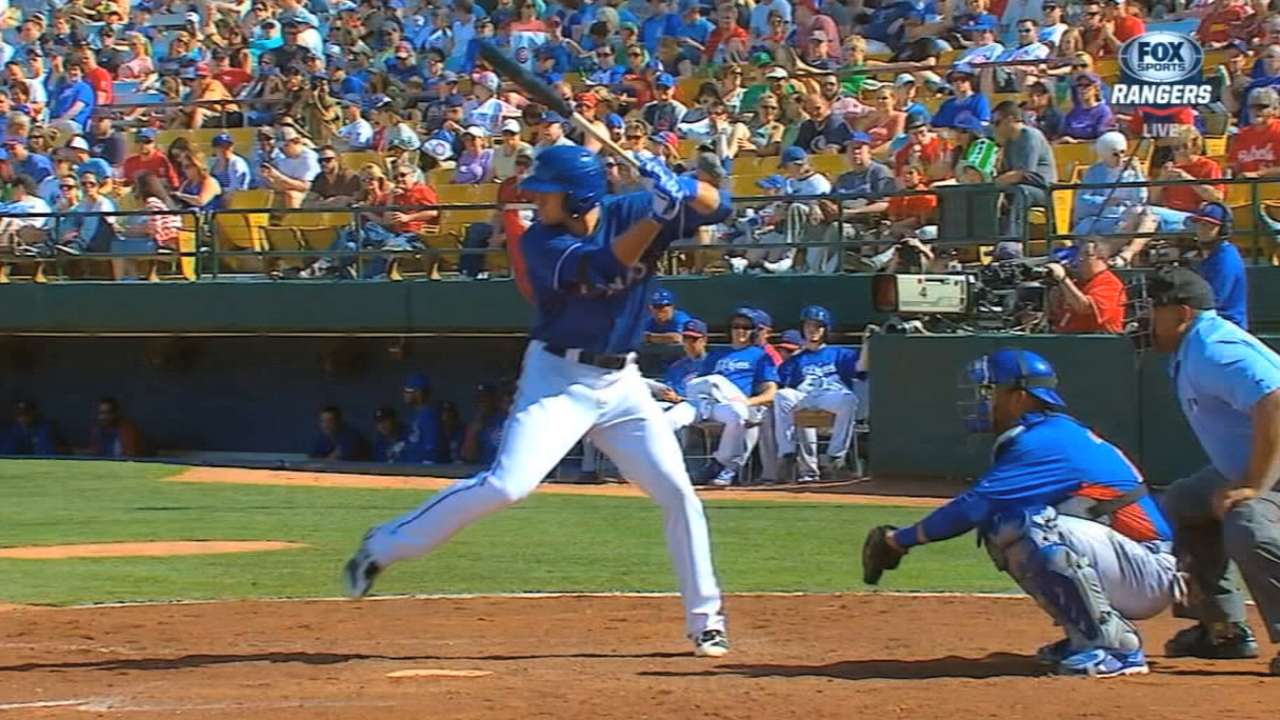 When the Texas Rangers summoned 23-year-old right-hander Chi Chi Gonzalez to the Major Leagues last week, they did so reluctantly. He was pitching at Class A Advanced at this time last year, and his resume included just 14 starts at Double-A and eight at Triple-A.
In a perfect world, the Rangers would have preferred to see Gonzalez pitch more in the Minor Leagues, to let him polish his stuff, build up arm strength and continue to figure things out.
"But," Rangers general manager Jon Daniels said, "sometimes circumstances dictate a different timetable."
While Daniels was low-key about what he expected from Gonzalez on Saturday night against the Red Sox, he was also thrilled. The Rangers have a deep farm system, one of the deepest in the game, and Daniels couldn't wait to see what Gonzalez, Texas' No. 5 prospect, could do.
These are potentially franchise-changing moments. The Rangers have sprinted back into contention by winning 18 of 27 despite having five starting pitchers on the disabled list. In 24-year-old Nick Martinez, they already have one of baseball's best young starters.
If Gonzalez had pitched well, he would've added to a growing sense of optimism about the franchise. He didn't disappoint, blanking the Red Sox for 5 2/3 innings and earning the victory.
The Rangers have made a similar decision regarding 21-year-old third baseman Joey Gallo, who will make his Major League debut on Tuesday night against the White Sox in Arlington.
Is Gallo ready? Who knows? He has dominated Minor League pitching, and now it's time to find out what else he's capable of.
Fans have awaited the arrival of Gallo -- Texas' top prospect and the ninth-best prospect in the game, according to MLB.com -- for a couple of years. There'll be an extra buzz in the ballpark and clubhouse.
At a time when power is the thing every organization wants more of, Gallo hit 82 home runs from 2013-14. And in Spring Training this year, Gallo held his own, hitting two home runs and running up an .802 on-base plus slugging percentage in 32 at-bats.
In 34 games at Double-A Frisco this season, Gallo has looked plenty ready, hitting nine home runs with a 1.061 OPS. His on-base percentage is .425.
Just as the Rangers were about to promote Gallo to Triple-A, their regular third baseman, Adrian Beltre, sustained a sprained left thumb that will sideline him for at least two weeks.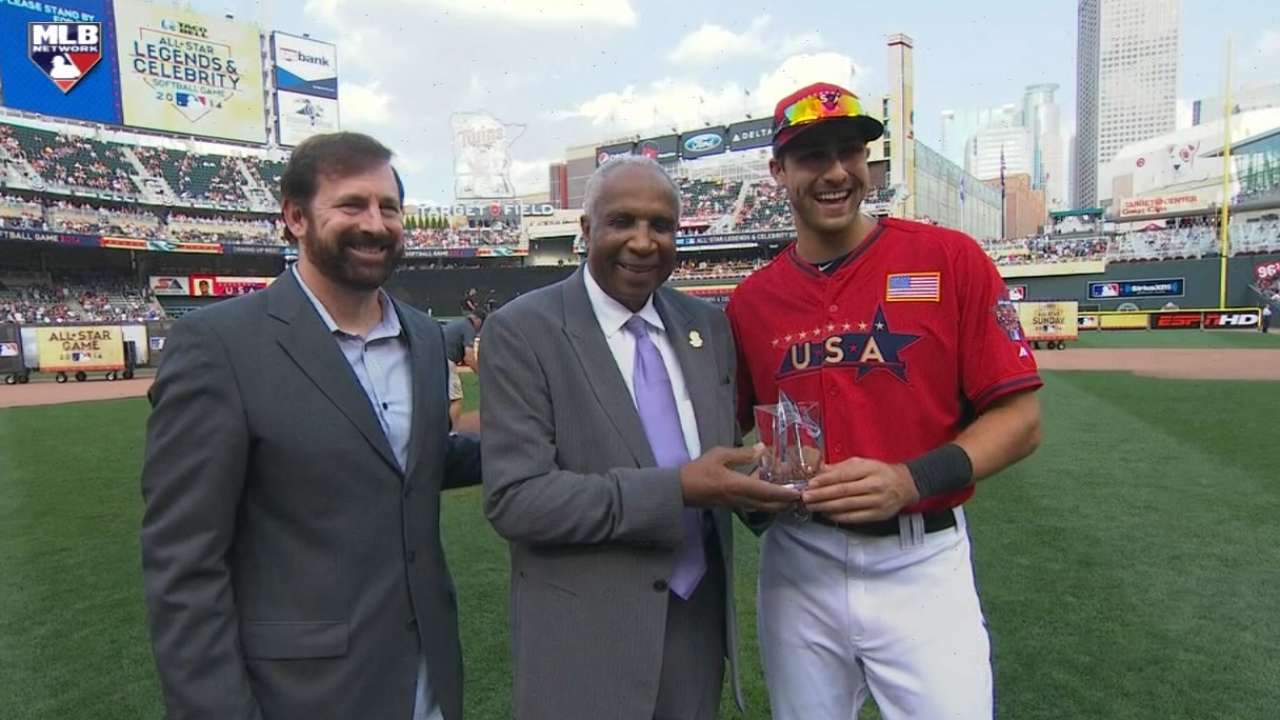 So just as Daniels and his staff did last week with Gonzalez, they're going to give Gallo a look. Daniels emphasized that Gallo will play only until Beltre returns.
That's probably true. Beltre is Texas' undisputed leader, a borderline Hall of Fame player on the field and a tremendous leader off it.
On the other hand, these things usually work themselves out. All kinds of things happen during a six-month season.
If Gallo shows he can play, there's a great chance the Rangers will find a place for him, either immediately or very soon. Regardless, it's the right time.
Some guys are different. Baseball teams have rewritten these kinds of development charts in recent years. From Mike Trout, Madison Bumgarner and Bryce Harper to Manny Machado, Clayton Kershaw and Giancarlo Stanton, the best young players are getting opportunities they might not always have gotten.
In doing so, teams have discovered that talent wins out. Maybe guys struggle. Maybe they have more to figure out. But if the best young players are as good as scouts and other evaluators think they are, they will hold their own.
And they might just make the difference between finishing first and second.
Here's the other part of this deal. Baseball's best managers know how to put young guys in a position to succeed. They know how to nurture their confidence and help them deal with the game's inevitable failures. One of the reasons the Cubs wanted Joe Maddon as their manager is because his track record at these things is as good as anyone's.
And Texas manager Jeff Banister, a Clint Hurdle protégé, is excellent at it as well. The Rangers have the right environment. Beltre will be important in helping the kid gain acceptance.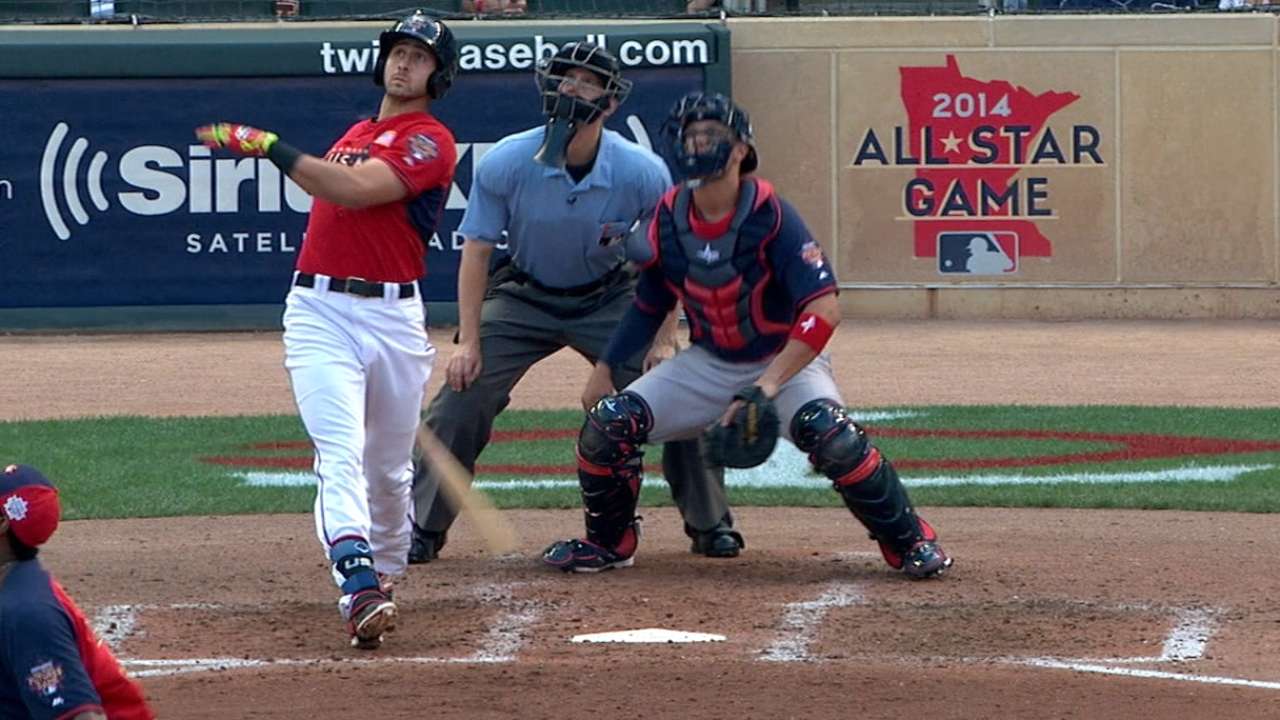 Veteran first baseman Prince Fielder will help, too. He'll throw an arm around the kid and tell him he also made his debut at 21. Fielder had a few tough days along the way, but in the end, his talent won out. The more he played, the more comfortable he got.
If Gallo has to go back to the Minors for another stint, so be it. He will have a working blueprint for getting back.
Gallo might also never go back because his talent is special enough to allow him to learn on the fly. Besides that, is he really going to benefit all that much by going to Triple-A and facing borderline guys?
Gallo is ready for the big time.
Let's find out how ready.
Richard Justice is a columnist for MLB.com. Read his blog, Justice4U. This story was not subject to the approval of Major League Baseball or its clubs.