Manfred meets with Cardinals players, staff
MLB Commissioner speaks with club before opener vs. Brewers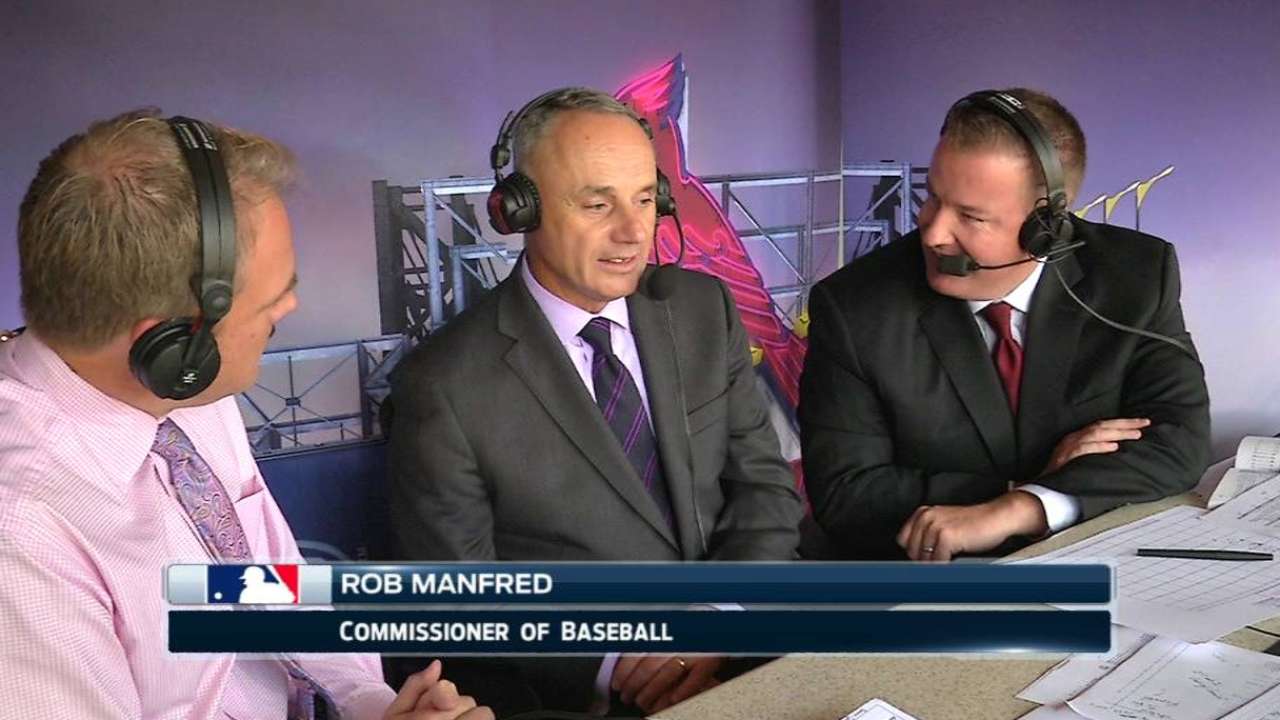 ST. LOUIS -- Mike Matheny didn't know the exact agenda for his team's Monday meeting with first-year Commissioner Rob Manfred prior to the Cardinals' series opener with Milwaukee.
"I'm not in trouble, I don't think," the St. Louis manager joked.
In case there was any confusion, Manfred cleared it up while talking to the media in the Busch Stadium home dugout minutes before entering the clubhouse for a 5:15 p.m. rendezvous with the Cardinals players and staff.
"I'm in town as part of my ongoing effort to speak to the players on all the teams," Manfred said. "I'm in the 20s as far as teams I've met with, so it's St. Louis' turn today. The main purpose is just to give the players a chance to see me in person, hear me talk about the game a little bit at a time when there's not a huge issue between the owners and the players. Just give them a chance to get to know me a little bit."
MLB Commissioner Rob Manfred talks with the media. #STLCards pic.twitter.com/6dhbZPhUCH

— St. Louis Cardinals (@Cardinals) June 1, 2015
Manfred also spent plenty of time fielding questions about the game's hot topics from the press, covering the designated hitter, playoff format, potential games in Cuba and more while the Cardinals wrapped up batting practice.
"My guess now is that we'll have Major League players playing in Cuba next spring during Spring Training," Manfred said. "That would be my best guess based on the state of conversations with the government."
Manfred said his office has control over which teams would play in Cuba, but expressed that having exhibition games in Cuba won't be "a finite opportunity."
Though baseball has introduced instant replay and a Wild Card Game to the playoffs, the Commissioner expressed no desire to see a change in the current designated hitter rule.
"I am not a believer that there needs to be a consistent policy for both leagues," Manfred said. "I don't have a lot of dissonance about the fact that the American League plays one way and the National League plays the other. I think it's a topic that people like to debate, and I think that's a good thing for the game. When people are talking about the game that's a good thing for the game, and I'm perfectly content with the status quo."
Another rule that consistently generates conversation among fans and media is that World Series home-field advantage goes to the team representing the league that wins the All-Star Game, not necessarily the team with the better record.
"I think that the rule we have right now is very important in terms of maintaining the competitiveness of the All-Star Game," he said. "It is the best All-Star Game in professional sports. I think the rule has been an important part of keeping it the best All-Star Game in professional sports, and I think that's important for our fans."
Manfred said he looked at numbers Monday morning concerning the level of offense in Major League Baseball, and 22 teams scored more than 700 runs in 2009, compared to just eight in 2014.
"We're going to continue to monitor it," he said. "It's obviously a topic of concern, but we haven't made up our minds yet if it's something that will even need to be addressed. It may self-correct."
David Cobb is an associate reporter for MLB.com. This story was not subject to the approval of Major League Baseball or its clubs.