Mariners promote Guaipe, option Taylor
Reliever helps taxed bullpen with 2 1/3 perfect innings in big league debut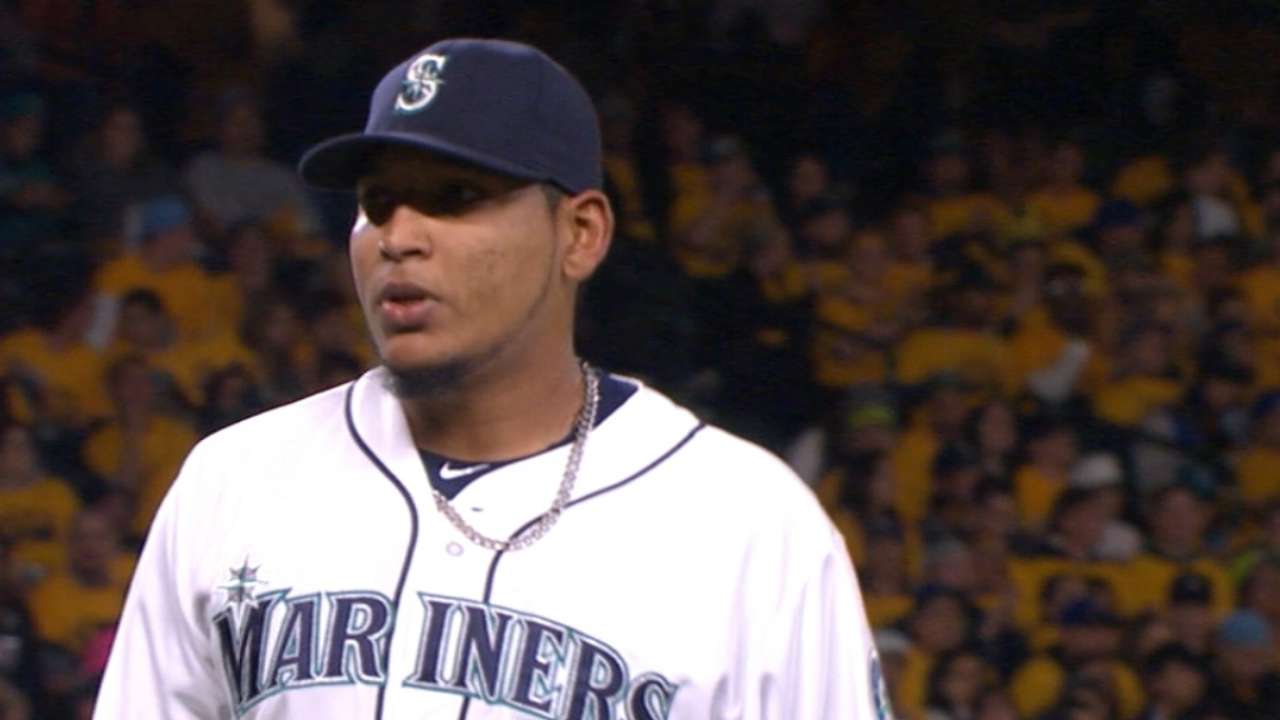 SEATTLE -- The Mariners moved to solidify their bullpen on Monday, recalling young right-hander Mayckol Guaipe from Triple-A Tacoma and optioning shortstop Chris Taylor to Tacoma.
Guaipe, 24, provides a fresh arm for the bullpen, and it didn't take long for him to make his Major League debut on Monday, delivering 2 1/3 innings of perfect relief with two strikeouts after taking over for Felix Hernandez, who allowed seven runs in 4 2/3 innings in a 7-2 loss to the Yankees in the series opener.
"The Cleveland series was a little tough for us," said manager Lloyd McClendon, who used all seven of his relievers in Sunday's 6-3, 12-inning loss. "This gives us a chance to manipulate the roster a little and bring up another arm. He's a power arm with a power slider. He throws strikes. He knows what he's doing. He's got a bright future."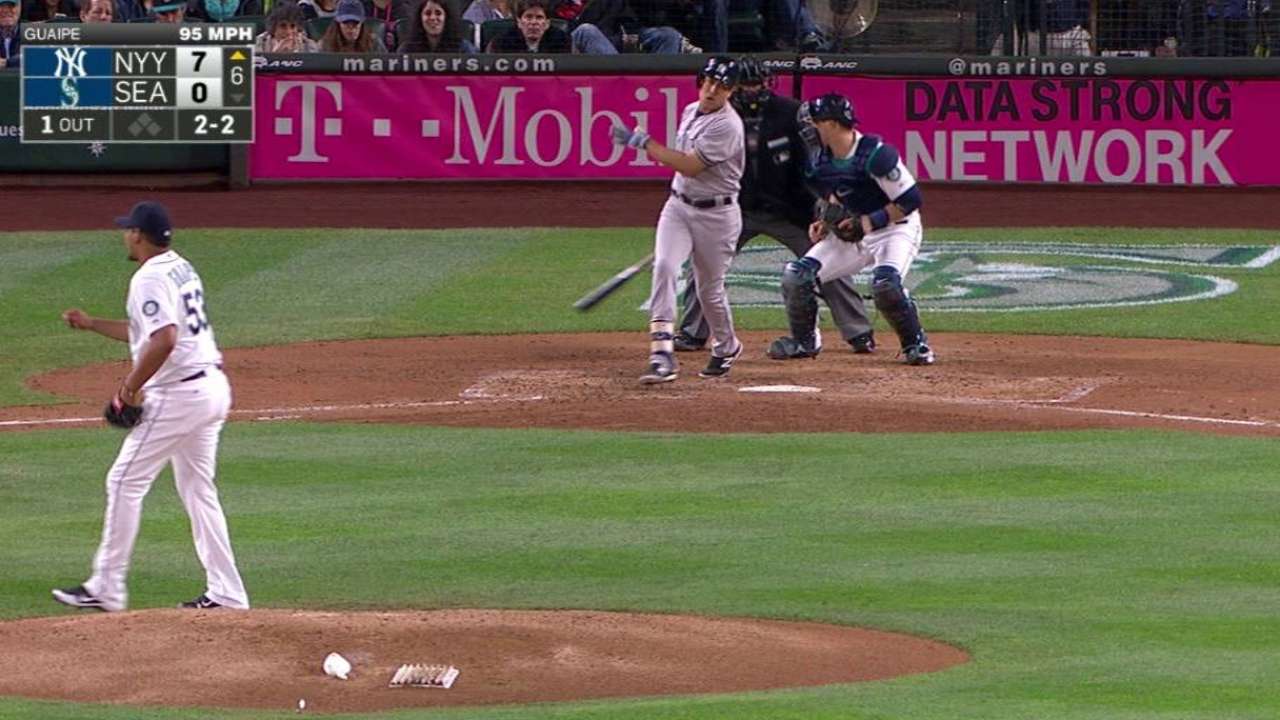 Taylor, 24, had been called up from Tacoma on May 4 to take over the starting shortstop duties, but he hit just .159/.221/.206 in 20 games and McClendon had gone back to using Brad Miller more at shortstop in the past week after initially shifting Miller to a utility role.
"I love the kid and think he's going to be a tremendous shortstop in this league," McClendon said of Taylor. "But at the same time, I cannot allow him to continue to swim uphill. It's tough to straighten things out at this level when you're facing [Chris] Archer, [Corey] Kluber, [Trevor] Bauer, [Michael] Pineda, [CC] Sabathia. He needs to step back. This gives him a chance to relax, take a breather and get it back together."
The move means Miller is back at shortstop on a daily basis after playing all three outfield positions as well as second base and designated hitter last month.
"Brad is a nice player. He was our shortstop last year when we were 12 games over .500," McClendon said. "He's not chopped liver by any means. It's our job as an organization to make sure we put each player in position to be successful and, right now, Brad is going to play shortstop for us."
Guaipe, the Mariners' No. 22-ranked prospect, has a 4.58 ERA and three saves in 16 appearances for Tacoma, with three walks and 18 strikeouts in 19 2/3 innings. The native of Venezuela posted a 2.89 ERA with 12 saves in 40 games for Double-A Jackson in 2014.
"My first reaction was just happiness for me and my family," Guaipe said after finding out Monday morning he was headed to the Majors. "I've been waiting for this call for a long time. That's what we've worked for all these years. To be able to get that work done and get here, it's a great opportunity."
The Mariners will need to make another roster move on Tuesday to add starter Mike Montgomery to take the place of injured southpaw James Paxton, who went on the 15-day disabled list on Friday with a strained finger tendon. They currently have an eight-man bullpen with Guaipe's addition, so it's likely they'll send down a reliever now that they've sorted out their position-player logjam by demoting Taylor.
Greg Johns is a reporter for MLB.com. Follow him on Twitter @GregJohnsMLB, read his Mariners Musings blog, and listen to his podcast. This story was not subject to the approval of Major League Baseball or its clubs.