Rangers to call up top prospect Gallo; Beltre on DL
Either way, Joey Gallo was getting a promotion on Tuesday.
The Rangers had been planning to send Gallo, their top prospect, to Reno, Nev., to join Triple-A Round Rock. Instead he is heading to Arlington to make his Major League debut.
Texas will purchase Gallo's contract from Double-A Frisco before Tuesday's game against the White Sox and place him on the active roster to replace injured third baseman Adrian Beltre.
"We called him up with the intent that he's going to play," general manager Jon Daniels said.
But it will be a short-term stay for Gallo, the ninth-ranked prospect in all of baseball, according to MLBPipeline.com. Daniels made it clear on Monday that Gallo will be sent down when Beltre returns.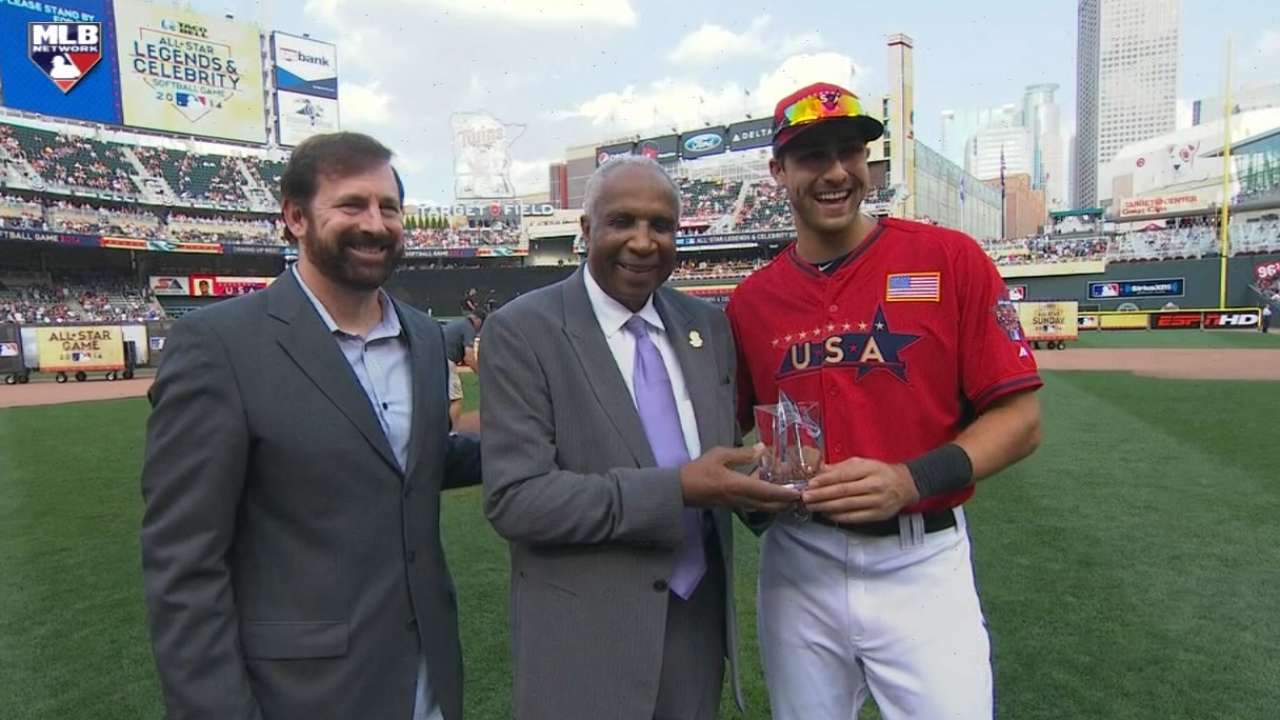 "There's not going to be any quarterback controversy," Daniels said. "He can come up, do what he can do and just help the club. He doesn't have to hit in the middle of the order and carry anybody."
Gallo hit .314 with nine home runs and 31 RBIs in 34 games for Frisco, with all nine homers coming in his 23 games since May 6, tied with Triple-A Fresno's Jon Singleton for the most in the Minors during that span.
The left-handed-hitting Gallo led the Minors with 40 home runs in 2013, and he ranked second last year with 42 while being named the Rangers' Tom Grieve Minor League Player of the Year. He also became the first Minor Leaguer with back-to-back 40-homer seasons since White Sox player Ron Kittle in 1981-82.
"He's uniquely talented and has been productive throughout his Minor League career," Daniels said. "That being said, the big leagues are tough. They're a challenge."
Part of the reason the Rangers felt comfortable calling up Gallo now, Daniels said, is the success they've had recently. Texas has won nine of its last 11 games and finished 19-11 in May to climb back above .500.
The Rangers intend to continue Gallo's development in the Minors, and they believe a short stint in the Majors could be beneficial.
"When the time does come and he goes back to the Minor Leagues, he'll have a clear idea of what he needs to continue to work on," Daniels said.
That time should come in about three weeks, when Beltre is expected to return. Texas placed him on the 15-day disabled list on Monday with a sprained left thumb, an injury sustained while sliding into second base during the fifth inning of Sunday's 4-3 win over the Red Sox. Beltre also suffered a laceration of his thumb that required four stitches, but the X-rays came back negative.
Adam Berry is a reporter for MLB.com. Follow him on Twitter at @adamdberry. This story was not subject to the approval of Major League Baseball or its clubs.