Two first-round picks gives Tigers Draft flexibility
Detroit has been surveying college pitchers, but could go with big bat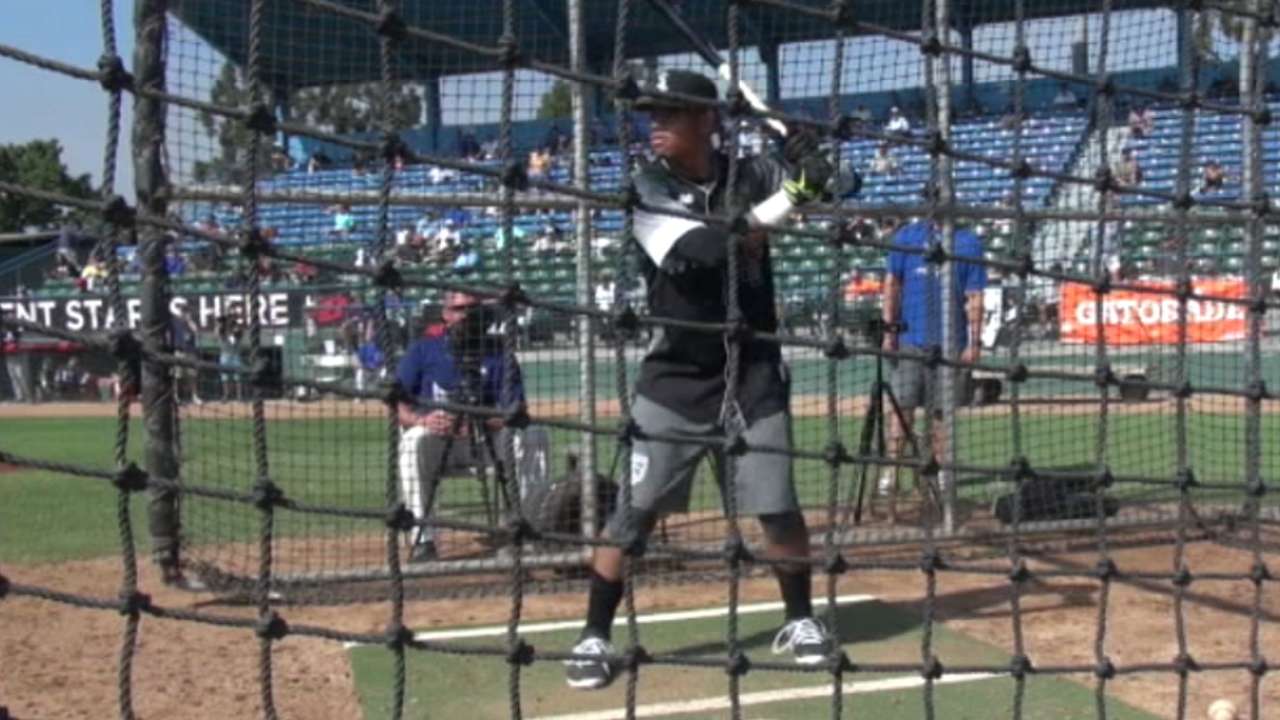 The 2015 Draft will take place from Monday through Wednesday, beginning with the Draft preview show on MLB.com and MLB Network on Monday at 6 p.m. ET. Live Draft coverage from MLB Network's Studio 42 begins at 7 p.m., with the top 75 picks being streamed on MLB.com and broadcast on MLB Network. MLB.com's exclusive coverage of Day 2 begins with a live Draft show at 12:30 p.m. on Tuesday, with exclusive coverage of Day 3 beginning at 1 p.m. on Wednesday.
MLB.com's coverage includes Draft Central, the Top 200 Draft Prospects list and Draft Tracker, a live interactive application that includes a searchable database of over 1,700 Draft-eligible players. Every selection will be tweeted live from @MLBDraftTracker, and you can also keep up to date by following @MLBDraft. And get into the Draft conversation by tagging your tweets with #mlbdraft.
In about 50 words
The Tigers have two first-round picks (Nos. 22 and 34) for the second time in three years, which is the compensation for losing free-agent pitcher Max Scherzer to Washington. The added pick, and extra bonus money that goes with it, gives Detroit the flexibility to take some chances to try to add talent to a system thinned out by recent trades.
The scoop
The Tigers have a standing philosophy of taking the best talent on their board with their early picks, regardless of need. They also believe they can never have enough pitching in their system, and last year aside, they have a recent track record of selecting college pitchers when they have a chance at a good one.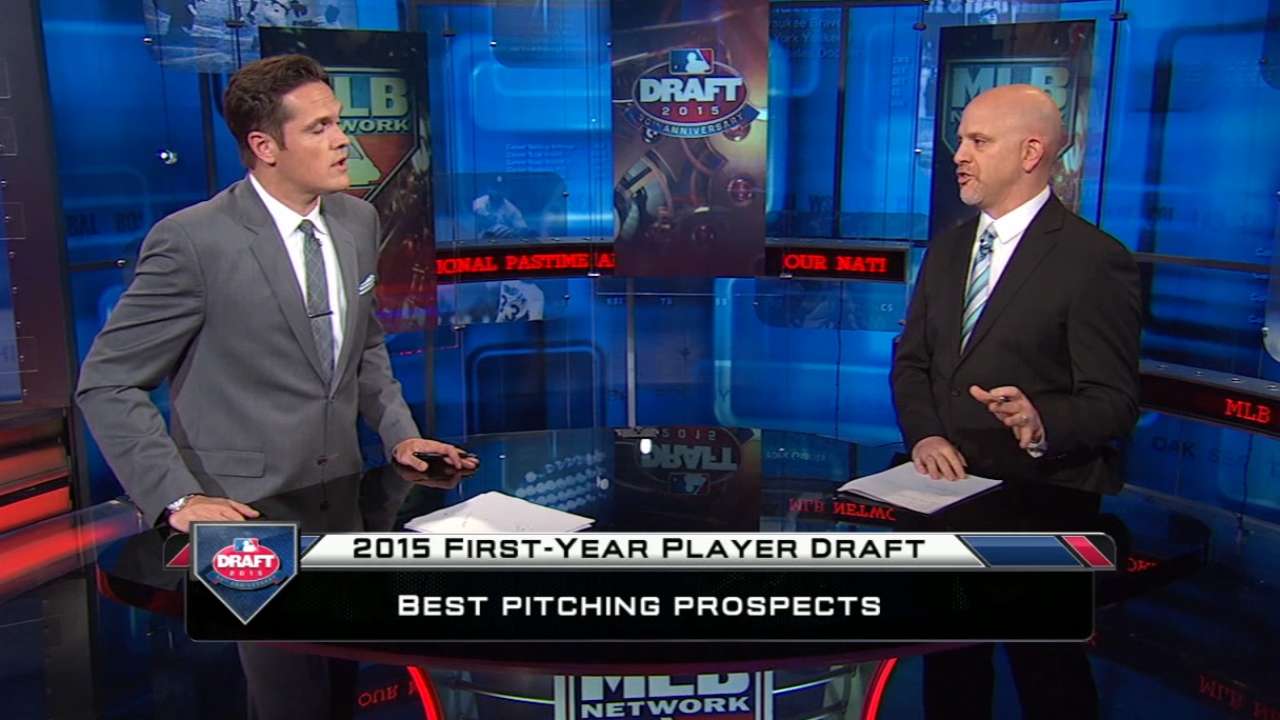 The Tigers hit the conference tournaments hard in May looking at arms. They have been linked in mock drafts with a variety of right-handers, including College of Southern Nevada teenager Phil Bickford, Louisville's Kyle Funkhouser, Cal-Poly Pomona's Cody Ponce, Vanderbilt's Walker Buehler and Duke's Michael Matuella, though Matuella seems unlikely after Tommy John surgery in April. However, there are also signs that Detroit could go back to the offensive route for a second straight year.
"I think we've proven we won't go one direction only," Tigers vice president of amateur scouting David Chadd said. "We're open."
First-round buzz
Chadd said the Tigers have a short list of five or six players for their top pick, scattered across positions and age levels. Detroit hasn't taken a local talent with its top pick since Rick Leach in 1979, but with Birmingham Brother Rice High School outfielder Nick Plummer projected to go in the first round, it's a possibility. Plummer has been all over the board in mock drafts, but until recently, he has been projected to be gone before the Tigers pick. The club knows Plummer well, as he's been around the ballpark for various activities, and he's the kind of athlete Detroit has gravitated toward when it has drafted position players.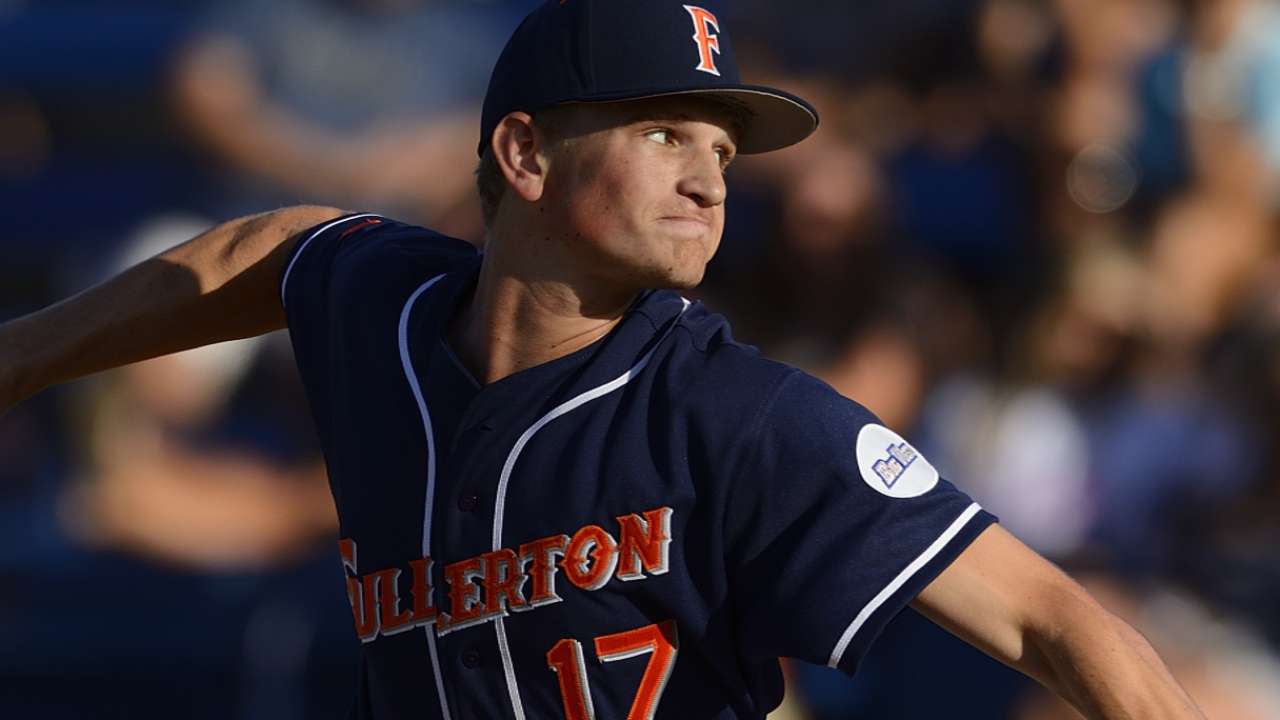 Money matters
Under the Collective Bargaining Agreement, each team has an allotted bonus pool equal to the sum of the values of that club's selections in the first 10 rounds of the Draft. The more picks a team has, and the earlier it picks, the larger the pool. The signing bonuses for a team's selections in the first 10 rounds, plus any bonus greater than $100,000 for a player taken after the 10th round, will apply toward the bonus-pool total.
Any team going up to 5 percent over its allotted pool will be taxed at a 75 percent rate on the overage. A team that overspends by 5-10 percent gets a 75 percent tax plus the loss of a first-round pick. A team that goes 10-15 percent over its pool amount will be hit with a 100 percent penalty on the overage and the loss of a first- and second-round pick. Any overage of 15 percent or more gets a 100 percent tax plus the loss of first-round picks in the next two Drafts.
The Tigers have a bonus pool of $7,114,300, 17th highest among the clubs. That includes a $2,154,200 bonus slot for their top pick at 22nd, and a $1,795,100 slot for their compensation pick at 34th. By contrast, Detroit's pool was $4,890,200 last year without a compensation pick, giving the team the sixth-lowest amount of money to spend.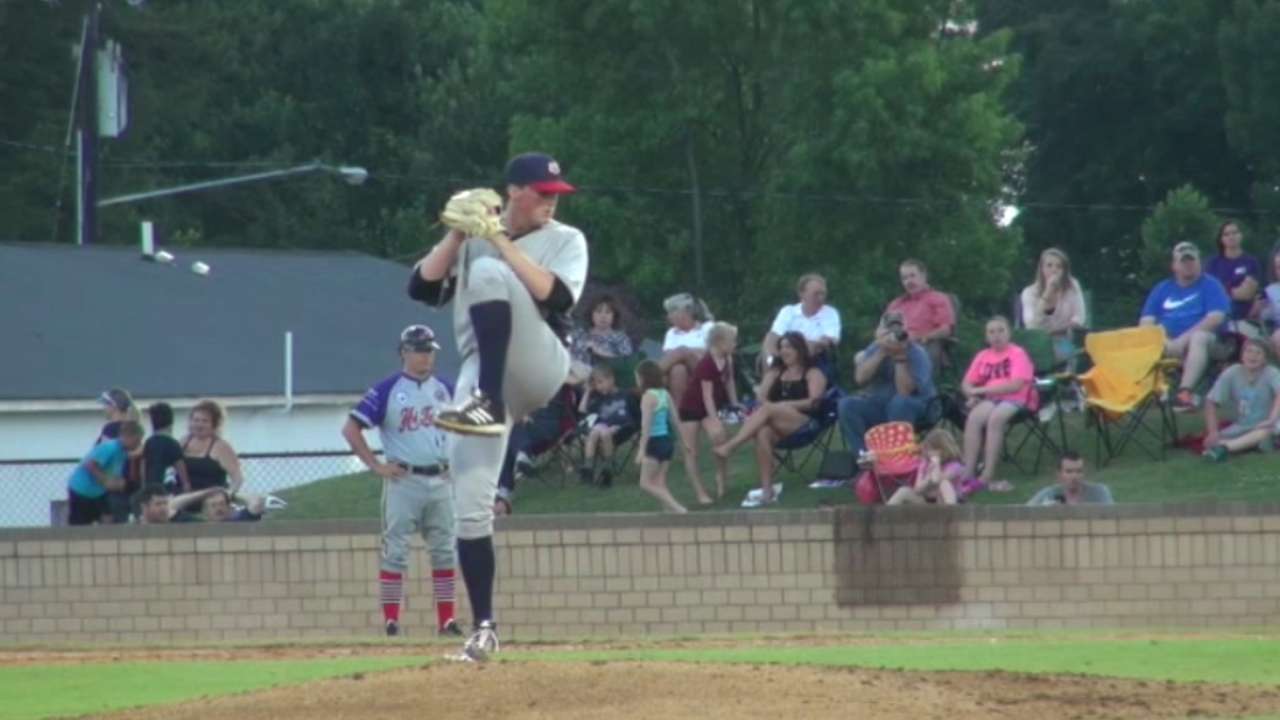 Shopping list
The Tigers love college pitching, having taken college hurlers with 18 of their first 33 selections last year. Even after that influx, don't be surprised if they stock up again as they attempt to bolster their system after trading away five pitchers last year, both prospects and big leaguers.
"I don't know if there's a lot of impact in this Draft," Chadd said. "I know there's a lot of good players."
Trend watch
The last time the Tigers had two first-round picks, they took a pair of college pitchers in Jonathon Crawford and Corey Knebel in 2013. Three years earlier, they took a chance on top high school hitter Nick Castellanos once he fell due to fears he would play college ball instead, then took the safe route with their other pick and went for then-college closer Chance Ruffin.
RECENT DRAFT HISTORY
Rising fast
Kevin Ziomek, Detroit's second-round pick in 2013, continues to earn raves from scouts on his way up the organizational ladder. Ziomek, who turned 23 in March, is a high-strikeout, low-homer lefty who has alternated stellar outings with struggles at Class A Advanced Lakeland. Along with Double-A Erie right-hander Chad Green, Triple-A Toledo's Drew VerHagen and the recently recalled Buck Farmer, Ziomek represents the next group of Tigers starting prospects, and could be joining them at the upper levels soon.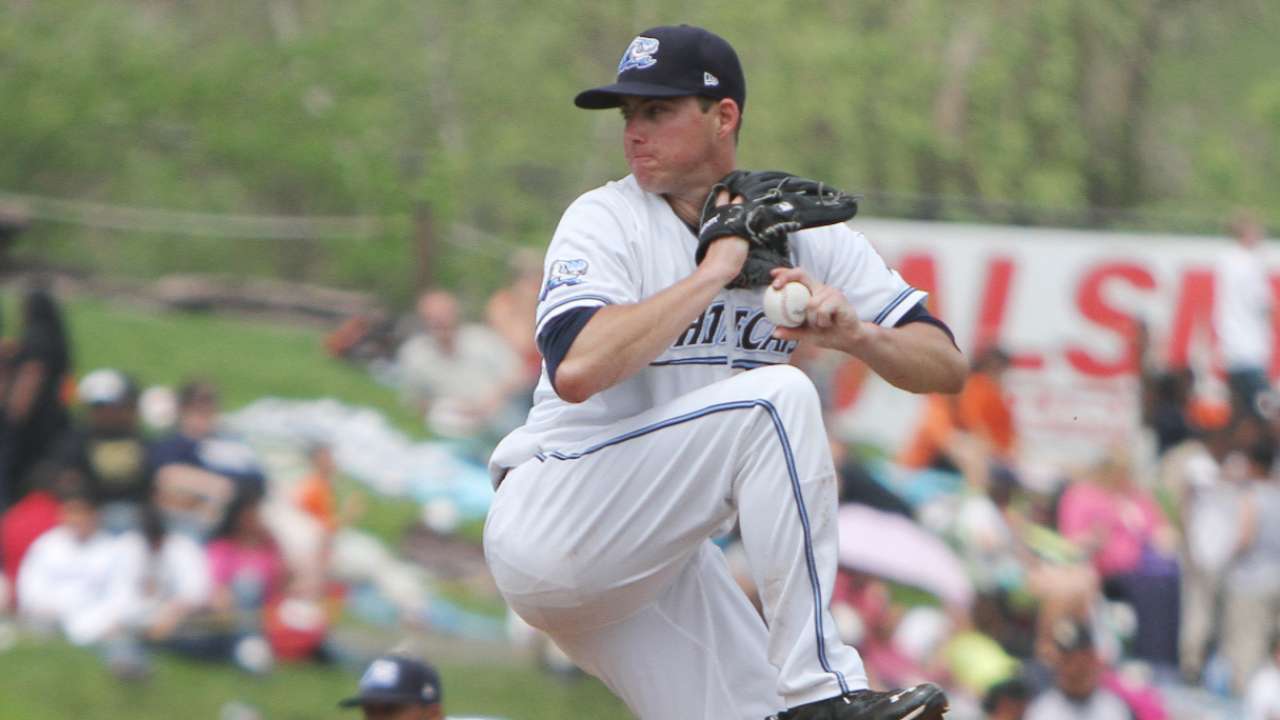 Cinderella story
Joe Mantiply was a 27th-round pick in 2013 out of Virginia Tech, where his funky left-handed delivery caught the Tigers' eye. His first full pro season at Class A West Michigan was a standout one, and it earned him a quick jump to Double-A Erie and a non-roster invitation to Spring Training earlier this year. Mantiply is holding his own with the SeaWolves, but a strong summer could put him on the cusp of the big leagues in September or next spring.
In The Show
With James McCann now the regular catcher since Alex Avila is on the disabled list, Detroit has two of its past five top picks in the starting lineup with McCann and Castellanos, and 2011 sixth-round pick Tyler Collins is sharing time in the outfield and at designated hitter. That goes against the Tigers' trend of using top prospects in trades to get proven help for the big league club, but it reflects a new reality in Detroit, where the Tigers are trying to blend young talent with veterans. Farmer, a 2013 fifth-round pick, joined the Tigers' rotation last turn to fill in for injured Kyle Lobstein.

The Tigers' recent top picks
2014: Derek Hill, OF, Class A West Michigan
2013: Crawford, RHP, Reds organization (traded for Alfredo Simon)
2012: Jake Thompson, RHP, Rangers organization (traded for Joakim Soria)
2011: McCann, C, Tigers
2010: Castellanos, 3B, Tigers
Jason Beck is a reporter for MLB.com. Read Beck's Blog, follow him on Twitter @beckjason and listen to his podcast. This story was not subject to the approval of Major League Baseball or its clubs.