Fernandez superb in extended spring game
Marlins' ace fans seven of 10 batters; first Class A rehab start is Saturday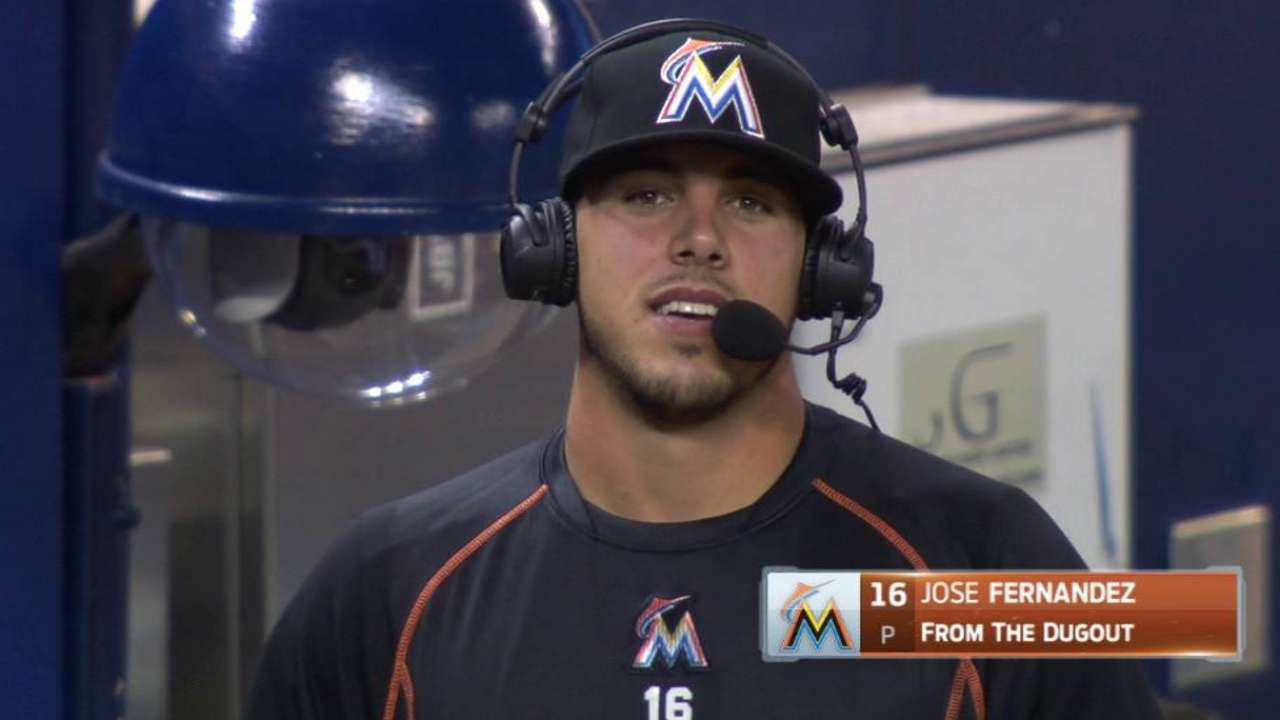 JUPITER, Fla. -- Jose Fernandez has described his year-long rehab following Tommy John surgery as a process of baby steps. The ace right-hander took what can be described as a leap Monday on his journey back to the Marlins.
Fernandez, who had surgery on May 16, 2014, to repair a torn ligament in his right elbow, threw 42 pitches in an extended spring game on a back field at the Roger Dean Stadium complex. He faced 10 Minor League batters over three innings, recording seven strikeouts and issuing one walk. Fernandez struck out the side in each of his final two innings, and he's scheduled to make his first rehab start Saturday night for Miami's Class A Jupiter Hammerheads in Port Charlotte, Fla.
"I felt great, I felt healthy. You know, I felt like I belonged there on that mound," Fernandez said after Monday's workout. "It was a real game, and to me, it wasn't just a rehab start. I was working hard and trying to do my job and give my team a chance to win. I was walking out, and I felt that game feeling inside my stomach. That's always great."
Fernandez worked between 94-97 mph on his fastballs and was consistently around the plate with his pitches, which pleased both the right-hander and Wayne Rosenthal, the Marlins' rehab pitching coordinator.
"I'm just trying to feel my mechanics and let the ball come out the way it should," Fernandez said of his approach on Monday. "I'm not a radar gun guy anymore. Location, I think, is more important than the speed, and I feel healthy, and that's the big picture here."
Rosenthal was pleased with what he saw from Fernandez, even if it was not against Major League hitters.
"I thought he looked great," Rosenthal said. "First time out, velocity [was] good, arm [was] good. He pitched, and it was nice to see. He wasn't trying to overthrow, and his velocity was still good. The biggest thing is that he threw three innings, he came off and said [his] arm felt great.
"It's the first test. This is still extended spring, so his first real start will be Saturday night in Port Charlotte."
Rosenthal said that Fernandez is scheduled to make his second Florida State League start a week from Friday in Jupiter, but neither man would commit to a date when the righty might return to Miami's starting rotation.
"We have a program," Rosenthal said. "It's not etched in stone, where we're going to follow it perfectly. We're going to see how the first two [rehab] starts [for Jupiter] go, and then go from there."
Rosenthal said it's likely Fernandez will have an undetermined number of starts at the Double-A or Triple-A level to build up his pitch count and endurance before he returns to the big league squad.
"We want to try to get him -- especially after a surgery -- to six or seven innings, just to say he can do it," Rosenthal said. "The umpire came up to me and said all his pitches were good. The ball was exploding out of his hand, and every pitch was around the plate, so it's not bad for a first outing. He did pound the zone pretty well today."
Though all indications are Fernandez might be able to return to the Marlins by the end of June, the right-hander said he's not going to rush the process, despite the fact that his team is 11 games below .500.
"I wanted to start Opening Day with them, but the main thing here is what the team wants and what I want," Fernandez said. "They want me healthy, and they want me there for the rest of the year. They don't want me there for one or two starts, so we're just trying to follow the process.
"My teammates are competing their hearts out. Every day, they're going out there trying to win a game. I'm there every time they're home and watching every game. It's not easy, but I think for the best interest of everybody, I think we've just got to follow the plan."
Steve Dorsey is a contributor to MLB.com. This story was not subject to the approval of Major League Baseball or its clubs.