MLB.com Columnist
Jim Callis
Fisher headlines Prospect Team of the Week
Astros prospect hit five bombs, drove in 19 on strength of three-homer, 12-RBI game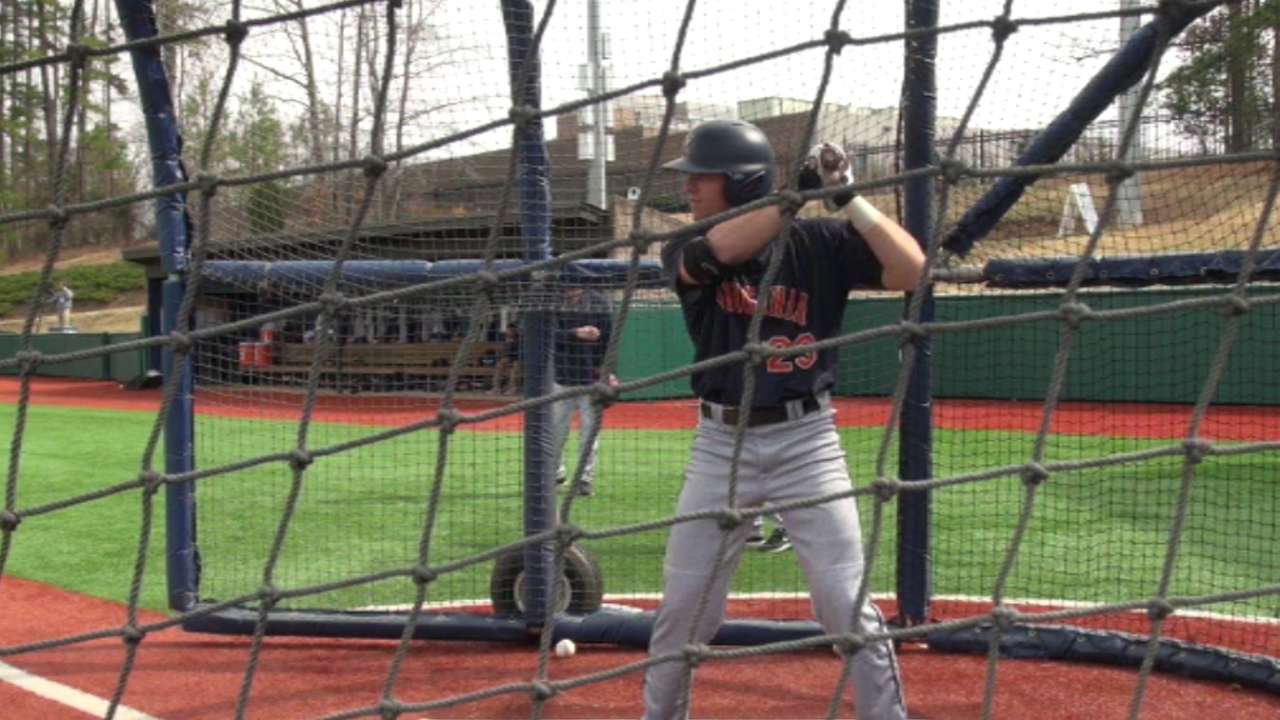 MLBPipeline.com's Prospect Team of the Week honors the best performances from the previous seven days. Any player currently on an organization Top 30 Prospects list on our Prospect Watch is eligible, including big leaguers.
Derek Fisher needed just one game to cement his spot on the Prospect Team of the Week. Making his high Class A debut on Saturday, the Astros outfielder broke a 61-year-old California League record with 12 RBIs.
Fisher homered in his first three at-bats for Lancaster, a solo shot in the first inning and grand slams in the second and third. He had a chance at a third consecutive grand slam in the fifth but struck out looking. He later provided a three-run double in the seventh, before striking out swinging in the ninth as the JetHawks routed High Desert, 16-3.
Fisher added another long ball and three more RBIs on Sunday, capping a week in which he led all Minor Leaguers with five homers and 19 RBIs. Here's the rest of the Prospect Team of the Week for May 25-31:
C: Stryker Trahan, Diamondbacks (No. 14 prospect)
6 G, .412/.500/1.059, 6 R, 2 2B, 3 HR, 5 RBI, 3 BB, 4 SO
The 26th overall pick in the 2012 Draft, Trahan became a full-time outfielder at the start of last season in hopes that would get his bat going. That didn't help him solve low Class A pitching, however, and he began catching again toward the end of 2014. Trahan has continued to scuffle in his return to the Midwest League this year, though he did go deep three times last week to boost his overall numbers to .233/.286/.467, with seven homers in 43 games.
1B: Cody Bellinger, Dodgers (No. 17 prospect)
6 G, .476/.542/.905, 8 R 3 2B, 2 HR, 11 RBI, 3 BB, 4 SO
The son of former big leaguer Clay Bellinger, Cody is making his full-season debut in high Class A this year at age 19. He held his own with a .260/.341/.429 line in April before upping his production to .314/.371/.619 in May, finishing the month with hits in 24 of his 25 final games and an RBI in each of his last five.
2B: Alen Hanson, Pirates (No. 7 prospect)
7 G, .464/.500/.750, 6 R, 3 2B, 1 3B, 1 HR, 7 RBI, 3 BB, 1 SO
Hanson is known more for hitting line drives than producing power, but he's leading the Triple-A International League with 89 total bases while batting .311/.358/.461 with 14 steals in 48 games. He had five multihit games last week and four the week before that, part of a May in which he raked at .362/.403/.595.
3B: Gabriel Quintana, Padres (No. 19 prospect)
6 G, .462/.464/.885, 8 R, 2 2B, 3 HR, 10 RBI, 1 BB, 6 SO
Repeating the California League at age 22, Quintana was stuck below the Mendoza Line at .199/.219/.321 entering last week. Homering in three consecutive contests and recording a hit and an RBI in six straight helped boost his OPS 116 points.
SS: Corey Seager, Dodgers (No. 1 prospect)
6 G, .500/.536/1.000, 6 R, 4 2B, 3 HR, 10 RBI, 2 BB, 6 SO
Seager had the best game of his impressive young career on Thursday, going 6-for-6 with two doubles, a homer and six RBIs to power Oklahoma City to a 14-11 win over Salt Lake. He also had a two-homer game on Monday and a four-hit contest on Tuesday. Seager is batting .300/.342/.455 with three homers in 27 Triple-A games and .332/.369/.547 with eight homers in 47 contests overall -- and he's barely 21.
OF: Jaycob Brugman, Athletics (No. 21 prospect)
7 G, .462/.548/.654, 9 R, 3 2B, 1 3B, 2 RBI, 5 BB, 1 SO, 1 SB
The lowest-ranked prospect on this week's list, Brugman signed for $50,000 as a 17th-rounder from Brigham Young in 2013. After hitting 21 homers in his first full pro season, he hasn't shown the same power in Double-A this year, but five hits on Monday and four on Saturday improved his line to .282/.340/.409 in 48 games.
OF: Derek Fisher, Astros (No. 11 prospect)
7 G, .290/.353/.806, 7 R, 1 2B, 5 HR, 19 RBI, 3 BB, 7 SO
Fisher's three homers Saturday were one more than he hit in his 41-game pro debut last summer. A supplemental first-round pick (37th overall) last June, he's batting .313/.391/.583 with 10 homers and eight steals in 41 games this season.
OF: Brett Phillips, Astros (No. 7 prospect)
5G, .360/.429/.720, 6 R, 3 2B, 2 HR, 6 RBI, 2 BB, 9 SO
It might be time to promote Phillips to Double-A. He hit .339/.421/.560 after joining Lancaster last August, and he's batting .330/.394/.574 with eight homers in 46 games there in 2015. Phillips tops the Cal League in runs (44), hits (65) and total bases (113), and he also ranks third in hitting and fourth in slugging.
LHP: Brian Johnson, Red Sox (No. 7 prospect)
1-0, 0.00 ERA, 1 GS, 6 IP, 0 H, 0 R, 0 ER, 0 BB, 9 SO, .000 WHIP
When Boston promoted fellow Triple-A Pawtucket left-hander Eduardo Rodriguez, Johnson's start got pushed up a day to Friday. He responded with six perfect innings, throwing 50 of 74 pitches for strikes in a 1-0 victory over Louisville. Johnson paces the International League in strikeouts (57 in 55 1/3 innings) while ranking second in wins (6-3), sixth in opponent average (.210) and seventh in ERA (2.60).
RHP: Sean Reid-Foley, Blue Jays (No. 6 prospect)
2-0, 2.53 ERA, 2 GS, 10 2/3 IP, 5 H, 3 R, 3 ER, 5 BB, 17 SO, .938 WHIP
Toronto has kept Reid-Foley, a 2014 second-rounder out of a Florida high school, on tight pitch counts this spring. He wasn't allowed to pitch beyond the fourth inning until last week, when he earned a pair of victories, and then fanned 10 in 5 2/3 scoreless innings on Saturday. Reid-Foley is averaging 13.2 strikeouts per nine innings, and the only pitchers with as many innings and a higher whiff rate are the Dodgers' Jose DeLeon (13.7) and the Cardinals' Alex Reyes (13.5).
Jim Callis is a reporter for MLB.com and writes a blog, Callis' Corner. Follow @jimcallisMLB on Twitter. This story was not subject to the approval of Major League Baseball or its clubs.