MLB.com Columnist
Richard Justice
ASG debate: Posey's bat or Yadi's glove?
Both deserving of All-Star berth, elite backstops vie for NL's starting nod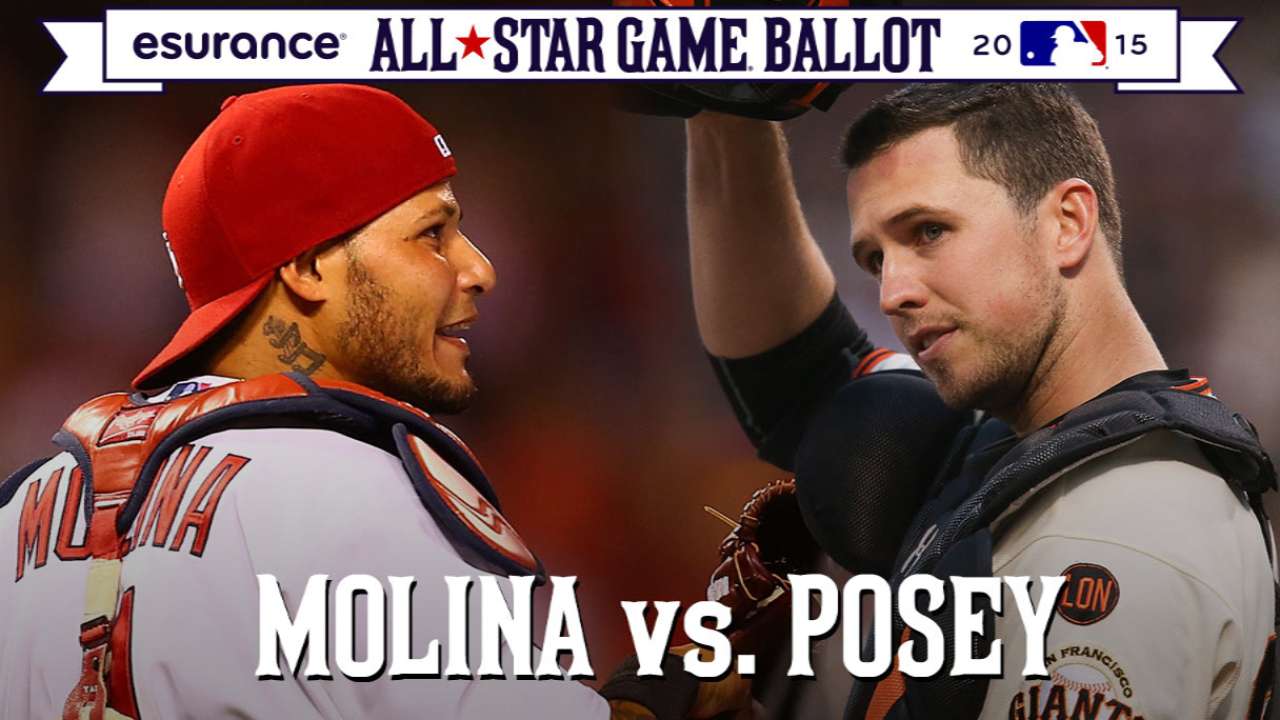 *** We will be doing daily ASG debates until 2015 Esurance MLB All-Star Game balloting ends on July 2. We will frequently be pitting one player against another and have a writer make a case for one of them, but that doesn't mean there aren't other great candidates for that position. In fact, your comments could spark a new debate for us to tackle. So let us know what you think! ***
One or the other has been the National League's starting catcher in four of the past six All-Star Games. Two years ago, both of them made it, one subbing for the other.
And there's the World Series. The last time one was played without either Yadier Molina or Buster Posey was 2009.
• VOTE NOW: Cast your All-Star ballot
Individual awards? Posey won the NL MVP Award in 2012. Molina has never won one of those, but he did finish third one year (2013) and fourth another ('12). He can take solace in six Gold Gloves, which is how a lot of baseball people define greatness at that position anyway.
So if you're staring at your 2015 All-Star ballot and you had to pick between Posey and Molina, what would you do?
Bottom line: Posey.
Molina is one of the great defensive catchers in the game. He's ranked No. 4 in the defensive numbers compiled by fangraphs.com. Posey is 16th.
Offensively, though, this is Posey's year.
Entering Monday, Posey's .829 OPS is higher than Molina's .667. His batting average is higher, too -- .295 to .284 --and his .396 OBP is way higher than Molina's .330.
Posey has a large advantage in home runs (eight to zero), but Molina has more doubles (nine to five). Posey has 27 RBIs, Molina 19.
So here's how the voting will go.
In the midwest, Molina will get the nod. They've seen him help the Cardinals win four NL pennants and two championships. They know about Molina's toughness and his leadership and all of that. He has been praised effusively by Cards manager Mike Matheny, who was himself known for toughness, smarts and leading a pitching staff.
But out west, Giants fans will go for their guy. They've seen Posey help the Giants win the World Series three times. They've seen his ability to produce big hits, and beyond that, he has set a tone that matches that of Giants manager Bruce Bochy. Posey is the low-key, professional face of a franchise that prides itself on being low-key and professional.
So who you got?
There's simply more of a case to be made for Posey this season, but it's not an easy case. In the end, both of them have such a stature in the game that it would be wrong to play an All-Star Game without either of them.
The NL catcher position may eventually belong to the Brewers' Jonathan Lucroy, who started last year's game, or the Dodgers' Yasmani Grandal or someone else. At the moment, however, Posey and Molina are the guys who define the position -- and define winning -- in the NL.
Even if Posey doesn't win the starting nod, Bochy seems likely to take his guy. But he probably would want Molina, too. As a former catcher himself, Bochy understands that the position begins with putting pitchers in a position to feel comfortable, get into a rhythm and ultimately, to succeed.
Molina will be remembered as a generational type player in that sense. At 32, he has been behind the plate for 1,311 games. Regardless of how long Molina plays, the Cardinals will be comparing every other catcher to him for as long as there's baseball in St. Louis. They'll be doing that in San Francisco, too. This All-Star Game should have both of them.
You can vote for starters at MLB.com and all 30 club sites -- on computers, tablets and smartphones -- until Thursday, July 2, at 8:59 p.m. PT. For the first time, voting is exclusively online.
Fans may also receive the ballot by texting VOTE to 89269 (USA) or 101010 (Canada). Or text VOTA for a ballot in Spanish. Message and data rates may apply. Up to five messages. No purchase required. Reply STOP to cancel. Reply HELP for info.
Following the announcement of the 2015 All-Stars, be sure to return to MLB.com and cast your 2015 Esurance MLB All-Star Game Final Vote for the final player for each league's All-Star roster. On Tuesday, July 14, watch the 2015 All-Star Game live on FOX, and during the game visit MLB.com to submit your choice for the Ted Williams Most Valuable Player Award presented by Chevrolet via the 2015 MLB All-Star Game MVP Vote.
MLB.com will provide extensive online coverage of All-Star Week festivities.
The 86th All-Star Game will be televised nationally by FOX, in Canada by Rogers Sportsnet and RDS, and worldwide by partners in more than 200 countries via MLB International's independent feed. ESPN Radio and ESPN Radio Deportes will provide national radio coverage of the All-Star Game. MLB Network and SiriusXM will also provide comprehensive All-Star Week coverage. For more information, please visit allstargame.com.
Richard Justice is a columnist for MLB.com. Read his blog, Justice4U. This story was not subject to the approval of Major League Baseball or its clubs.