MLB.com Columnist
Dan O'Dowd
Dansby for D-backs: Arizona should take Swanson
Vanderbilt shortstop appears to have bright Major League future on horizon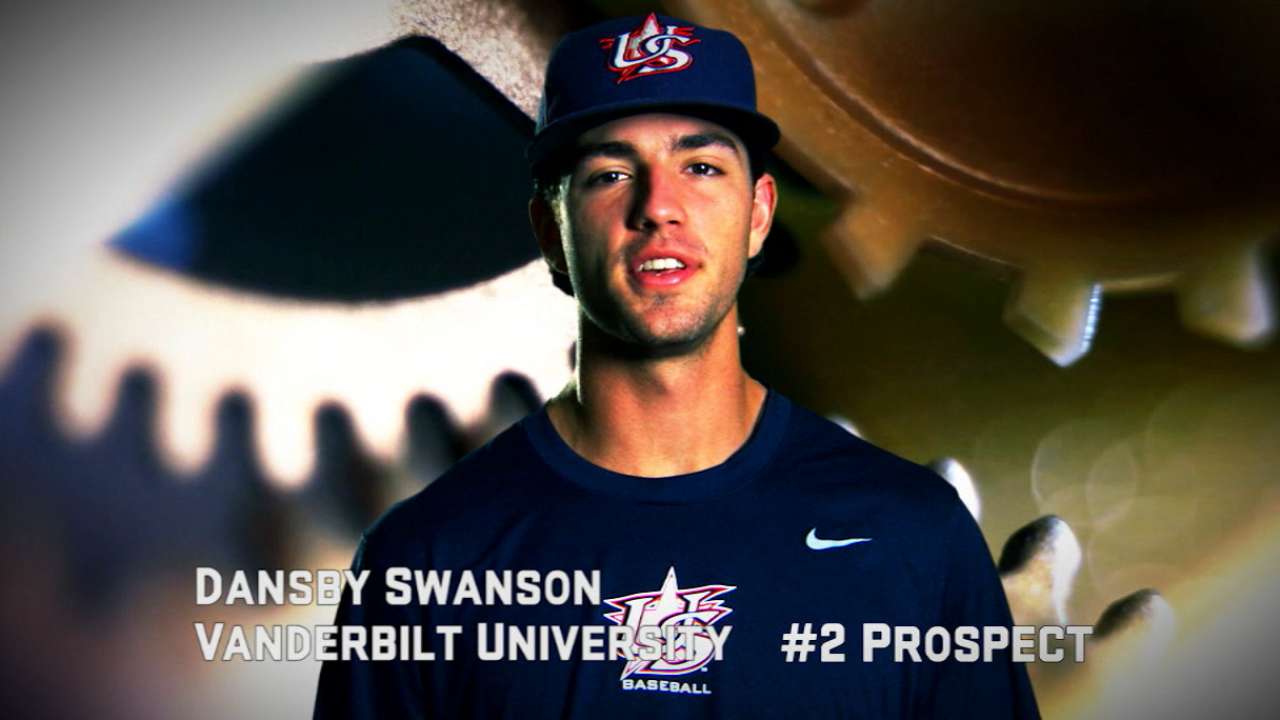 Nothing can boost an organization quite like a homegrown star, which is why the Major League Baseball Draft is so important for all 30 teams.
No club understands this more than the team with the No. 1 overall pick. And while there have been some busts at that spot in recent years, such as Matt Bush (2004, Padres) and Bryan Bullington (2002, Pirates), historical data shows just how important that selection is.
Average career WAR
No. 1 pick: 21.3
No. 2 pick: 14.4
No. 3 pick: 12.5
The D-backs, who hold the No. 1 pick this year, are no doubt aware of this data, and will have that in mind as they prepare to make the pick.
The 2015 Draft will take place from Monday, June 8, through Wednesday, June 10, beginning with the Draft preview show on MLB.com and MLB Network on Monday at 6 p.m. ET. Live Draft coverage from MLB Network's Studio 42 begins at 7 p.m., with the top 75 picks being streamed on MLB.com and broadcast on MLB Network. MLB.com's exclusive coverage of Day 2 begins with a live Draft show at 12:30 p.m. on Tuesday, with exclusive coverage of Day 3 beginning at 1 p.m. on Wednesday.
MLB.com's coverage includes Draft Central, the Top 200 Draft Prospects list and Draft Tracker, a live interactive application that includes a searchable database of over 1,700 Draft-eligible players. Every selection will be tweeted live from @MLBDraftTracker, and you can also keep up to date by following @MLBDraft. And get into the Draft conversation by tagging your tweets with #mlbdraft.
Drafting philosophy can be as complicated as you want to make it -- particularly in this era of signing-bonus limits -- but there is one constant that remains true: You have no idea what the future holds, so take the best player available regardless of need.
When I was the Rockies' general manager, we ended up with Troy Tulowitzki with the No. 7 pick in 2005 because the Mariners, who were reportedly focused on him, decided to draft for "need" and take USC catcher Jeff Clement instead with the third pick. Of course, in 2006, I went against my own advice and took Stanford right-hander Greg Reynolds No. 2 overall to fill our pitching need, even though Evan Longoria was a better talent. (Reynolds hurt his shoulder in Double-A and appeared in just 33 big league games.)
There is no clear-cut No. 1 talent in this year's Draft in the same way that guys like Bryce Harper and David Price were in their Draft years, but for my money, the best player available is Vanderbilt shortstop Dansby Swanson, and that's who Arizona should select with the top pick.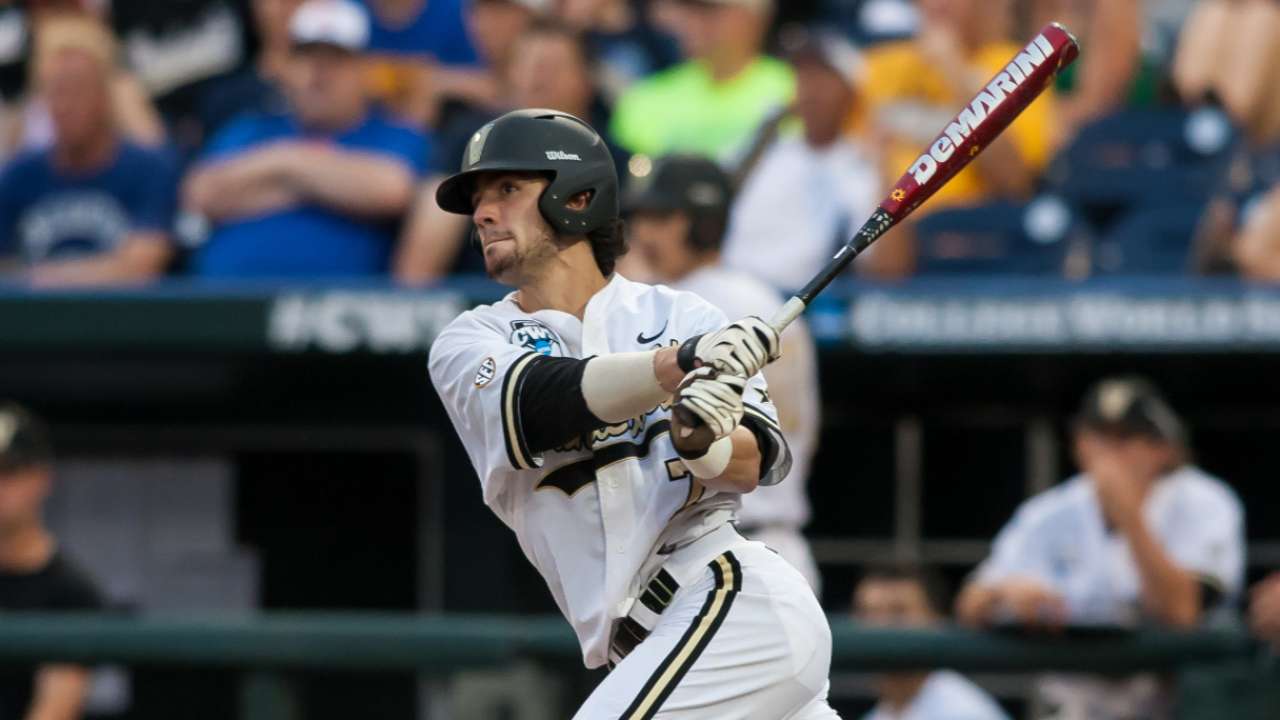 To explain, let's look at the checklists I use when evaluating a player:
Tools
Here's my breakdown of Swanson's tools on the 2-8 scouting scale:
Hit: 6
Power: 6
Field: 5
Throw: 5
Run: 6
CHP (Can he play?): 6
Overall, I would grade Swanson as a "Role 6," which means All-Star potential.
Performance/competition
The SEC schedule is probably the toughest amateur competition you'll find, and Swanson has thrived in that environment, helping lead the Commodores to a College World Series title last year while earning the Most Outstanding Player Award.
Swanson then played well for Team USA, hitting .288 over the summer heading into his junior season, which I refer to as the "great expectation year." Despite all the eyes from scouts bearing down on him, he has been a sensation, hitting .350/.438/.654 with 13 homers with 38 walks and 41 strikeouts.
It's also worth noting that Swanson was the captain of the basketball team at Marietta (Ga.) HS, and is third in school history in three-pointers made. In other words, he's a well-rounded athlete. (Full disclosure: The Rockies drafted Swanson out of high school in the 38th round in 2012 when I was the GM, but we never had a real shot at signing him because we knew he wanted to go to Vandy.)
Intangibles
Swanson competes on every pitch and doesn't fear failure, two important traits. You can tell he's good at making adjustments at the plate and is the kind player who demonstrates a joy of the game while maintaining an even keel.
Swanson is also a natural leader who managed to overcome a shoulder injury that sidelined him for most of his freshman season to become the star of the best college team in the country.
In Swanson, the D-backs would be getting a guy who has a great combination of a high floor and a high ceiling, and that's too good to pass up in a Draft with so much uncertainty.
Dan O'Dowd is an MLB Network analyst and MLB.com columnist who served as general manager of the Rockies for 15 years, building a National League pennant winner in 2007. Prior to his time with Colorado, he worked in the front offices of the Orioles and Indians. This story was not subject to the approval of Major League Baseball or its clubs.