Locke's outing may prompt change in rotation
Pirates manager Hurdle not ready to make any decisions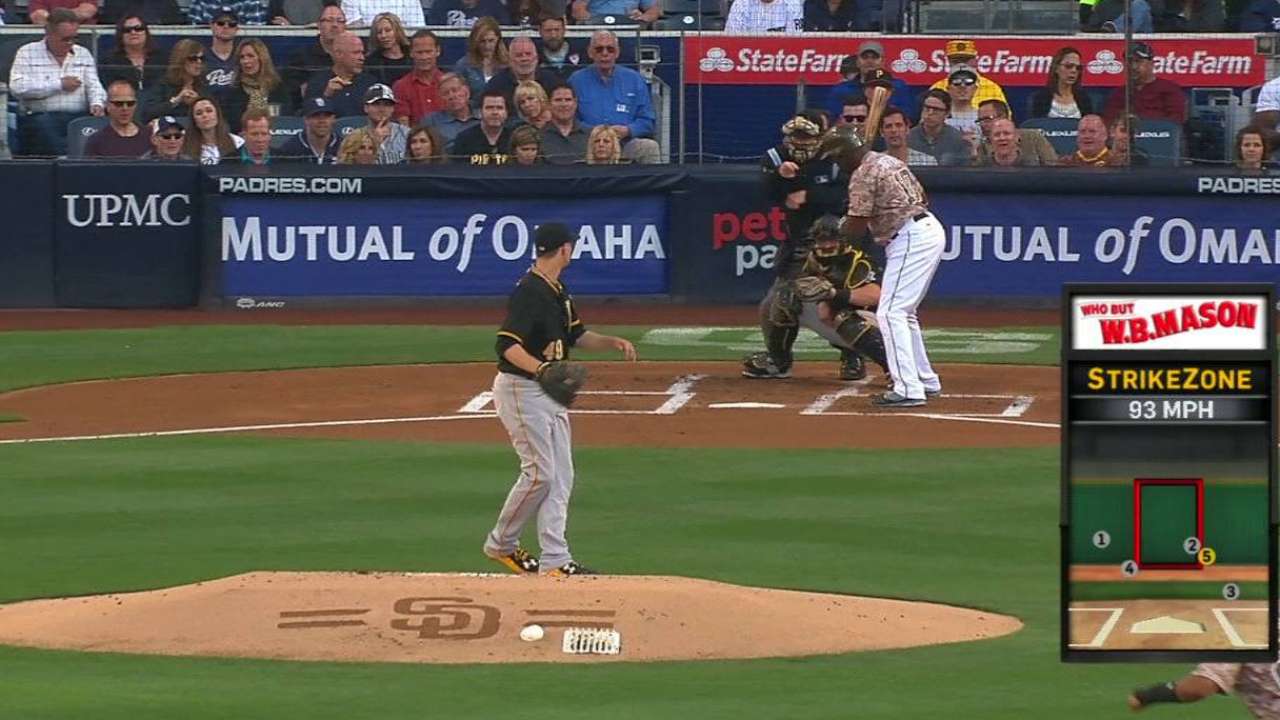 SAN DIEGO -- Pirates manager Clint Hurdle said he wasn't prepared to speak about the options for a fifth starter after Jeff Locke was crushed by the Padres in a 7-1 loss Sunday evening at Petco Park. But you could tell during his postgame media conference that he wasn't particularly pleased.
"I'm always a guy who sleeps on everything," Hurdle said. "We round up as a staff after every series to discuss the things we need to discuss. I think first you have to look at the delivery and the outing and take it from there, one step at a time."
The outing, for all intents and purposes, wasn't very good from the first inning. The Padres pounded the 27-year-old left-hander from the start and never let up. By the time Locke was pulled from the game in favor of Vance Worley after four innings, he had allowed seven runs (six earned) on eight hits, adding three walks to the mix. And the Padres led, 7-0.
This came after a 10-game run by the rotation that included an 8-0 record, 2.06 ERA and 73 strikeouts. Locke's own ERA after the game was 5.34. Disappointing?
"Oh sure, we've been playing such good baseball," Locke said. "Obviously you don't want to be the guy who comes out and has a rough one. But at the end of the day we have another opportunity tomorrow and a chance to start something."
It's Gerrit Cole who will get that chance Monday night against the Giants in San Francisco. Hurdle has five days to ponder any changes. He was asked afterward if he had any alternatives for that slot in the rotation. At first, he demurred, but then again …
"I'm not going to deal in hypothetical situations here after a guy [has a game like that]. That's not something that I'm willing to do right now," Hurdle said. "We've got a guy who pitched after him that's started games. We've got depth all over the place. But I want to make sure that we all walk out of here knowing that we're going to look at Jeff Locke first and what we can do to help him out."
That guy Hurdle referred to was Worley, who stanched the bleeding by pitching the last four innings of shutout, five-hit ball with no walks and four whiffs. Worley is a starter by trade, making seven of his 10 appearance this season starting games. Worley was the starter who filled in for Charlie Morton as he made his way back from offseason right-hip surgery and missed the first six weeks of the season.
When Morton stepped back into the rotation two starts ago, Worley took one for the team and went back to the 'pen. But there's no doubt what role he'd prefer to fill.
"I've been a starter my whole career, so that's definitely what's most comfortable," said Worley, who has started 80 of the 91 games he's pitched in during his six-year career for Pittsburgh, Minnesota and Philadelphia and has a 29-25 record. "I've adapted to this role and I'll do anything I can to help this team. If I have to go to the 'pen, I'll go to the 'pen. I just want to be able to contribute."
Hurdle said that Locke wasn't impressive in any area. He threw 15 first-pitch strikes to 24 batters.
"Which is not exactly what we want," Hurdle said.
He also threw 75 percent of his pitches from the stretch.
"You know, across the board fastball, command, rhythm, pace, execution was short," Hurdle added.
Really, that's a lot for the manager to sleep on.
Barry M. Bloom is a national reporter for MLB.com and writes an MLBlog, Boomskie on Baseball. Follow @boomskie on Twitter. This story was not subject to the approval of Major League Baseball or its clubs.