Thriving under pressure, Giavotella comes up big
Go-ahead single in Angels' sweep is latest in string of high-leverage base hits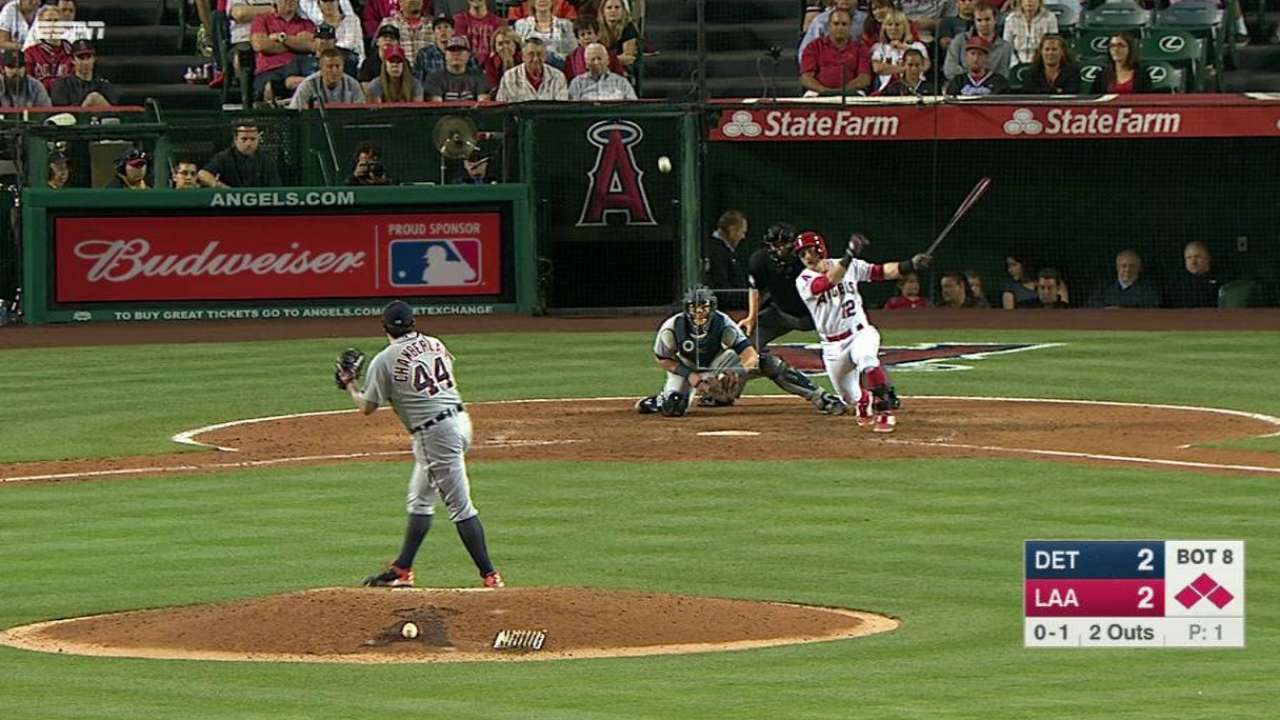 ANAHEIM -- What about Johnny Giavotella?
The question should have been asked before Sunday night, but after the Angels' series-sweeping, 4-2 win over the Tigers at Angel Stadium -- when the second baseman delivered the go-ahead, two-run single with two outs in the eighth inning -- it had to be.
Much has been made of the revitalized bats of hitters such as Albert Pujols and Matt Joyce. But what about Giavotella? Just more than a week ago, he was on a 3-for-31 skid.
After winning the second base job out of Spring Training, he found himself coming off the bench three times in eight days. Angels manager Mike Scioscia was even fielding questions about whether utility callup Grant Green would get reps at second, and whether the starter would depend on daily matchups.
"Johnny went through a little soft spell a couple weeks ago, but he seems like he's getting big hit after big hit for us," Scioscia said. "He stays within himself, a little contact hitter and puts the ball in play. He's gotten some big hits for us, no doubt."
So those questions seem moot right now. Giavotella has 10 hits in his last 25 at-bats, and his numbers in "late-and-close" situations -- when the game is in the seventh inning or later, and the batting team is up by one, tied, or has the tying run on base, at bat or on deck -- have been absurd.
Giavotella is hitting a ridiculous .517 (15-for-29) in those high-leverage situations, and Sunday's huge hit off Detroit reliever Joba Chamberlain was the latest example.
"Late in the game, we want Johnny up," said Matt Shoemaker, who started Sunday's game for the Angels. "He's established himself as that."
Those numbers might not hold up, at least not to the degree they have so far, but whether or not Giavotella regresses -- and whether or not you believe in the idea of "clutch" at all -- his streak has been crucial for an Angels team that's now three games over .500 for the first time all season.
It's not all late-game heroics, either. Giavotella helped get things started against David Price on Sunday, his fifth-inning double out of the ninth spot in the order setting up Erick Aybar and Mike Trout's RBI singles, which gave the Angels their first lead of the game.
Giavotella did cost the Angels a run when he threw away Yoenis Cespedes' routine chopper in the sixth, which let the Tigers tie the game at two, but he said he knew he had to make up for it.
"I love it," Giavotella said of coming up in late-game situations. "I just relax and take the same approach and try to hit a line drive up the middle, and it's been paying off."
David Adler is an associate reporter for MLB.com. Follow him on Twitter @_dadler. This story was not subject to the approval of Major League Baseball or its clubs.