May to remember: Kipnis caps 'unbelievable month'
Indians second baseman notches 51 hits, 30 runs in 29 games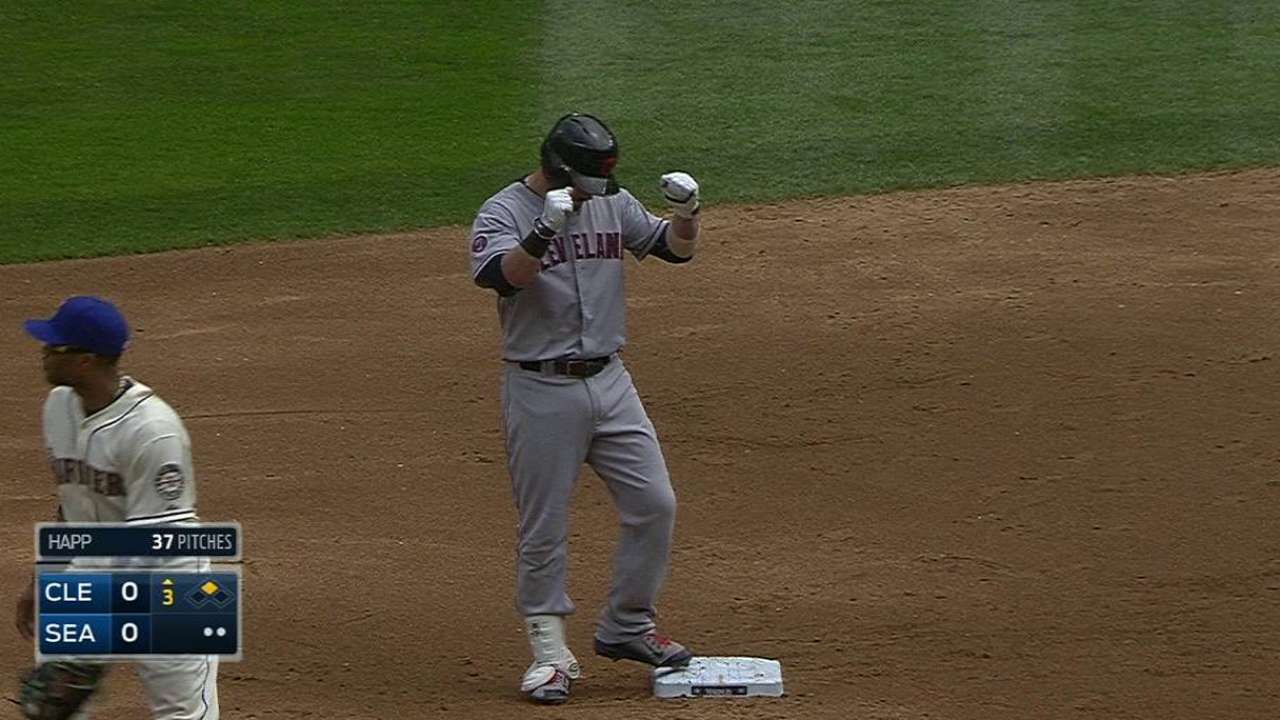 SEATTLE -- One milestone achieved by Jason Kipnis during his incredible tear through the month of May was dependent on someone else. As Kipnis took a lead off second base in the 12th inning on Sunday afternoon, he needed someone, anyone to drive him in.
David Murphy delivered with a smooth swing against Mariners reliever Dominic Leone, pulling a pitch into right field for a two-run single that proved critical in Cleveland's 6-3 victory over Seattle. When Kipnis stamped his foot on home plate, he put the final touch on an historic month.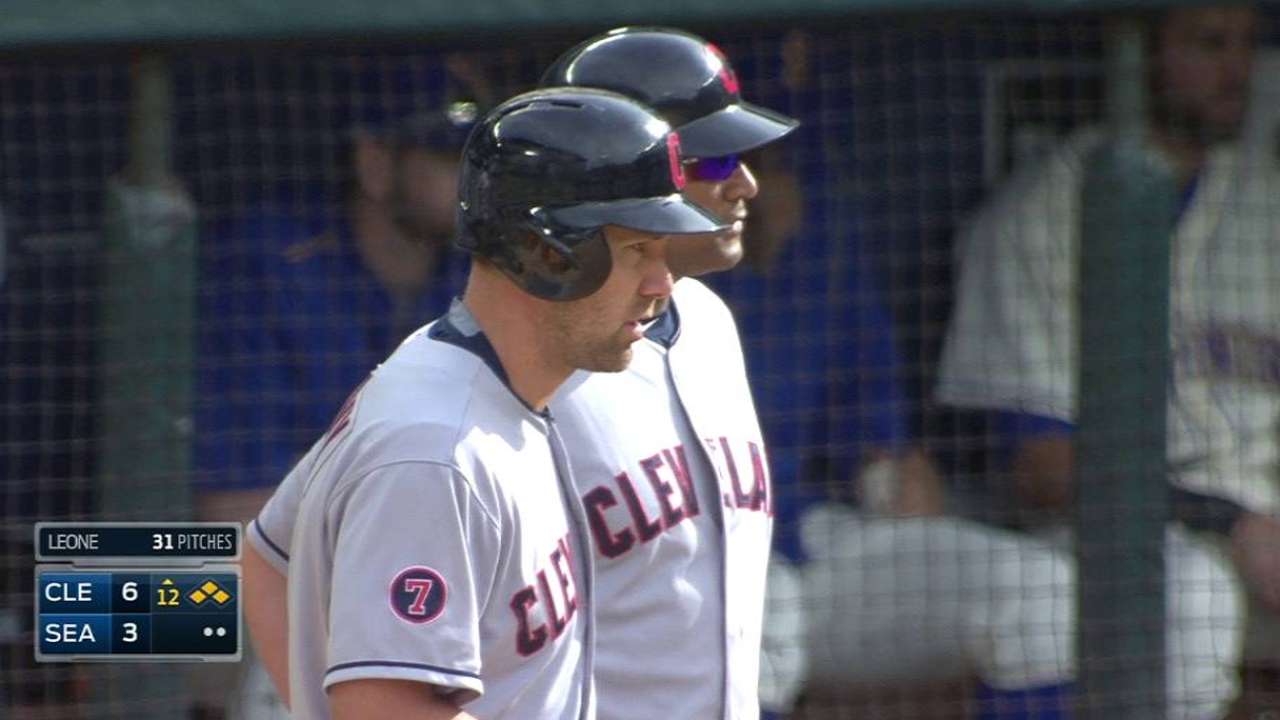 Fifty-one hits. Thirty runs. A May for the record books.
"For it to happen the way it did, it's just awesome," Kipnis said. "There's a big smile on my face right now. I'm a happy guy."
Kipnis ended the month with a 2-for-5 showing that included a pair of doubles, a run-scoring sacrifice fly and an intentional walk. His first two-base hit in the third inning helped him reach 50 hits for May, marking the first time a Cleveland batter achieved that feat in any month since September 2000 (Roberto Alomar). When Kipnis scored in the 12th, he collected his 30th run for May.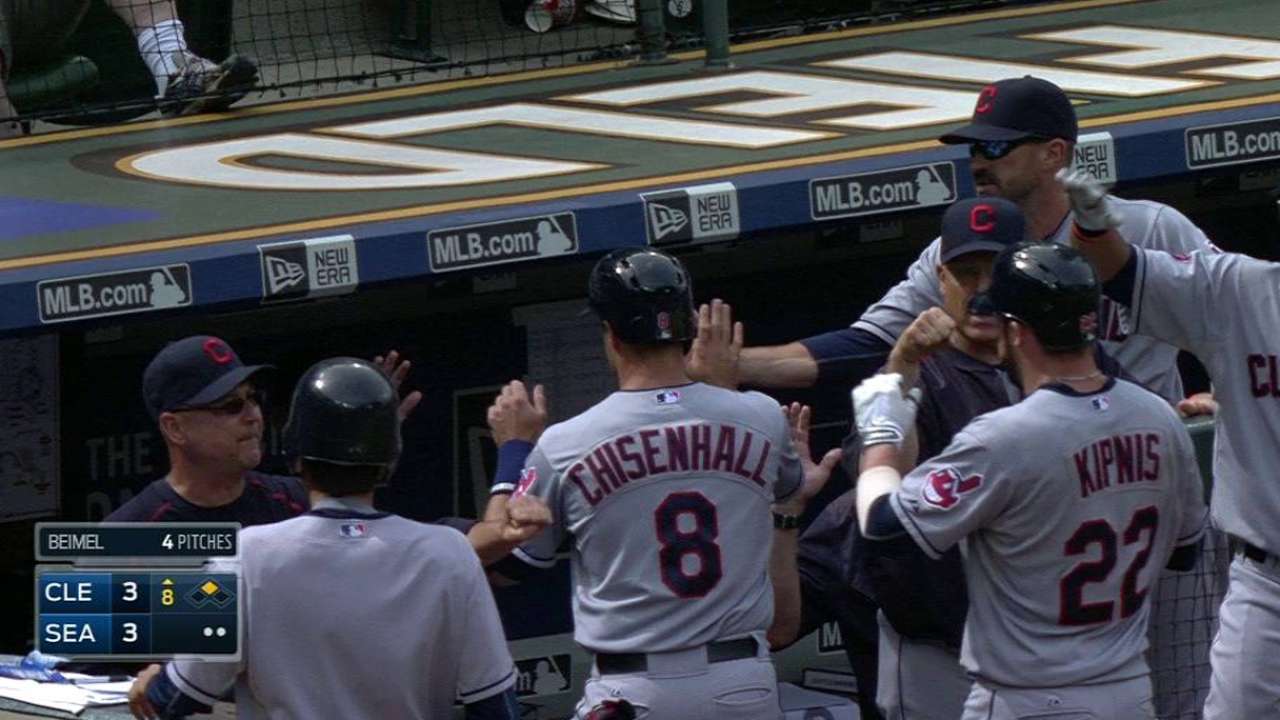 The 50-30 Club is an exclusive one for a single month.
The last Major Leaguer to have at least 50 hits and 30 runs in one month was Jimmy Rollins, who did so for the Phillies in September/October of 2005. The last American League batter to accomplish the feat was Yankees shortstop Derek Jeter in August 1998. For the Indians, the last player to achieve those marks in the same month was Jeff Heath in August 1938.
"It's pretty incredible," Murphy said. "It's just fun. Righty, lefty, fastball, curveball, changeup, he's hitting everything. He's obviously in the right place in the lineup, sparking the offense and getting us going. It's fun for me to watch."
"The way he looks right now," Indians outfielder Brandon Moss said, "it doesn't look like it's going to slow down this coming month. It's been awesome to watch and it's been awesome to play in the same lineup, and him be on the bases all the time. He's been unbelievable."
The historical nature of Kipnis' month extends further, too.
The pair of doubles gave him 22 extra-base hits (three triples, four homers and 15 doubles) in May. He is the first Indians batter to have at least 50 hits, 30 runs and 22 extra-base hits since July 1936 (Odell Hale). Rollins also achieved the feat in the final month of '05. In the AL, the last players to do so were Joe DiMaggio (Yankees) and Bob Johnson (Athletics) in August 1938.
Dating back to at least 1914, there have been 24 times (Kipnis included) when a player had 50-plus hits, 30-plus runs and an OPS of 1.200 or greater in one month. The list includes names like Hank Aaron, Babe Ruth, Lou Gehrig, Rogers Hornsby, Tris Speaker and DiMaggio. Earl Averill (July 1936) was the last Cleveland player to achieve the feat.
"When you start throwing those names around, he's had an unbelievable month," Indians manager Terry Francona said. "I think he's an unbelievable player and he does so many things to help us win. It's been like that for a while now. He's been a force."
Overall in May, Kipnis turned in a .429/.511/.706 slash line in 29 games for Cleveland, which finished the month with a 17-12 record. The second baseman's average and on-base percentage were the highest in a month by an Indians player since August 1986 (Pat Tabler). His 15 doubles were the most for a Cleveland hitter since September 1942 (Jeff Heath).
Kipnis was thrilled to reach the milestones on Sunday, but he was even happier to achieve them in a victory.
"The 50 hits is a lot of hard work coming to fruition," Kipnis said. "The 30 runs is just a credit to teammates. That's them driving me in. I'll get on base, but I'm not scoring without them moving me around or getting me in. So, that's a big 'Thank you' to them. It was a fun month, not only for me, but for our team as well.
"We're finally turning it around, putting things together. All these things wouldn't have been nearly as fun if we were losing games. It's a lot more fun when I get to enjoy them."
Jordan Bastian is a reporter for MLB.com. Read his blog, Major League Bastian, follow him on Twitter @MLBastian and listen to his podcast. This story was not subject to the approval of Major League Baseball or its clubs.