Leone making no excuses for sophomore slump
Mariners reliever's struggles continue in 12-inning loss to Indians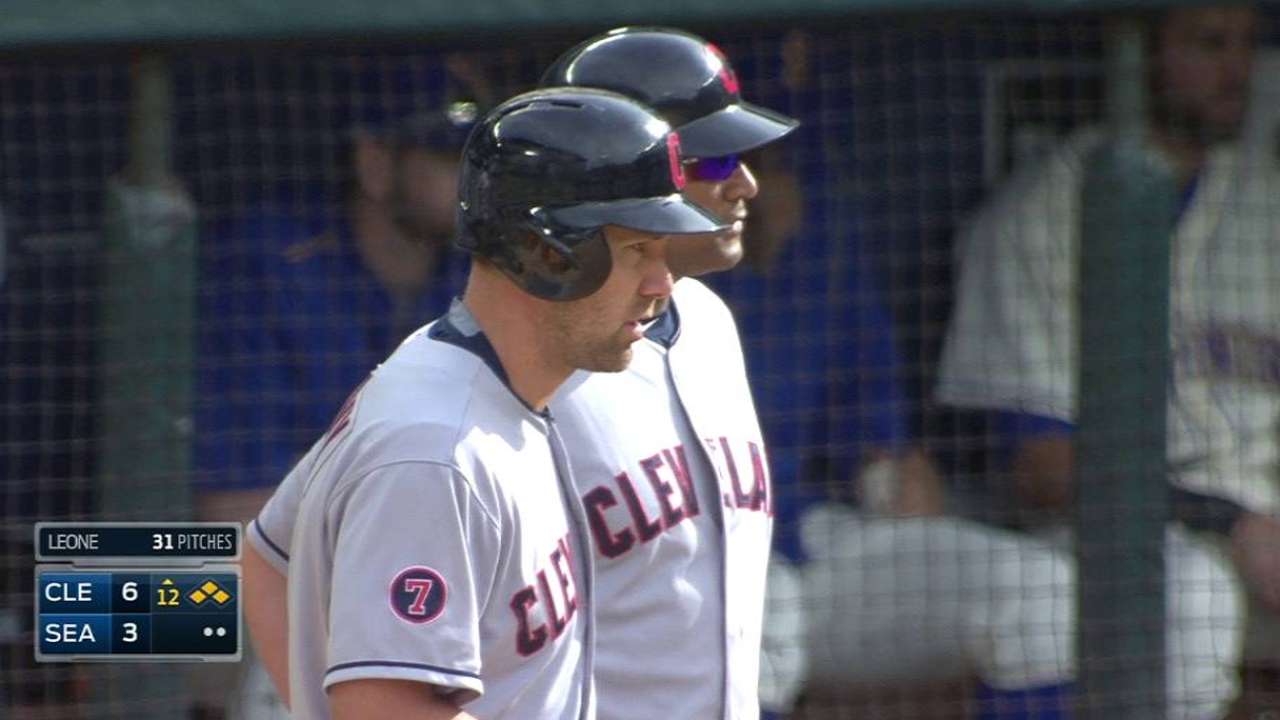 SEATTLE -- Reliever Dominic Leone's sophomore slump continued Sunday at Safeco Field as he dropped to 0-4 in the Mariners 6-3, 12-inning loss to the Cleveland Indians.
A year after the 23-year-old was a lockdown member of the best bullpen in the Major Leagues, Leone has struggled in 2015 while bouncing between Triple-A Tacoma and Seattle.
In his first appearance since being recalled from the Rainiers earlier this week, Leone allowed three runs on two hits and three walks in the top of the 12th inning after entering with the game tied at 3.
He walked Lonnie Chisenhall to start the inning, struck out Michael Bourn, then Jose Ramirez delivered a double that skipped off the glove of first baseman Logan Morrison and down the right-field line.
"I've got to make that play," Morrison said. "I'm on the line for a reason. No doubles. You can't hit a double, and he hit a double. Gotta make that play and didn't. It kind of came up. But it's got to go in the pocket."
Leone knew he wasn't in rhythm from the moment he entered.
"It's just one of those days where the ball didn't feel right," he said. "I can make any excuse in the book but I'm not going to. It's just how it is. This is baseball, and you got to go out there and do better than that."
Following an intentional walk to Jason Kipnis, it actually looked like Leone might escape the inning when Carlos Santana popped out to third baseman Kyle Seager.
Then he walked Indians' No. 3 hitter Michael Brantley on four pitches to send in the go-ahead run. The next hitter, David Murphy, delivered a two-run single to make it 6-3.
"Brantley is obviously a tough hitter," Leone said. "You can't just lay a cookie in there. I tried to be as aggressive as I could with what I had going."
Last season as a rookie, Leone had a lot going. He went 8-2 with a 2.17 ERA in 57 appearances after making the jump from Double-A Jackson to the big leagues.
Sunday's performance spiked his ERA to 7.71. He was slated to pitch two or three innings, depending on if the Mariners, who got out-hit 18-5, could deliver a run.
"He just couldn't throw strikes," manager Lloyd McClendon said. "It's tough. Walks kill you in this game."
Downtrodden, Leone vowed to turn it around after a quiet discussion in front of his locker with veteran reliever Tom Wilhelmsen, who gave up two hits and no runs in 2/3 of an inning Sunday.
"I mean, it hurts but that's why you've got tomorrow," Leone said. "I'm going to pick the brains of everybody in here. Tell me something because if they want me to be up here -- and I'm going to be up here -- I got to perform and I got to get right back on the horse.
"There's no time for anybody to feel bad for yourself or feel bad me," he added. "I don't expect any 'Oh ho hum. Leone is struggling.' That's not the name of the game. This is the big leagues. Grow up."
Adam Lewis is a contributor to MLB.com. This story was not subject to the approval of Major League Baseball or its clubs.