MLB.com Columnist
Alyson Footer
Power Rankings: AL-best Twins moving up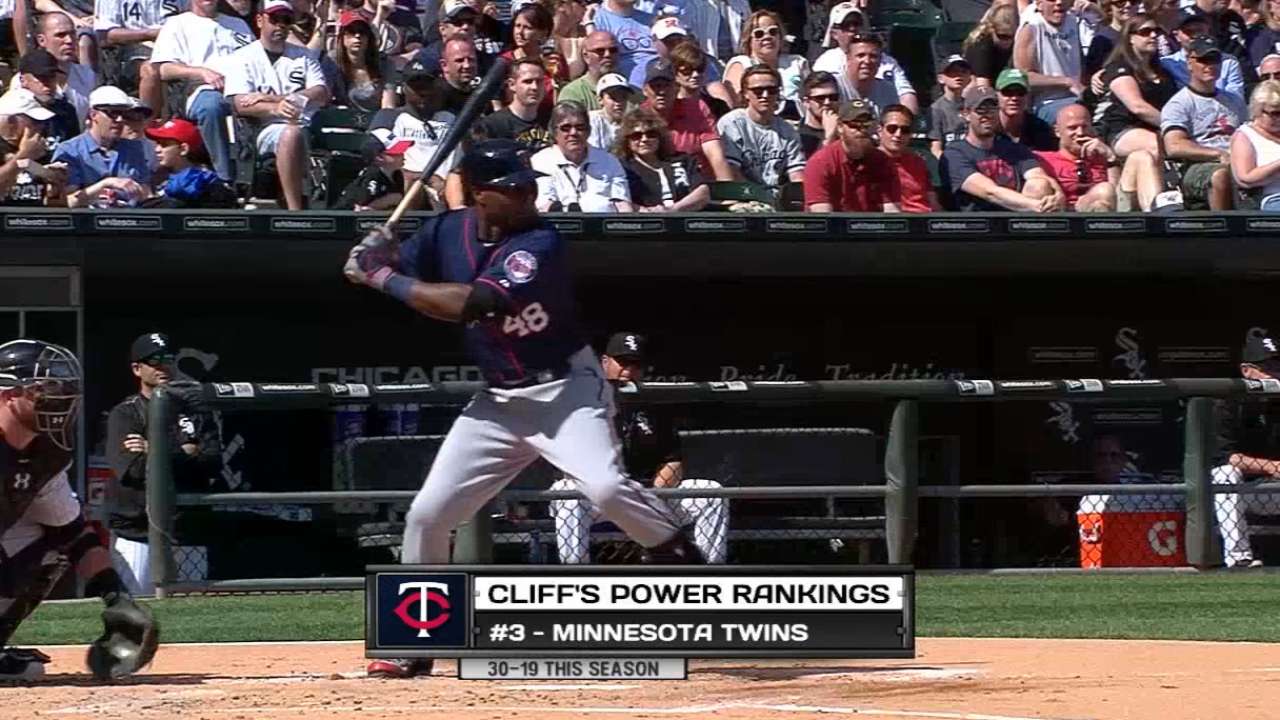 The Minnesota Twins weren't on a lot of preseason radars, but as we enter Week 9 of the MLB Power Rankings presented by The All-New Chrysler 200, it's time to acknowledge them as legitimate residents in our top 10. They're not just playing sort of well for Twins standards. They absolutely mowed through their May schedule, going 20-7 and winning nine series. Their only series loss was to the Tigers, more than two weeks ago.
Through Sunday's games, the Twins had amassed the best record in the American League and the second best of all 30 teams, behind only St. Louis.
Even more impressive, the Twins are doing this in what is considered one of baseball's toughest divisions. While the other two AL divisions feature only three teams combined with above .500 records, the AL Central has three legitimate contenders in the Royals, Tigers and Twins, with the Indians capable of putting together a run and doing their part to hang around through the summer.
Biggest jump:
Rangers. They weren't ranked last week, and land in the top 20 this week at 15. Beginning with a sweep of the Astros, the Rangers have won 18 of 27 and have moved to the middle of the pack in the AL West. The really intriguing storyline, of course, is the fact that Josh Hamilton, being paid mostly by the Angels, is inching his new team closer to his old one and could leapfrog them in the standings as early as... now. (Honorable mention: the scorching-hot Pirates, who jumped from 14 to nine.)
Biggest drop:
Mariners. They were 16th last week, 20th this time. They're hovering around .500 but it's still a little surprising that their slow start has lasted this long. Offense has been an issue all season, as evidenced by their .238 team batting average, second-lowest in the AL.
Our top 20:
1. Cardinals
They aren't winning at the same frenetic .650 pace they maintained for more than a month, but the Cardinals are still among the elite even with the absence of their ace, and now their first baseman, Matt Adams, who's out for four months and maybe the season. Manager Mike Matheny's biggest challenges these days are finding enough playing time for five capable outfielders, and figuring out who can bridge the gap between a still-strong starting rotation and closer Trevor Rosenthal, who entered Sunday's game having given up two runs all season, spanning 22 appearances. Are these really problems?
2. Royals
The upper echelon of the elite teams have the talent on their side, and often what separates them from the pack is a little luck and a lot of health. The Royals have had to deal with very few absences from their key players, and they're kind of alone in that category. Meanwhile, the offense continues to hum and Mike Moustakas' struggles this time last year feel more like a decade ago. Royals fans are stuffing the All-Star ballot boxes, and they're drawing more than 7,000 more fans at the K this year than in '14. Good times continue to roll for the defending American League champs, who have a nearly .650 winning percentage since last July 22, including the postseason.
3. Dodgers
They've lost five of seven and during that time managed to string together 42 innings on the road during which the offense didn't score. This doesn't doom their season, of course, but it does serve as a reminder that the National League West title is probably going to be settled sometime in the last week of the season, and the Dodgers are just one of two or three teams that have a chance to win it. The Dodgers are still deep and talented and built for the long haul. But they're coming down to earth a little.
4. Nationals
Because he's part of the deepest rotation in baseball, Stephen Strasburg's trip to the disabled list with neck tightness (if you go by what the team says) or back issues (if you're listening to manager Matt Williams) isn't that catastrophic, at this juncture. If he only needs the minimum 15 days to recover, odds are the team will be fine in the interim. But while it's highly likely the Nationals will be atop the NL East when it's all over, it should be noted they've lost five of eight, including a recent three-game sweep in Cincinnati.
5. Giants
Tim Lincecum is being Freak-y again and Hunter Pence is healed, healthy and back to his rightful place in the lineup. Those are only two examples of a dozen things that are going right for the Giants these days. Tim Hudson has been better than expected, Matt Cain seems to be on his way back and the Giants bulldozed their way through May to the tune of a 21-9 record.
The rest:
6. Astros (5th); 7. Twins (10th); 8. Tigers (6th); 9. Pirates (14th); 10. Cubs (8th); 11. Yankees (12th); 12. Angels (NR); 13. Rays (9th); 14. Orioles (15th); 15. Rangers (NR); 16. Mets (13th); 17. Indians (18th); 18. Padres (17th); 19. Dbacks (NR); 20. Mariners (16th)
Alyson Footer is a national correspondent for MLB.com. Follow her on Twitter @alysonfooter. This story was not subject to the approval of Major League Baseball or its clubs.