Peterson's big triple pushes Braves past Giants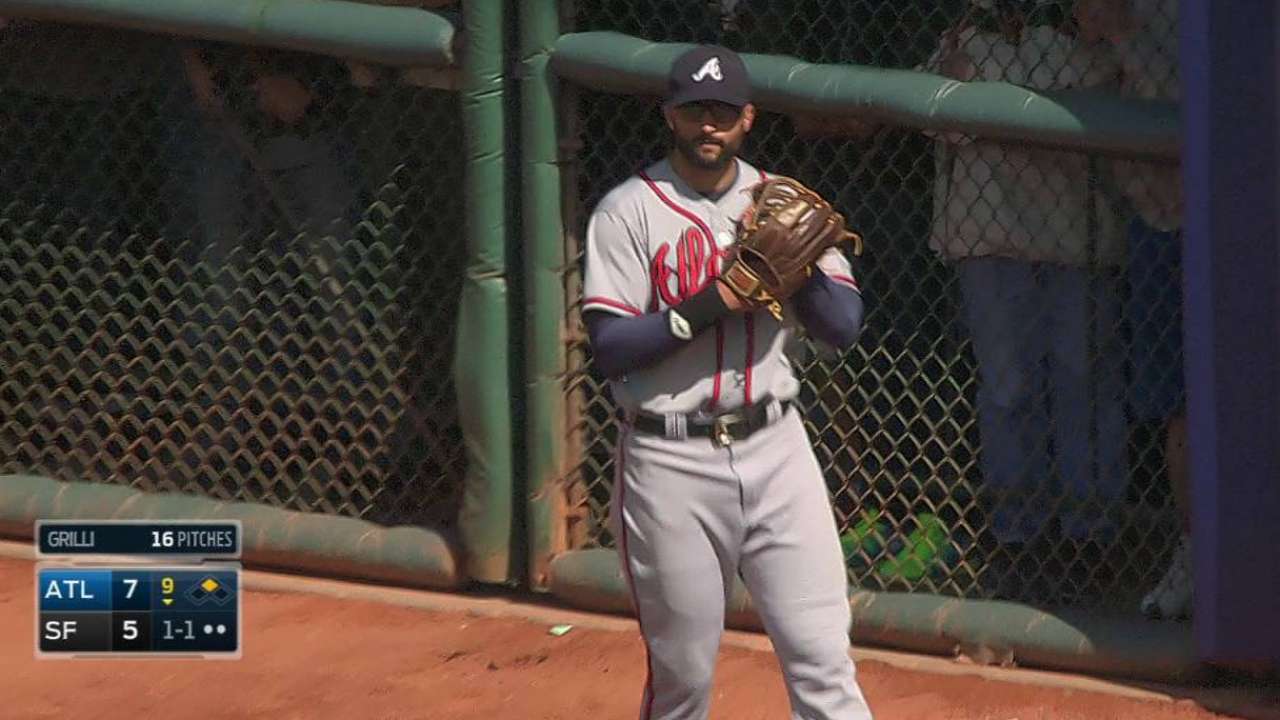 SAN FRANCISCO -- Jace Peterson's three-run triple off Santiago Casillla capped the four-run ninth inning the Braves constructed to claim a 7-5 comeback victory over the Giants on Sunday afternoon at AT&T Park.
"I don't think anybody ever feels out of a game," Peterson said. "Everybody is going to keep competing and battling. So, no matter what the scoreboard says, we're going to fight."
Freddie Freeman sparked the rally with a one-out, solo homer off Casilla, who then promptly walked Andrelton Simmons. After Brandon Crawford fumbled Christian Bethancourt's grounder, A.J. Pierzynski lofted a soft single to shallow center. Peterson then cleared the bases with the game-winning triple he sent into the right-center-field gap.
The ninth-inning rally capped a crazy game for the Braves, who encountered an early deficit when Brandon Belt and Crawford hit back-to-back homers off Julio Teheran in the second inning. Atlanta claimed a short-lived lead when Juan Uribe hit a two-run homer off Madison Bumgarner in the seventh. But the Giants regained the lead when they tallied three runs in the bottom half of the same inning, which was highlighted by Joe Panik's home run off Donnie Veal.
"It's disappointing no matter how we score the runs," Crawford said. "Yeah, we did put some good swings on some balls. … We battled back and came from behind. But it's a tough loss."
MOMENTS THAT MATTERED
Bullpen decision: With the Giants set to bring three consecutive left-handed batters to the plate following Matt Duffy's seventh-inning double off Teheran, the Braves opted to gamble with the left-hander Veal because Luis Avilan had pitched the previous two days. A sacrifice bunt accounted for the only out recorded by Veal, who has allowed eight hits, including three home runs, and seven earned runs in just 4 1/3 innings. There is a strong chance he will be designated for assignment before Monday's game in Arizona.
Key error: Crawford botched a potentially game-ending and game-winning double play on Bethancourt's routine grounder. The shortstop approached the ball soundly with his hands at each side in case of a sharp bounce, but the ball deflected off his glove, keeping the game alive on the fielding error. Casilla stayed in to face left-handed pinch-hitter Pierzynski, and the former Giant singled to load the bases on a blooper that Panik missed diving backwards in shallow right field in front of Hunter Pence. Peterson followed with his game-winning triple.
"It's disappointing with the comeback we had with Joe's home run," Crawford said. "Just battling back and coming back the way we did and then having it end like that is disappointing." More >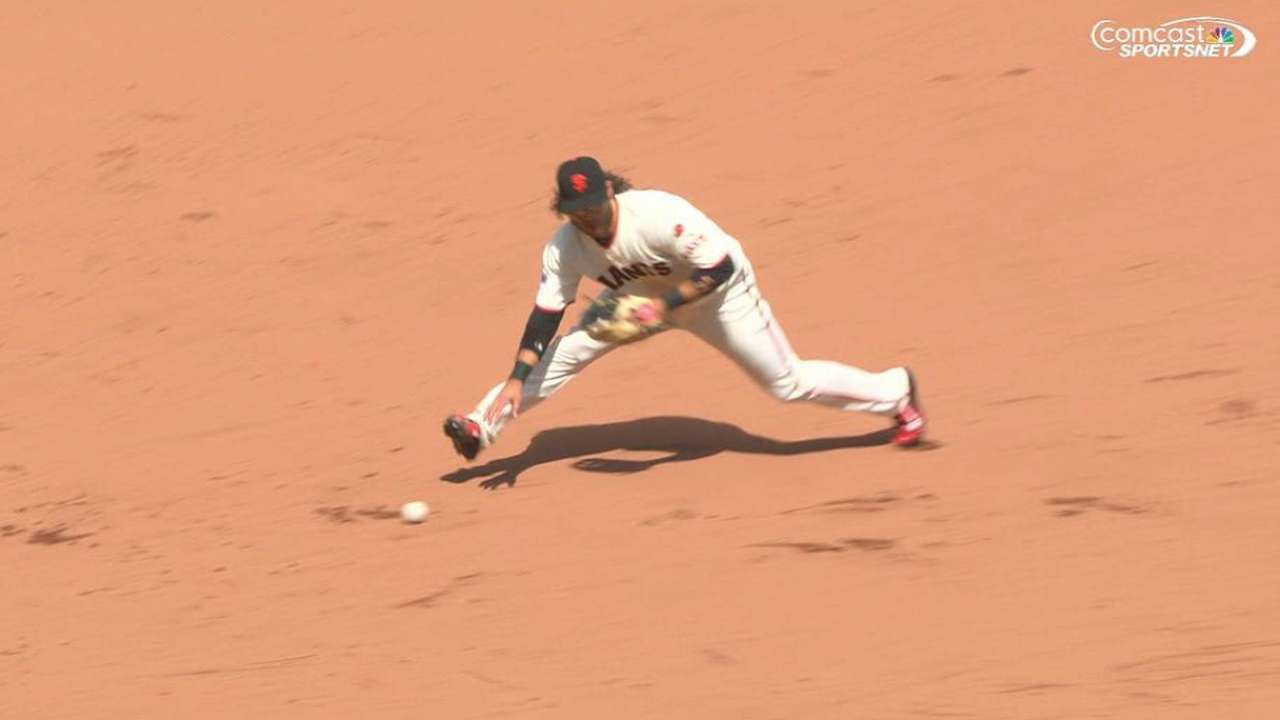 Teheran's homers: After Belt fouled a 78 mph slider into the water beyond the right-field wall, Teheran followed with a 79 mph slider that the Giants first baseman drilled over the right-center-field wall. Crawford followed with what stands as the latest of the 12 homers the Braves right-hander has allowed in his past 49 innings. Teheran shied away from his fastball as he limited the Giants to just one hit from the third through sixth innings. But Atlanta manager Fredi Gonzalez said he never felt comfortable with Teheran during Sunday's game. More >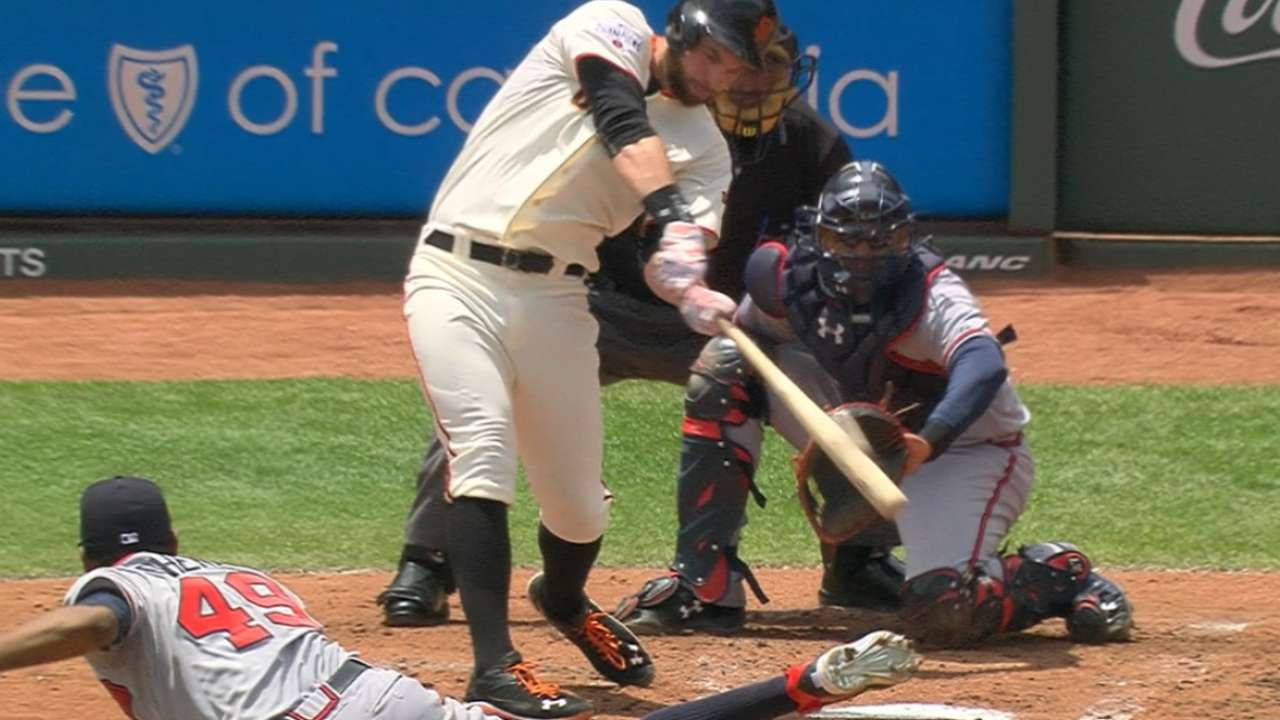 Lefty power: In a ballpark not known for being particularly kind to left-handed batters, each of the Giants' three home runs were hit by lefties, each landing in the same right-center vicinity, no less. The first two were back-to-back homers in the second by the Brandons --- Belt and Crawford, who each have seven homers on the season and at one point Sunday had identical batting averages. The lefty power surge included Panik's two-run shot, his fourth homer of the season.
QUOTABLE
"I'm not a big fan of [coming in as a replacement]; I like to be in there the whole game." -- Freeman, who had started each of Atlanta's previous 217 games, but was held out of Sunday's lineup because he had hit just .197 over his previous 17 games. More >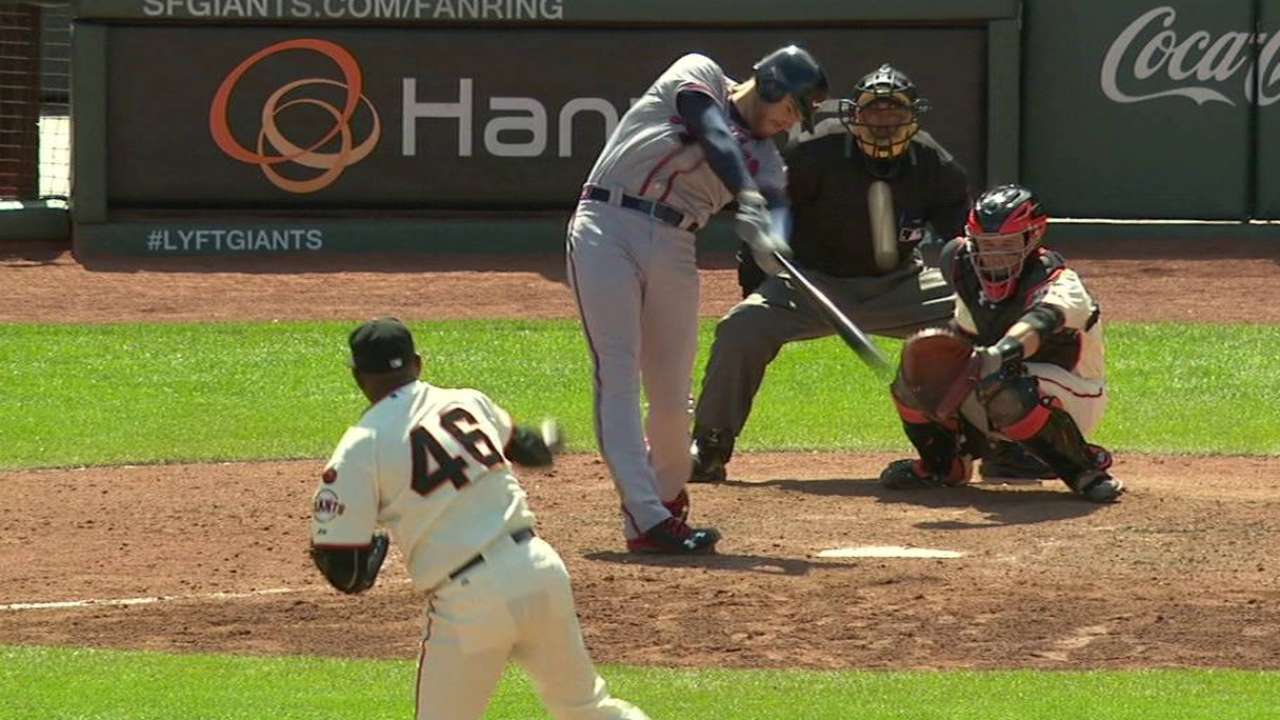 REPLAY REVIEW
The replay crew was busy as reviews were requested on consecutive plays during the top of the eighth inning. The Braves were successful with their challenge that Cameron Maybin reached first base before Belt received Crawford's attempted double-play turn.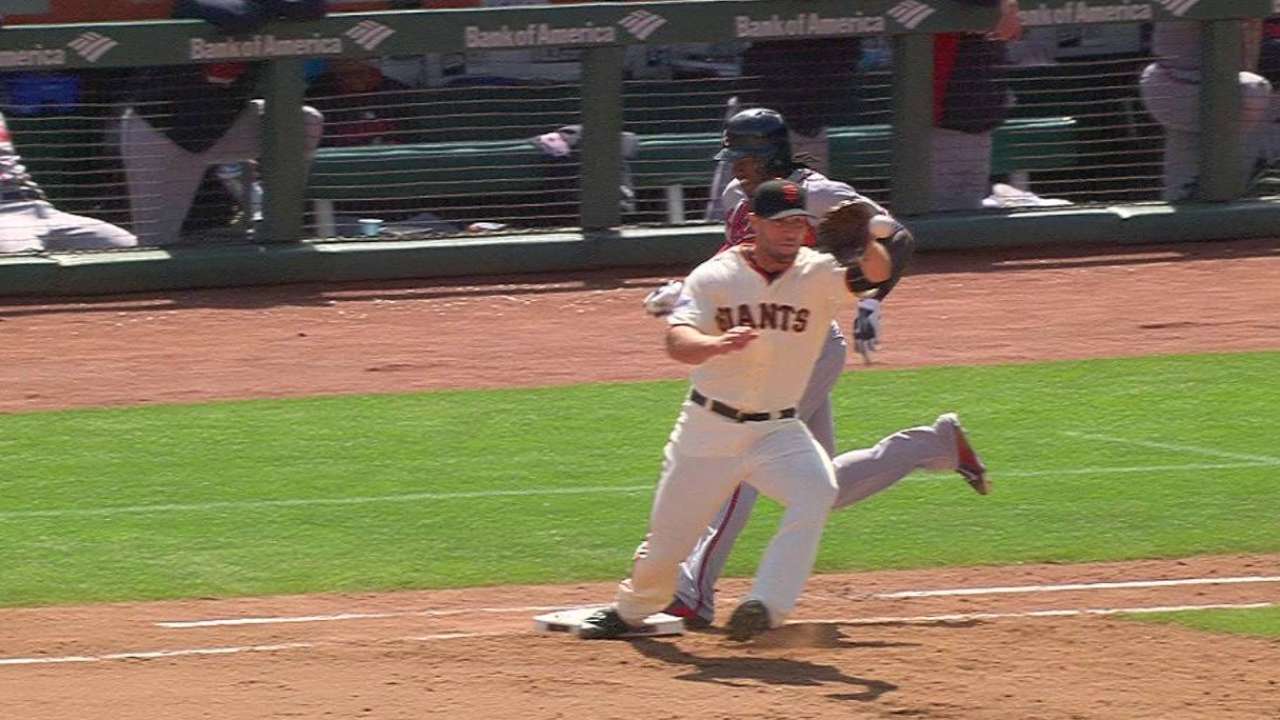 Moments later, the Giants were unsuccessful with their challenge that Nick Markakis had reached first base before Crawford's second straight attempt to turn a double play.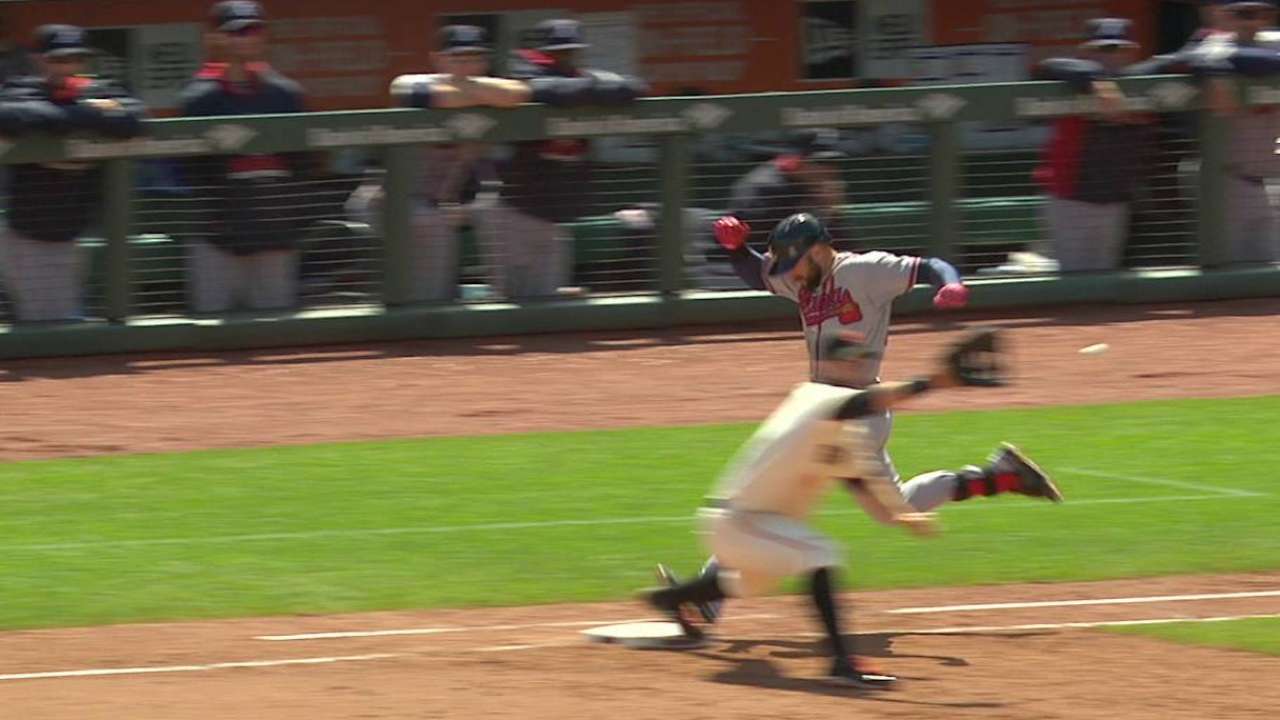 WHAT'S NEXT
Braves: Alex Wood will take the mound when Atlanta begins a three-game series against the D-backs on Monday night at Chase Field. Wood has allowed just one run while completing seven innings in both of his past two starts.
Giants: San Francisco starts a stretch against some of the National League's best teams, beginning with a three-game series opener against the Pirates at 7:15 p.m. PT on Monday at AT&T Park. Right-hander Ryan Vogelsong (4-2, 4.24) takes the mound against righty Gerrit Cole (7-2, 2.11).
Watch every out-of-market regular season game live on MLB.TV.
Willie Bans is a contributor to MLB.com. Mark Bowman is a reporter for MLB.com. This story was not subject to the approval of Major League Baseball or its clubs.