Canha fighting through plate struggles
First baseman/outfielder unable to find consistency coming off bench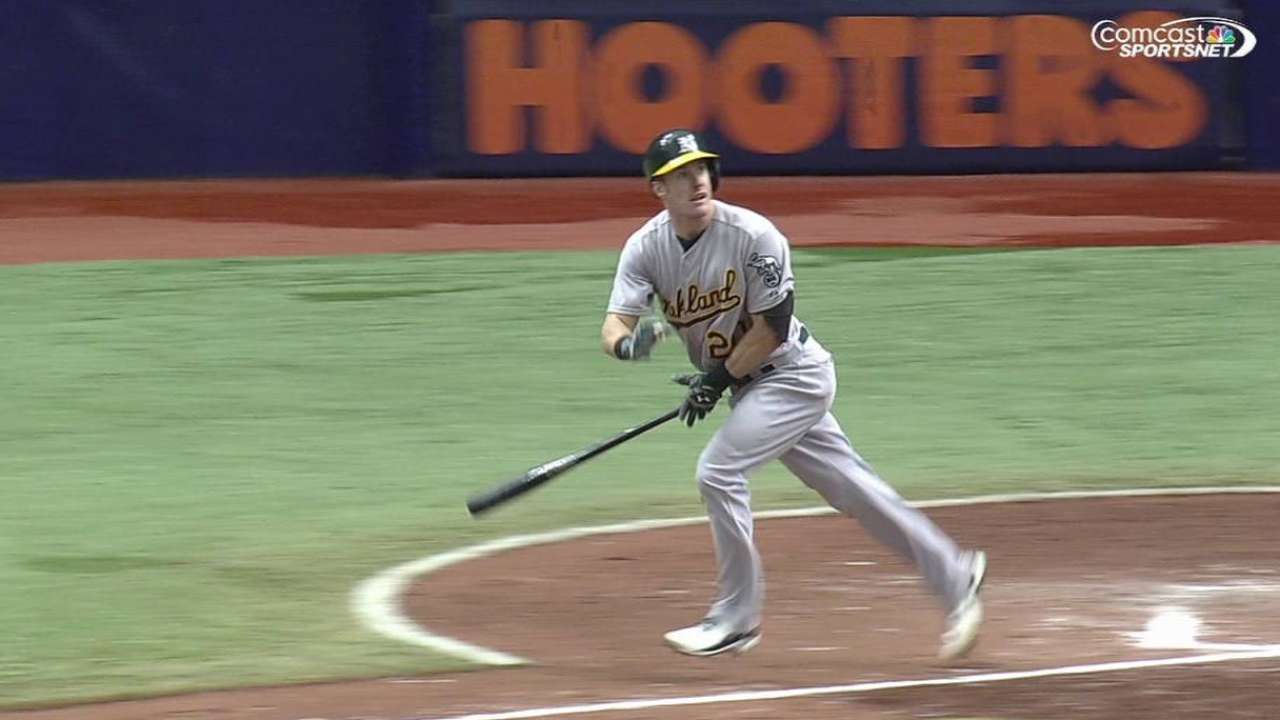 OAKLAND -- After hitting .279 in April, the A's Mark Canha is batting just .169 (11-for-65) in May and was out of the starting lineup for the second consecutive game Sunday.
The first baseman/outfielder is 1-for-8 during this four-game series against the Yankees and 3-for-15 on the homestand. He's hitless in eight at-bats with five strikeouts as a pinch-hitter this season and is hitting .106 (5-for-47) against left-handers, compared to .291 against right-handers -- reverse splits of what was expected of him.
Canha has also not fully recovered from a flu bug he's had for a couple of weeks, but he says he is making steady progress and expects to break out of his current slump.
"I think I can get a little excited there and try to do too much sometimes," Canha said. "I just need to relax and see the ball."
In the A's 5-3 loss to the Yankees on Saturday, Canha replaced first baseman Max Muncy in the fifth inning and struck out in both of his at-bats. It's a role that's not always easy for rookies.
"Just when you think, all right he's going to be in a full-fledged slump, he hits a home run," said A's manager Bob Melvin. "His pinch-hit at-bats haven't been as good as we would expect, but he seems to be a little bit more comfortable in the starts.
"We really looked at him to be a potential left-handed pitcher killer, and it's really been the opposite for him. All his damage has been against right-handed pitching. I think that'll even out at some point."
Worth noting
• Melvin said left-hander Eric O'Flaherty (shoulder) could be activated from the disabled list soon. O'Flaherty has made two Minor League rehab appearances, allowing one unearned run in a two innings between Class A Advanced Stockton and Triple-A Nashville.
• First baseman Ike Davis (left quad) will likely begin a rehab assignment when the A's return for their next homestand.
• Right-hander Kendall Graveman left the team Sunday because of a family issue, but Melvin expects him to start Tuesday against the Tigers.
Trevor Hass is an associate reporter for MLB.com. This story was not subject to the approval of Major League Baseball or its clubs.