Padres looking for best available at No. 51
Organization's brain trust wants to infuse system with impact players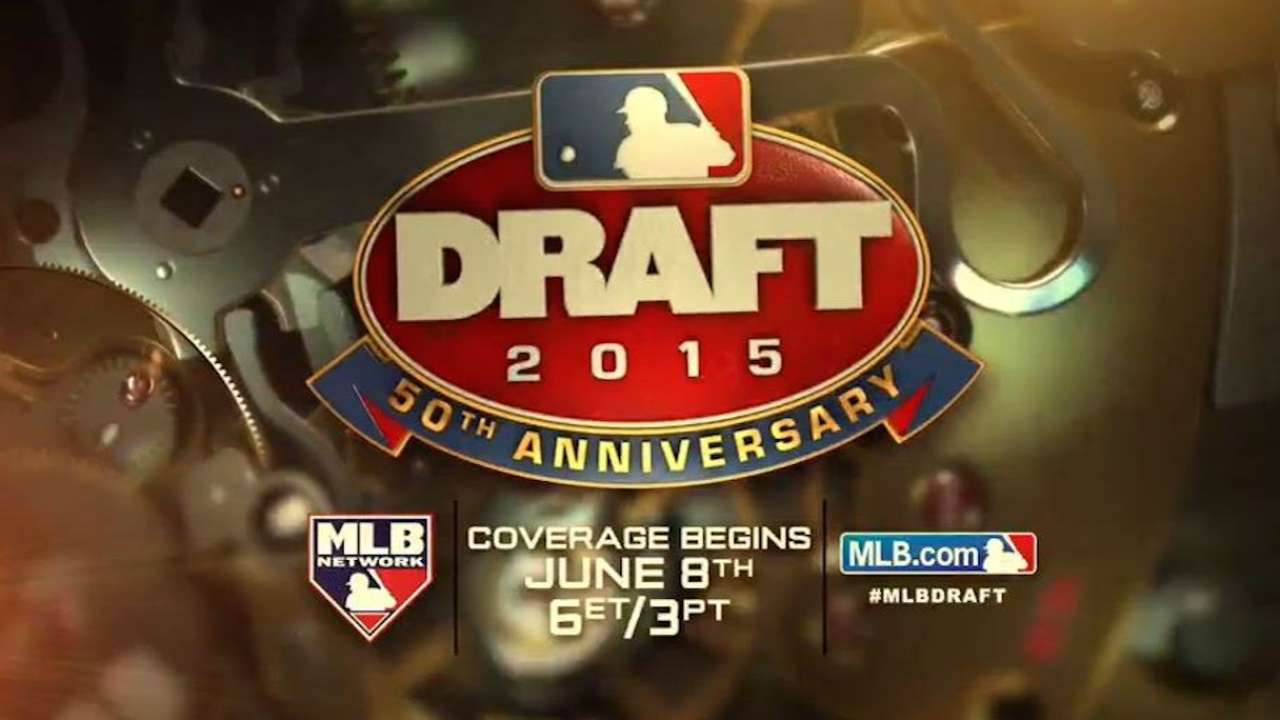 The 2015 Draft will take place from Monday through Wednesday, beginning with the Draft preview show on MLB.com and MLB Network on Monday at 3 p.m. PT. Live Draft coverage from MLB Network's Studio 42 begins at 4 p.m., with the top 75 picks being streamed on MLB.com and broadcast on MLB Network. MLB.com's exclusive coverage of Day 2 begins with a live Draft show at 9:30 a.m. on Tuesday, with exclusive coverage of Day 3 beginning at 10 a.m. on Wednesday.
MLB.com's coverage includes Draft Central, the Top 200 Draft Prospects list and Draft Tracker, a live interactive application that includes a searchable database of over 1,700 Draft-eligible players. Every selection will be tweeted live from @MLBDraftTracker, and you can also keep up to date by following @MLBDraft. And get into the Draft conversation by tagging your tweets with #mlbdraft.
The Draft can't get here quick enough for the Padres' first-year scouting director Mark Conner. Nor can the team's first pick -- No. 51 overall -- which means Conner and his brain trust will be essentially be waiting much of the first day of the Draft.
General manager A.J. Preller, who promoted Conner from regional scouting supervisor, isn't worried too concerned about picking so late.
"There's always talent in the Draft, and you see it every night in the big leagues -- guys who went in the third round, the eighth round," Preller said. "Mark is trying to challenge his staff; there's 40 rounds, 'Let's draft well in all 40 [rounds]' ... there's big leaguers all throughout the Draft."
Here's how the Draft is shaping up for the Padres, whose first selection is the No. 51 overall.
In about 50 words
No picks in the first round for the Padres, as they'll have to wait until the 51st overall pick, after losing picks Nos. 13 (for signing free-agent pitcher James Shields) and 41 (traded to the Braves for closer Craig Kimbrel). It's not an enviable position, but Conner isn't deterred.
"The way I look at it is, it is fun to have the challenge of not having those first two picks," he said recently.
The scoop
Conner is no stranger to San Diego's Draft room. While he's presiding over his first Draft with the team, he's surrounded by strong area scouts, regional supervisors, crosscheckers and has received input and support from Preller and special assistant David Post, who has a strong eye for talent.
"His passion for the game, ability to break down tools and have an understanding of what it takes to grind through the Minor Leagues to play in the big leagues really stood out," said Jaron Madison, the Padres' former scouting director who hired Conner.
First-round buzz
Well, none. San Diego doesn't have a first-round pick, after surrendering the 13th overall pick in the Draft when it signed Shields to a four-year, $75 million contract in February.
Money matters
Under the Collective Bargaining Agreement, each team has an allotted bonus pool equal to the sum of the values of that club's selections in the first 10 rounds of the Draft. The more picks a team has -- and the earlier it picks -- the larger the pool. The signing bonuses for a team's selections in the first 10 rounds, plus any bonus greater than $100,000 for a player taken after the 10th round, will apply toward the bonus-pool total.
The Padres have been assigned a pool of $3,671,200, which ranks 29th in the Majors. The value assigned to San Diego's first pick, No. 51 overall, is $1,178,400. The team lost approximately $4.5 million in pool money with the subtraction of picks Nos. 13 and 41.
Any team going up to 5 percent over its allotted pool will be taxed at a 75 percent rate on the overage. A team that overspends by 5-10 percent gets a 75 percent tax plus the loss of a first-round pick. A team that goes 10-15 percent over its pool amount will be hit with a 100 percent penalty on the overage and the loss of a first- and second-round pick. Any overage of 15 percent or more gets a 100 percent tax plus the loss of first-round picks in the next two Drafts.
Shopping list
It will be a best-player-available scenario for the Padres, starting with their first pick at No. 51. There's no real way of telling until the Draft actually begins who might be available when it comes time to pick. But make no mistake, the team will look to infuse the system with impact players. The system has lost several of those types of players in the wave of Preller's many deals.
Trend watch
Under the previous administration, San Diego subscribed to the theory of finding as many potential impact players as possible to fill a system that's, after many of the deals Preller made, devoid of them.
The Padres have taken college players the last two years -- shortstop Trea Turner a year ago and outfielder Hunter Renfroe in 2013 -- and could very well stick to that script, at least in terms of looking for a position player with their top pick.
But again, picking at No. 51, San Diego really has its hands tied to some extent, waiting so long until the team's number is called.
RECENT DRAFT HISTORY
Rising fast
Right-hander Ryan Butler, a seventh-round pick a year ago, made it to Class A Fort Wayne, where he was closing games last summer. He's moved all the way to Double-A San Antonio this season after a fast start (1.96 ERA in seven starts) with Class A Advance Lake Elsinore. Another righty, Colin Rea, got off to a fast start in Double-A. Some think he could reach the big leagues sometime this season. Outfielder Travis Jankowski, limited to 29 games a year ago because of injury, has posted an on-base percentage over .400 for much of the first half in Double-A.
Cinderella story
Reliever Kevin Quackenbush was an eighth-round pick in 2011. Rea, a 12th-round pick in 2011, has found his command in 2015 and was closing in on a promotion to Triple-A before back spasms briefly sidelined him in May. Pitcher Brandon Alger, who was a 26th-round pick in 2012, is off to a strong start with Double-A.
In The Show
Players on the current 25-man roster who have been drafted and developed by the Padres include: righty Quackenbush, second baseman Jedd Gyorko, infielder Cory Spangenberg, catcher Austin Hedges and outfielder Will Venable. Righty Dale Thayer signed as a free agent with the team in 2002.
The Padres' recent top picks
2014: Turner, SS, Double-A San Antonio
2013: Renfroe, OF, Double-A San Antonio
2012: Max Fried, LHP, Traded to Braves
2011: Spangenberg, INF, Padres
2010: Karsten Whitson, RHP, didn't sign
Corey Brock is a reporter for MLB.com. Keep track of @FollowThePadres on Twitter and listen to his podcast. This story was not subject to the approval of Major League Baseball or its clubs.