Goldy's at-bats must-see events from dugout
Hale wants to go back to having 12 pitchers on roster
MILWAUKEE -- It turns out it's not just fans who enjoy watching first baseman Paul Goldschmidt play, as his D-backs teammates make sure they don't miss a pitch when he's up to bat.
In fact, rookie pitcher Archie Bradley said he wishes there was a camera in the dugout to capture the looks he and his teammates have.
"Jaws are dropped," Bradley said. "We're all looking at each other like, 'Did that just happen?'"
Goldschmidt was at it again Saturday when he blasted a pair of home runs and drove in four runs. He followed that up quickly with a solo shot in his first at-bat of Sunday's finale at Miller Park.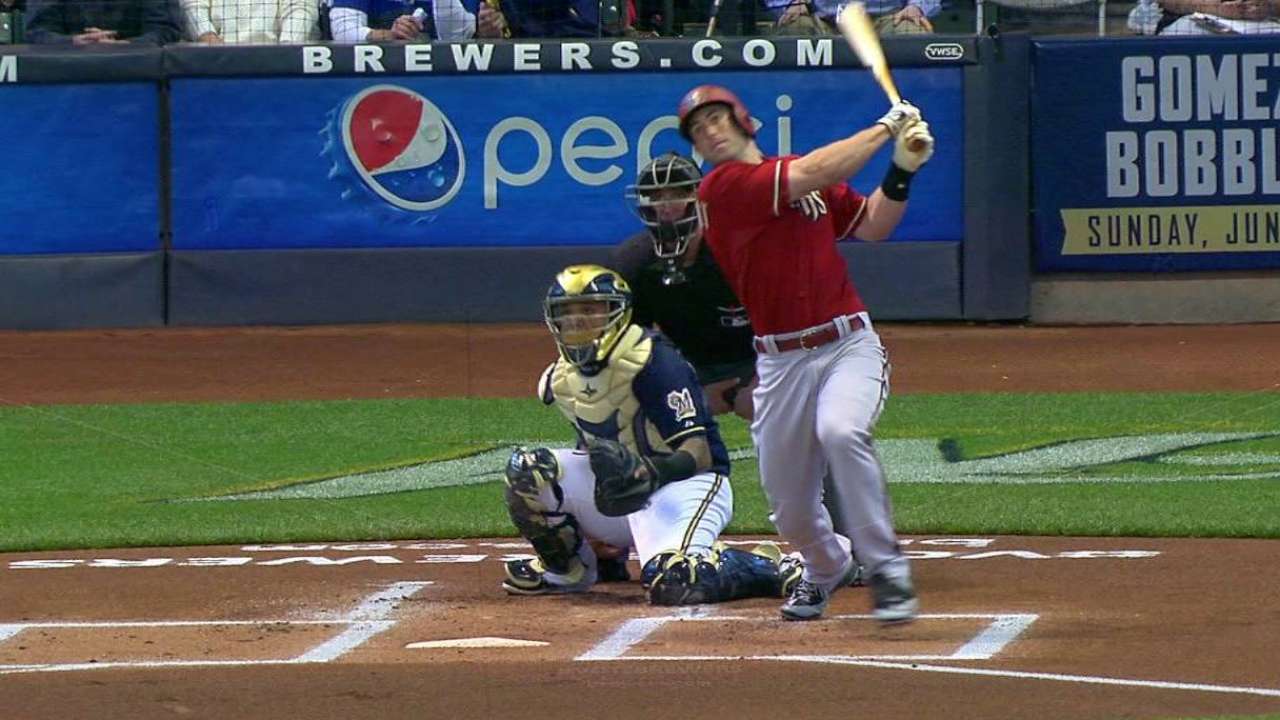 Saturday's homers prompted teammate Mark Trumbo to say that Goldschmidt "pretty much single-handedly won the game by himself."
That kind of talk makes the ultra-modest Goldschmidt cringe, but the fact is his teammates look to him to set an example. Especially when it comes to a young player like Bradley, who said he watches how Goldschmidt constantly works to get better.
"It drives guys like me to get better," Bradley said.
Goldschmidt is not a big talker, but he has grown more vocal in the clubhouse as he has gained more big league experience.
"He also leads vocally now," D-backs manager Chip Hale said. "He's gotten better, from what I understand, in hitters' meetings. When we're looking at the other team talking about arms, who runs, who bunts, he's very vocal. He has a lot of good things to say. He's kind of like E.F. Hutton. He doesn't talk a lot, but when he does talk, people listen."
Worth noting
• Hale would like to go back to having 12 rather than 13 pitchers on the roster, but is leery about overworking his bullpen. Hale blamed himself for pushing rookie Enrique Burgos too hard, as the right-hander developed shoulder tendinitis.
"When you look at the history of relievers and the more you pitch them, maybe not this year but next year, you'll see a lot of injuries and you'll see a lot of guys go down," Hale said. "We're really trying to be careful with those relievers."
• Though the timetable has been pushed back for Patrick Corbin's return, Hale emphasized that the team is simply being extra cautious after the left-hander's Tommy John surgery.
"He's fine," Hale said. "There's no injuries with him, we just slowed him down a little bit. In 2015, he's going to pitch as a Tommy John first-year guy back. We're going to be very careful with him to make sure he gets through 2015 healthy because in 2016 he should be back to who Patrick Corbin was."
Steve Gilbert has been writing about D-backs since 1997 and has been the club's beat reporter for MLB.com since 2001.
This story was not subject to the approval of Major League Baseball or its clubs.