Hamilton delivers walk-off winner in ninth
ARLINGTON -- Josh Hamilton played the hero in the finale of his first series back in Texas with a pinch-hit, walk-off double to beat the Red Sox, 4-3, Sunday at Globe Life Park.
The Red Sox committed three errors for the second consecutive game. Pablo Sandoval had a ground ball go off his glove to spark the Rangers' ninth-inning rally. After a sacrifice bunt, Boston closer Koji Uehara intentionally walked Prince Fielder to put the winning run on base.
Hamilton, pinch-hitting for Adam Rosales with two outs and runners on the corners, drove a 1-1 pitch into the gap in left-center field to score Fielder, who lumbered home from first. The Rangers mobbed Hamilton, who was originally scheduled to have the day off, at second base. At 26-25, they're above .500 for the first time in more than a year. They went 19-11 in May.
The only bad news for the Rangers -- losing third baseman Adrian Beltre, who left the game with a sprained left thumb and is expected to miss at least two weeks.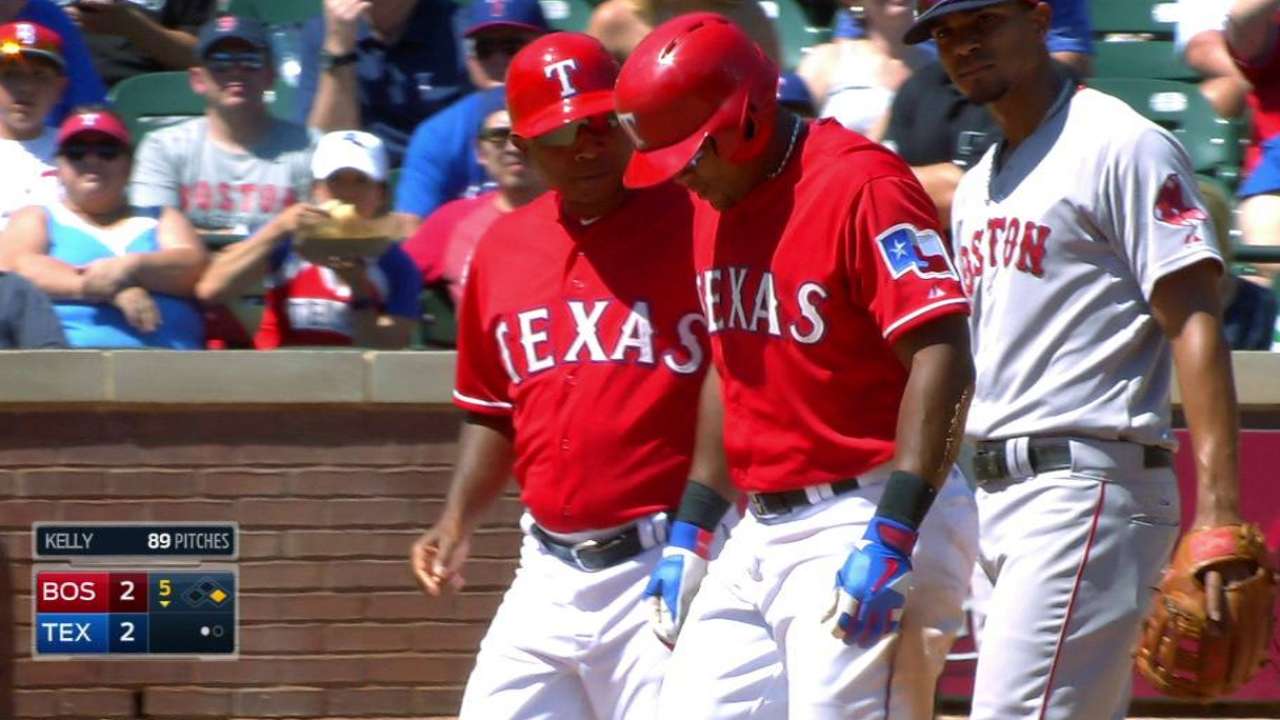 It was the Red Sox sixth loss in seven games and their third in a row.
MOMENTS THAT MATTERED
Errors plague Boston again: Sandoval's error in the ninth inning stands out, but it wasn't the only Red Sox mistake Sunday. In the third inning, shortstop Xander Bogaerts fielded a ball up the middle and tried a backhand toss to Dustin Pedroia for a force out at second. Bogaerts' momentum carried him toward right field, and the toss went wide of the base, forcing Pedroia to try to barehand it, but the ball went off his hand and thus set up an RBI single for Beltre. Sandoval made another error in the inning on a grounder by Elvis Andrus. Both mistakes contributed to starter Joe Kelly throwing 100 pitches in five innings.
"That's part of the game," Sandoval said. "It's been tough, through that situation where you probably try to do much, try and make that play."
Ones that got away: The Rangers let three ground balls slip from their grasp in the first two innings, directly contributing to Boston's first two runs. Andrus allowed an infield hit to Mookie Betts in the first inning when he couldn't handle a sharp grounder and Betts scored on Hanley Ramirez's single two batters later. In the second inning, Andrus saw another hard-hit ball squirt out of his grasp for an infield hit, this time off the bat of Rusney Castillo with a man on second. Pedroia then hit a grounder that Beltre flubbed for an error, allowing the second run to score.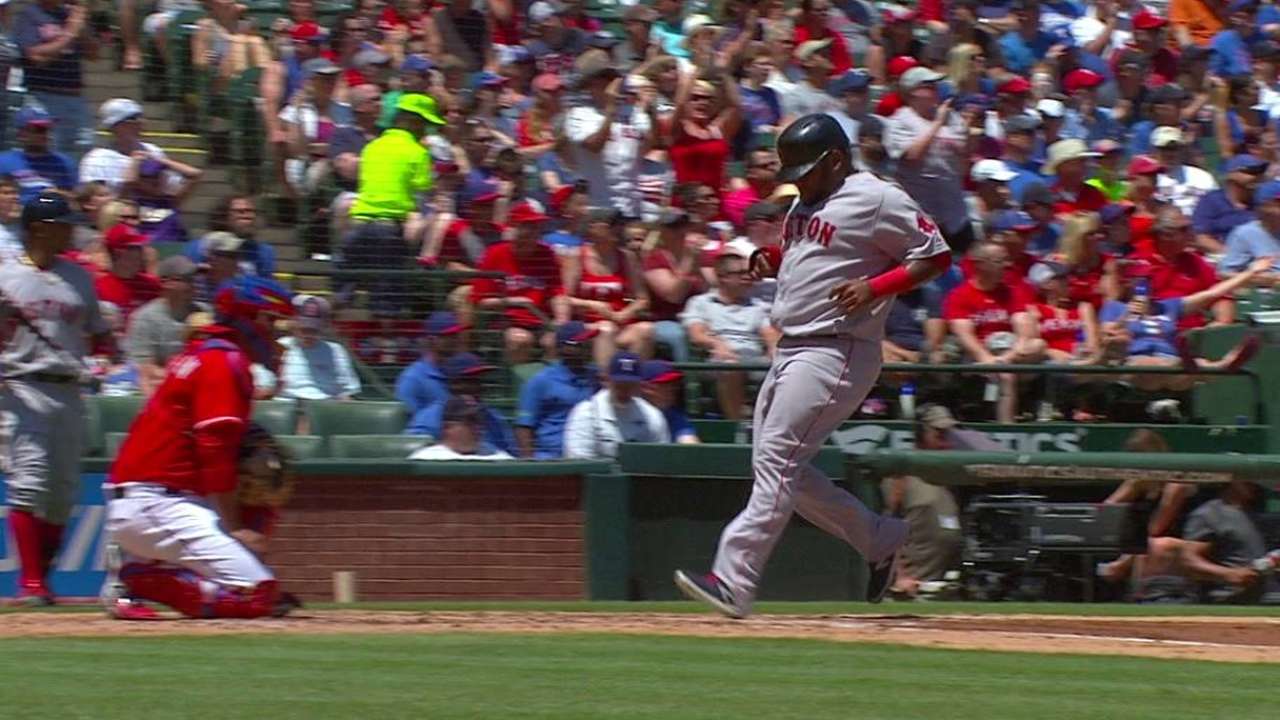 Sox can't complete strong 'pen performance: Boston relievers Alexi Ogando, Tommy Layne and Junichi Tazawa had combined to throw three shutout innings after Kelly left the game. The only Rangers' hit off the trio was a Hanser Alberto single off Ogando in the sixth. Uehara couldn't complete the deal in the ninth when Hamilton sent his splitter into left-center to end the game.
"I put extra pressure on myself to get out of that inning," Uehara said through an interpreter. "I wanted to have my teammates' back. I wasn't able to. It was my responsibility." More >
Intentional walk to Fielder backfires: After the Red Sox recorded two outs in the ninth, with the tying run at second base, manager John Farrell chose to have right-handed reliever Uehara walk lefty Fielder and put the winning run on base. Rosales was scheduled to bat for the Rangers after Fielder, but Hamilton was on the bench after being given the day off. Farrell said he considered the possibility of Hamilton pinch-hitting, but said he'd rather "take the chance of a guy coming off the bench versus a guy that's in the game." The decision proved costly and Fielder wound up contributing with his legs instead of his bat, scoring from first without hesitation.
"I'm moving, out of the gate," Fielder said. "As soon as he swung, I was gone. … Obviously I'm glad they didn't [pitch to me]. It worked out well." More >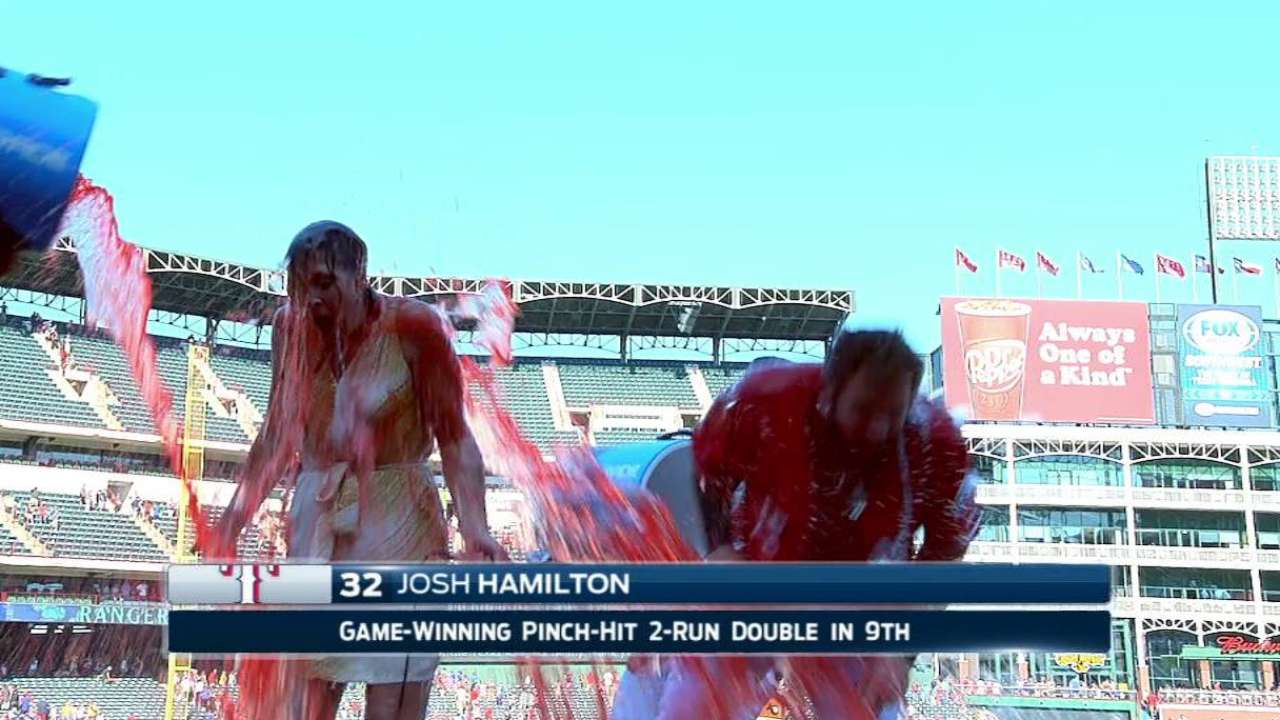 QUOTABLE
"We went into the ninth in there with two outs still with the lead. Certainly a better effort than last night, which, last night was unacceptable." -- Farrell
SOUND SMART WITH YOUR FRIENDS
Beltre played in 191 consecutive games since he was activate from the disabled list on April 25, 2014. That was the second-longest active streak behind Atlanta's Freddie Freeman (218).
RANGERS LOSE CHALLENGE
The Rangers challenged a call at second base when Mookie Betts stole in the seventh inning, but the call stood after a review of 1 minute, 54 seconds. Banister is 4-14 in replay challenges this season.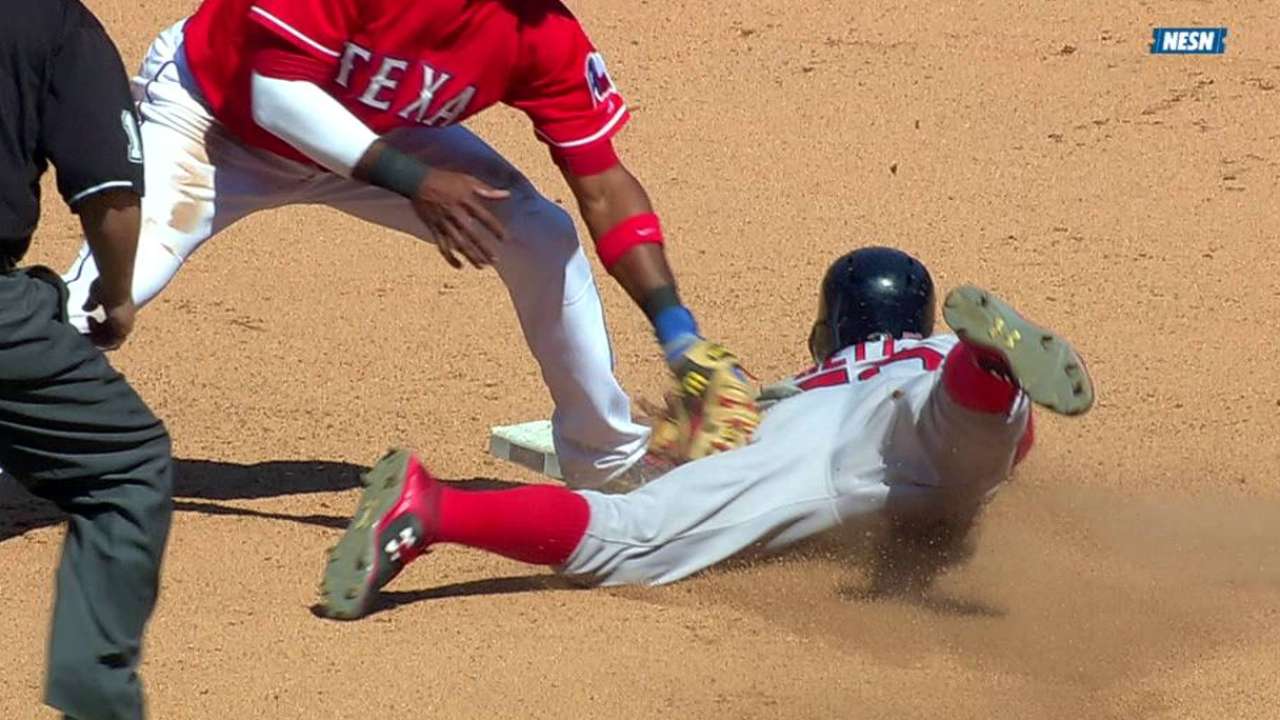 BANISTER EJECTED
Banister was tossed from the game by second-base umpire Todd Tichenor after he called Castillo safe on a stolen base attempt in the ninth inning. Replays showed Andrus tagged Castillo's foot after he overslid the bag, but Tichenor said Andrus pushed Castillo off even though that did not seem evident on replays. It was the second time this season that Banister has been ejected from a game.
"It's not a reviewable play as soon as he said that Elvis pushed him off the bag," Banister said. "Obviously I disagreed with the assessment, it's not a reviewable play. I voiced my displeasure, he voiced where I could go, put me in timeout and that's about it."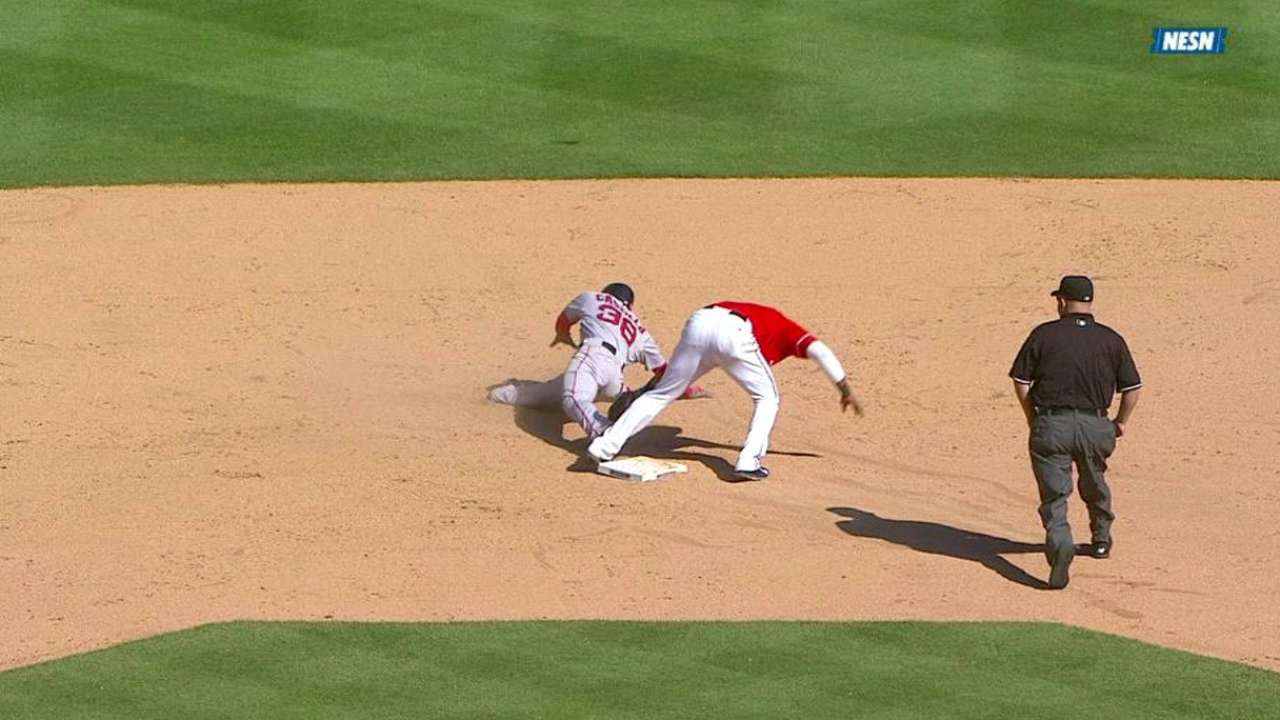 WHAT'S NEXT
Red Sox: Clay Buchholz gets the ball when the Red Sox return to Fenway Park to begin a four-game series with the Twins on Monday at 7:10 p.m. ET. Buchholz is 3-2 with a 4.02 ERA in his career against Minnesota.
Rangers: Texas is off Monday and will start a three-game home series with the White Sox on Tuesday night at 7:05 p.m. CT. Colby Lewis will make his 11th start of the season for the Rangers. Cleveland roughed up Lewis for 10 runs on 11 hits in his last start on May 27.
Watch every out-of-market regular season game live on MLB.TV.
Dave Sessions is a contributor to MLB.com. Cody Stavenhagen is an associate reporter for MLB.com. This story was not subject to the approval of Major League Baseball or its clubs.