MLB.com Columnist
Alyson Footer
McHugh's breakout timed to gluten-free diet
Pitcher emerges in Astros' rotation shortly after making change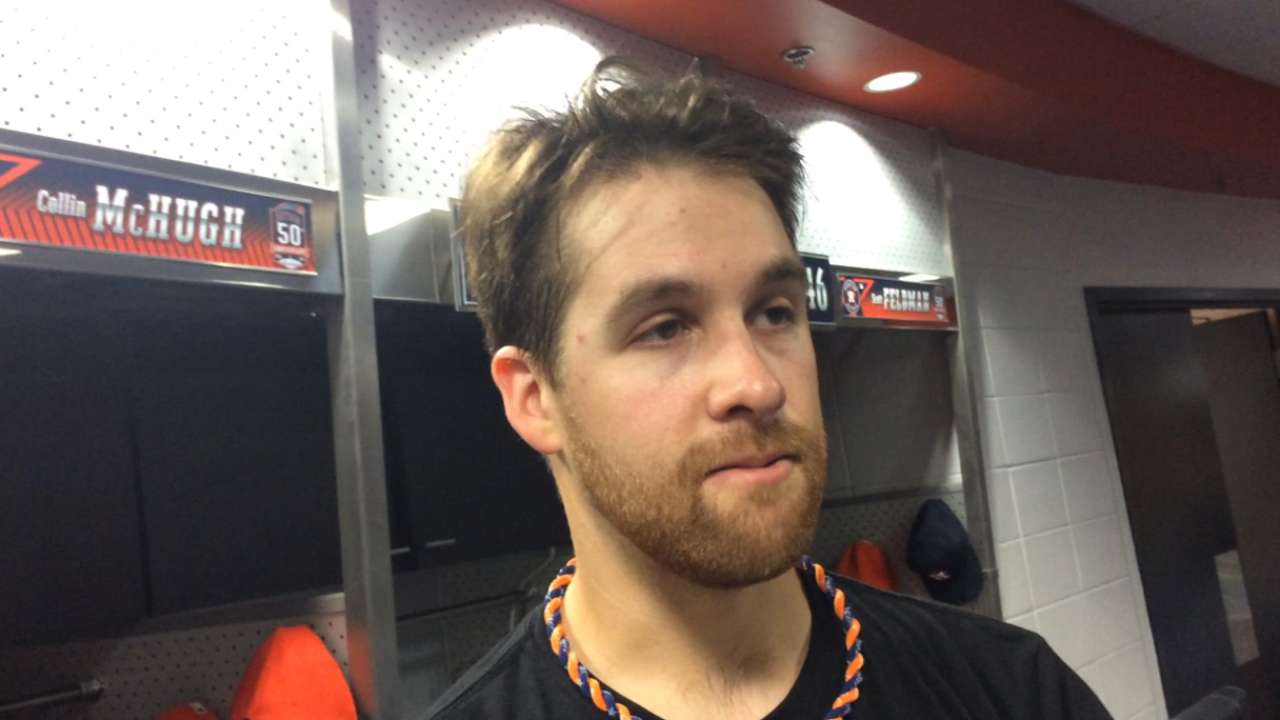 HOUSTON -- If you were to pinpoint why Collin McHugh has had so much success in Houston after the two uninspired seasons that began his Major League career, it's likely you'd look to the obvious, baseball-type reasons.
For example, McHugh ditched the sinker and started throwing more four-seam fastballs, which allowed him to pitch up in the zone and be more aggressive. He uses his cutter more in all kinds of scenarios, enabling him to get to his breaking stuff with more ease.
He simply was given a chance with Houston that he didn't get with the Mets and Rockies -- to get the ball every five days and establish himself as a regular starter in the rotation.
But there may also be something else in play that could partially explain the dramatic transformation from the 0-8 pitcher with a sky-high ERA to one of the most consistent pitchers in the big leagues over the past year and a half. McHugh simply feels better than ever before, thanks to maintaining a gluten-free diet.
"I gave it up," McHugh said of gluten, a protein found mostly in wheat products. "Because I felt so much better."
Sure, it could be purely coincidental that McHugh gave up gluten in late 2013, mere months before he joined the Astros after they claimed him off waivers from Colorado. And no one would rationally give credit to diet as the sole reason for a pitcher being able to establish himself in the big leagues. Confidence and the normal maturation process had a role, too.
But, still. It needs to at least be noted that McHugh spent most of his life with a stomach pain that was never medically addressed. Once he decided to cut out gluten, he immediately felt better. Soon, he had transformed himself from a mediocre part-time starter who amassed 47 1/3 innings in two seasons with the Mets and Rockies to a co-ace of the emerging Astros.
He didn't know how bad it was all those years until he started feeling better.
"I had stomach cramps, had to go to the bathroom immediately after every meal," McHugh said. "It was just brutal."
Even before he changed his diet, on days he pitched, he tried to avoid eating foods that normally didn't agree with him, which included anything fried. Once he realized it was the wheat that was the problem, he just cut out all of it.
McHugh estimated he lost 25 to 30 pounds and noticed an improvement in stamina right away.
"The times you feel bad or you're drained weren't as frequent," he said. "Energy-wise, there was a big difference."
Gluten-free diets don't have to be restrictive. McHugh hasn't deprived himself of many foods he enjoys. He loves eating big breakfasts with eggs, potatoes and bacon, and nothing has changed there. There are lots of gluten-free options at restaurants, and in recent years, complete gluten-free restaurants have been popping up everywhere.
Finding enough food options isn't an issue. Giving up some of his indulgences, like pastries, took some adjusting.
"You just learn to snack differently," he said. "You eat more fruit and nuts."
Gluten-free diets are often adopted by people with celiac disease, an autoimmune disorder of the small intestine. McHugh doesn't know if he has celiac, mainly because to truly test for it, he would have had to go back to eating gluten for around six weeks. Reverting back to the stomach aches and cramps just for the sake of a concrete diagnosis didn't appeal to him.
His doctors were fine with that.
"They said, 'If you can tell a difference by just not eating [wheat], then it doesn't really matter what we call it, whether we call it celiac or whether we call it an allergy or an intolerance,'" McHugh said. "Listen to your body, do what makes it feel better."
How much of that translated into his breakthrough season in 2014 that included a 2.73 ERA over 25 starts is impossible to measure. McHugh isn't looking for concrete evidence. He's just happy to go through the course of a season feeling good.
"Just from a holistic point of view, it helps everything," he said. "It helps you on a day-to-day basis. It helps you get your work in a little bit easier. You're not dragging as much. Over the course of a 162-day grind, it's good to be at your best or close to your best every day."
Alyson Footer is a national correspondent for MLB.com. Follow her on Twitter @alysonfooter. This story was not subject to the approval of Major League Baseball or its clubs.