Maddon says Cubs can fix routine mistakes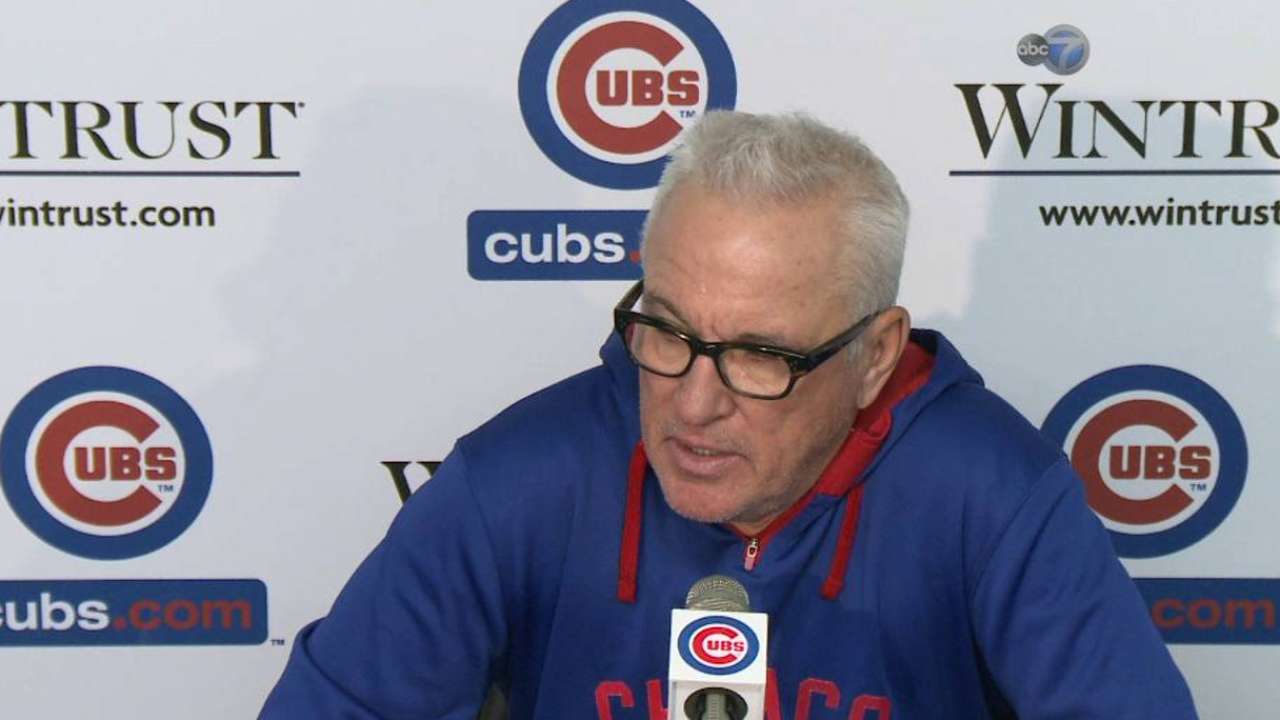 CHICAGO -- With Major League Baseball's youngest infield and one of the youngest rosters overall, manager Joe Maddon and the Cubs are watching mistakes pile up.
Even at 25-22 and tied for second in the NL Central entering Sunday, Chicago led the Majors with 466 strikeouts entering the series finale against the Royals, eight more than the youngest team in the bigs, Houston. The Cubs' 41 errors ranked fourth, good for one of the Majors' worst defensive teams statistically.
"The easiest way to fix that is wait two years," Maddon joked. "As guys get a little more mature in their game, especially when it comes to striking out. ... We've made some really routine mistakes. I'm happy that it's the routine stuff because it means we can fix that."
And the most immediate remedy to fixing those routine mistakes is as simple as breathing. Or, at least, slowing the game down.
"We're going to make mistakes, I'm conceding that," Maddon said. "But when you make a mistake, are you able to slow it down and then resolve it, get everything back in order, quickly?
"We can sit here and talk fundamentals all day long, but how do our guys react to the moment? How do they control their emotions? That's what's going to separate them."
Maddon is more concerned about the players' reactions after the game, whether they put their heads down after making a mistake or whether they move on. His focus is on the psychology of the players, stressing the importance of meditation and calling for its implementation in schools.
Once they speed up, they swing at pitches that are down and away or throw a pitch out when they want to keep it in, according to Maddon.
"It's the ability to breathe, to breathe in the moment," Maddon said. "To be able to take that deep breath, slow your thinking down, because what happens is your thinking gets going really fast. If you're able to control the breath, and your emotion, your body is then able to replicate what you've done in practice in a non-stressful moment."
Worth noting
After the Chicago Blackhawks defeated the Anaheim Ducks in Game 7 of the NHL's Western Conference finals on Saturday night, Maddon finds himself in a tough spot. Does he root for the Tampa Bay Lightning or for the home-team Blackhawks in the Stanley Cup Finals?
Maddon, who managed in Tampa Bay for nine seasons, is speaking like any good diplomat would.
"May the best team win," Maddon said with a smile. "I'm becoming a Blackhawks fan, as I should be. I do have some roots back there in Tampa Bay."
Greg Garno is an associate reporter for MLB.com. This story was not subject to the approval of Major League Baseball or its clubs.