MLB.com Columnist
Bill Ladson
No hard feelings between Riggleman, Nationals
Reds third-base coach congratulates Washington, which he formerly managed, on its success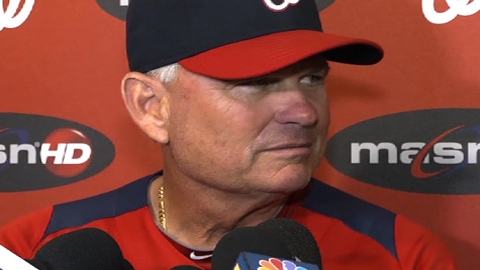 CINCINNATI -- It was around 5:30 p.m. on Friday. There was Reds third-base coach Jim Riggleman embracing Nationals general manager Mike Rizzo near the batting cage. It showed that Riggleman doesn't have any hard feelings toward the Nationals, the team he managed from 2009 to 2011.
It was Riggleman and Rizzo's first meeting since Riggleman resigned as manager of the Nationals on June 23, 2011. Riggleman left the club because he was unhappy with his contract. He was hoping for an extension that would go past the 2011 season.
At the time of his resignation, the Nationals were 38-37 and were on a three-game winning streak. The Nationals then hired John McLaren on an interim basis and then made Davey Johnson the permanent manager.
"It's a long time ago," Riggleman said. "It's amazing. It's been four years, and I really looked forward to seeing Mike and some others. I have to be grateful. Washington is my hometown. I was given an opportunity that Mike and the Lerners gave me. So it's all good.
"I'm still doing what I love to do and really wanted to congratulate Mike on what the Nationals have done for the last three or four years. They put together the best team in baseball. It's been going on for a few years. Anytime I see someone in baseball put together something like that, I want to make sure I express that to them."
After he left the Nationals, Riggleman was a scout for the Giants and then joined the Reds in 2012, first as the manager for Double-A Pensacola and the then Triple-A Louisville. He is now in first season as the Reds' third base coach.
"It's very challenging. You are really into the game, more so than other spots on the coaching staff," Riggleman said. "This is a different thing. It's just another thing that I had an opportunity to do in the game. I'm lucky to be doing it. A lot of people in baseball were going to stay away from me after '11. I've been very fortunate the Giants and the Reds put me to work."
Asked if he would like to manage again, Riggleman said: "I never lost my passion to manage. That's why I did it in Double-A and Triple-A the last three years. There are 30 jobs. It's not that many jobs. There are great people who are qualified to do those jobs. So if I get an opportunity, I certainly would jump at it, but if not, I would understand that, too."
Bill Ladson is a reporter for MLB.com and writes an MLBlog, All Nats All the Time. He also can be found on Twitter @WashingNats. This story was not subject to the approval of Major League Baseball or its clubs.