Tolleson thriving as closer despite long odds
Rangers righty added changeup, now offering lockdown presence late in games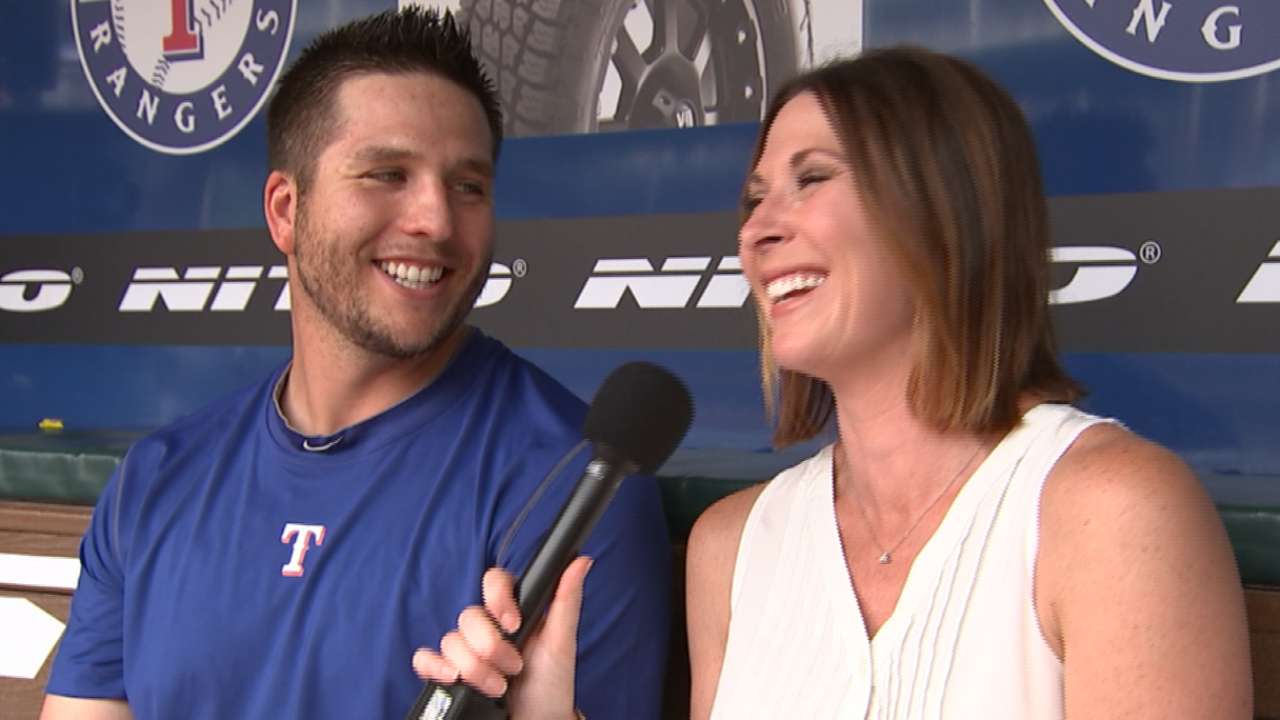 Shawn Tolleson and Clayton Kershaw are best friends, played youth baseball together in the Dallas area and were teammates on the Dodgers in 2012. From there, they went in opposite directions.
Kershaw won two more National League Cy Young Awards. Tolleson had major back surgery, missed almost all of 2013 and ended up on waivers. The Dodgers thought Brian Wilson and Brandon League were better setup options, despite Tolleson's impressive Minor League numbers.
The Rangers put in a waiver claim, and it turned out to be a brilliant move.
Tolleson has emerged from waiver-wire oblivion and a mundane role of middle reliever to become Texas' closer. Stepping in when Neftali Feliz faltered, Tolleson has been successful on six straight save opportunities while holding opposing hitters to two hits in 20 at-bats.
"I enjoy the role -- it is an exciting role to be in," Tolleson said. "That's what I did in the Minor Leagues. My goal when I got here was to be successful. I would be lying if I said I didn't want to be a closer in my career. Whether this leads to that or not, we'll see. It wouldn't bother me."
Tolleson's success does not surprise his close pal.
"He's always had the talent to do it -- his mindset, his demeanor," Kershaw said. "He's the best. He's one of my best friends, and just the way he competes, he's so even-keeled. You couldn't tell if he blew a save or struck out the side. He's going to be the same guy, and that type of mentality is what you need as a closer.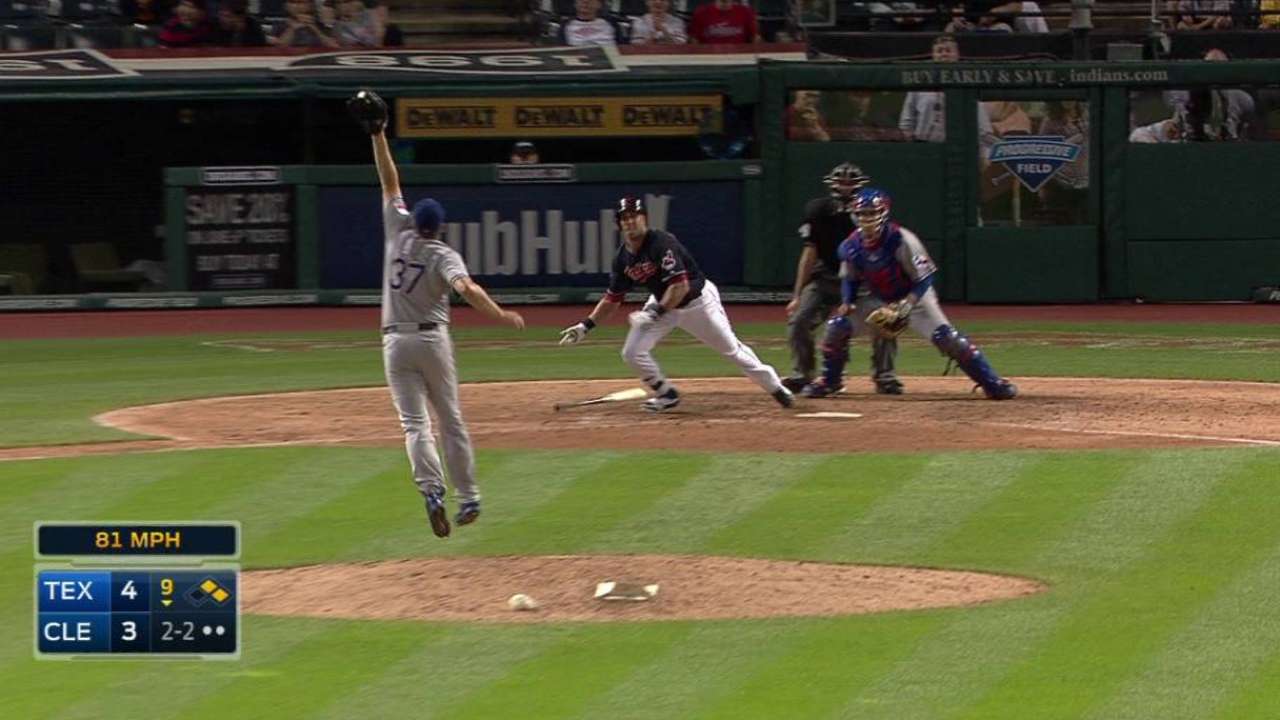 "He's always happy. He doesn't get too disappointed and has a great outlook on life. He's a big-picture guy, very faith-based guy, something I admire about him. Going over to the Rangers was probably the best thing for him."
The Rangers are aggressive when it comes to the waiver wire, but this was from the team's backyard. Tolleson pitched at Allen High, and he attended Baylor after rehabbing from Tommy John surgery before the Dodgers selected him in the 30th round in 2010.
Rangers scout Jay Eddings was the one who recommended Tolleson.
"Jay Eddings knew Shawn from the area and had heard good things on his work ethic and makeup," general manager Jon Daniels said. "And he had really performed from Day 1 of pro ball. You can stack his Minor League performance up against most of the relievers out there. We knew he'd had the back injury, but that surgery was successful and he was working out locally at the time."
It appeared to be an unremarkable waiver claim. Even Tolleson wasn't sure he could return after undergoing surgery to repair a herniated disk in his back.
"When you take that much time off, there were doubts, days when I had doubts," Tolleson said. "There were days when I was coming back and throwing, and I knew the ball wasn't coming out good.
"It was a combination of time off and resting it, dedication and God giving me the strength to fight through it. I wouldn't be here without Him."
Adding a changeup also helped. Tolleson was mainly a fastball and slider guy when Texas claimed him on Nov. 20, 2013. Pitching coach Mike Maddux saw him throw that winter in Arlington and brought up the changeup.
"He said how much he liked his slider," Maddux said. "I said, 'How about a changeup?' He said, 'I like my slider.' I said, 'Try the changeup, you might like that, too.' He threw a changeup, we worked on the grip, and from Day 1, you could see it could be a plus changeup. He said, 'I've never thrown one.' I said, 'You're cheating yourself.'"
Armed with a new pitch, Tolleson appeared in 64 games in 2014 and was 3-1 with a 2.76 ERA and a 1.17 WHIP. He was used as a middle reliever, even though he was one of the few Rangers pitchers to stay healthy the whole season.
Tolleson was supposed to be a middle reliever this season. Even now, he has not been anointed as the closer. Manager Jeff Banister proclaimed two weeks ago that there would be "no roles" in the bullpen and all relievers would be used when he decided the time was right. So far, Banister has decided six times that the right time for Tolleson has been the ninth inning in a save situation.
Tolleson's demeanor has been as important as his talent. He may be the most soft-spoken and inconspicuous player in the clubhouse.
"He's a flat-liner, the ultimate flat-liner," Maddux said. "You never know what the score is when you see him pitch. That's exactly what you need."
Tolleson never campaigned for the closer's job. All he ever expressed was the desire to pitch in a meaningful role. Tolleson has that chance now, and so far he has impressed everybody, including his close friend.
T.R. Sullivan is a reporter for MLB.com. Read his blog, Postcards from Elysian Fields, follow him on Twitter @Sullivan_Ranger and listen to his podcast. This story was not subject to the approval of Major League Baseball or its clubs.