Tough night all around for A's
Hahn regrets pitch to Beltran; offense, defense falter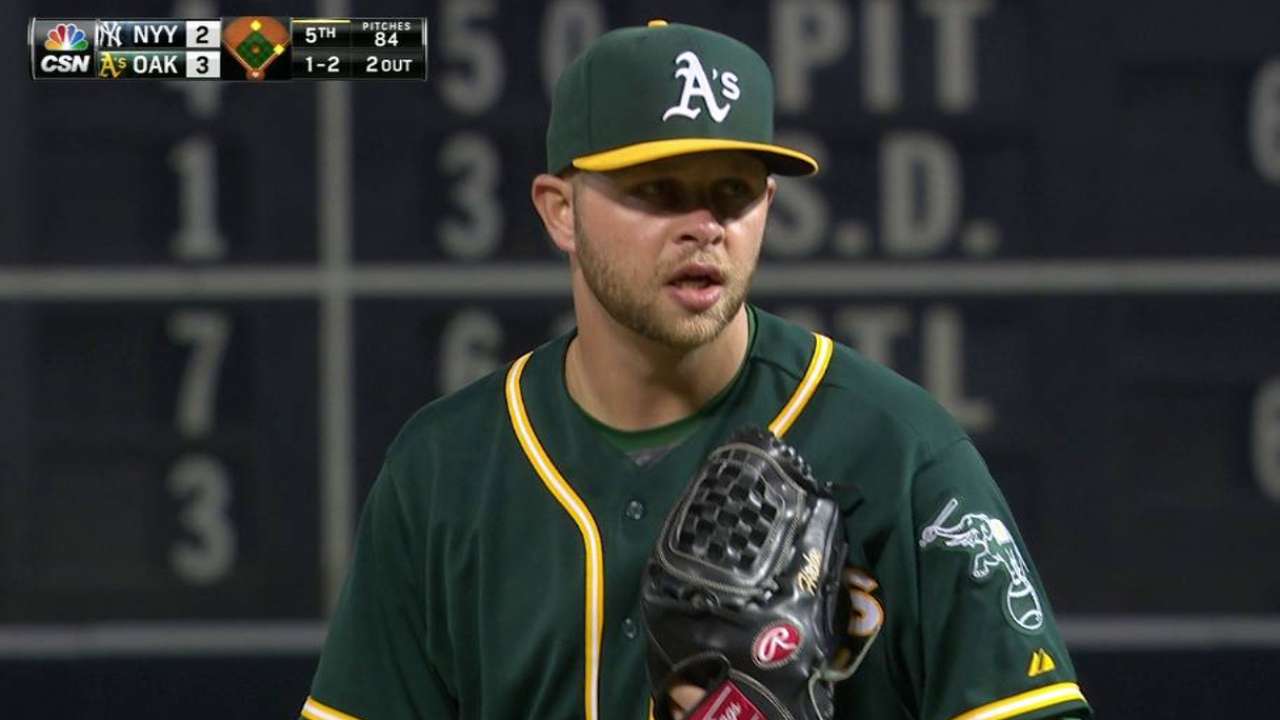 OAKLAND -- The A's recorded 12 hits Saturday night at the Coliseum in a 5-3 loss to the Yankees, but all of them were singles. They stranded eight runners, committed costly miscues in the field and starter Jesse Hahn threw one pitch he regretted.
That pitch, a sinker to Carlos Beltran with one on and one out in the sixth, proved to be the difference, as Hahn left it in Beltran's wheelhouse and the right fielder homered to right-center to give the Yankees a 4-3 lead.
"I thought I was on a roll there," Hahn said. "Good tempo, good momentum. Just that one pitch. That one pitch kind of ruined the night for me."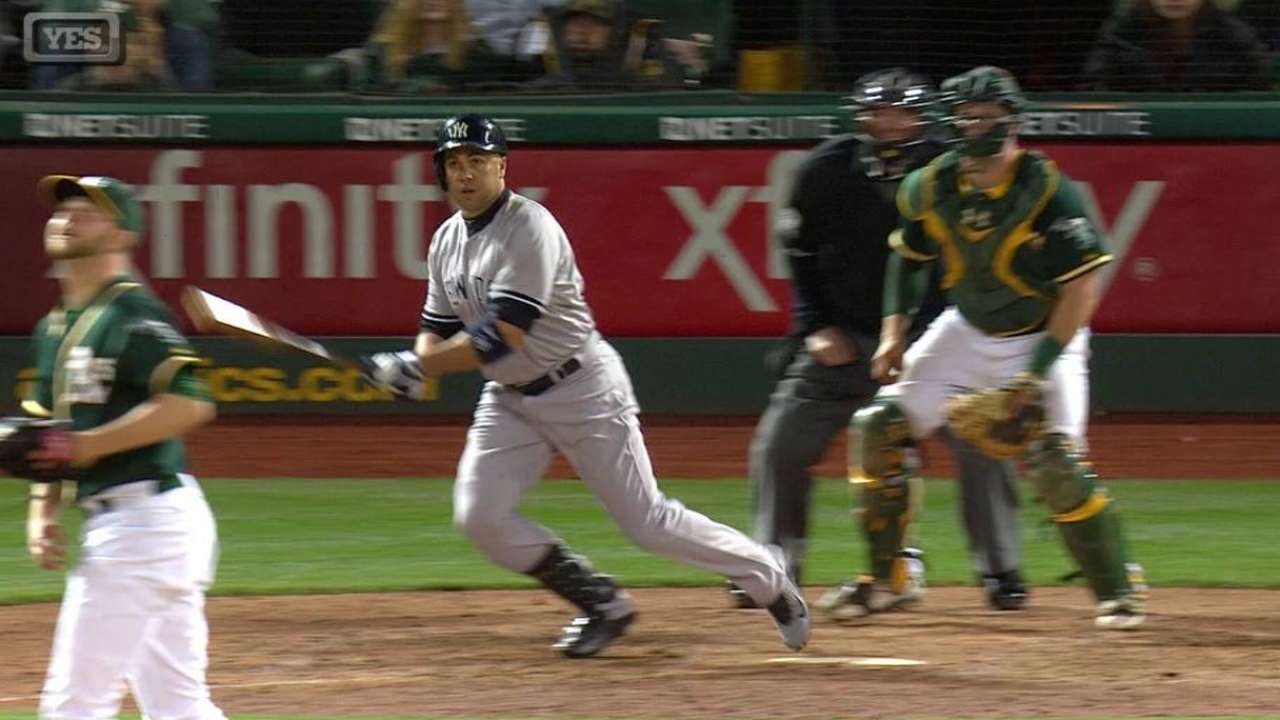 That was the theme of the night for the 19-33 A's, who got to Yankees starter Nathan Eovaldi for 11 hits in 4 2/3 innings, but were unable to blow the game open.
They picked up eight hits against Eovaldi in the first three innings. In the first, Marcus Semien was thrown out at home by Ramon Flores, who made his Major League debut. Three straight singles opened the third, and the A's totaled four in the inning, but exited the frame with just two runs.
"One extra-base hit maybe breaks it open a little bit more," said A's manager Bob Melvin. "We were getting good at-bats, we were getting our share of hits, but just not to the point where we're knocking runs in early."
While the A's struggled to produce at the dish, Hahn limited the Yankees to one earned run (two total) through the first five innings. No pitch bothered him as much as the one he threw to Beltran.
"I got under it, hung it, and it was a good pitch for him to drive," Hahn said.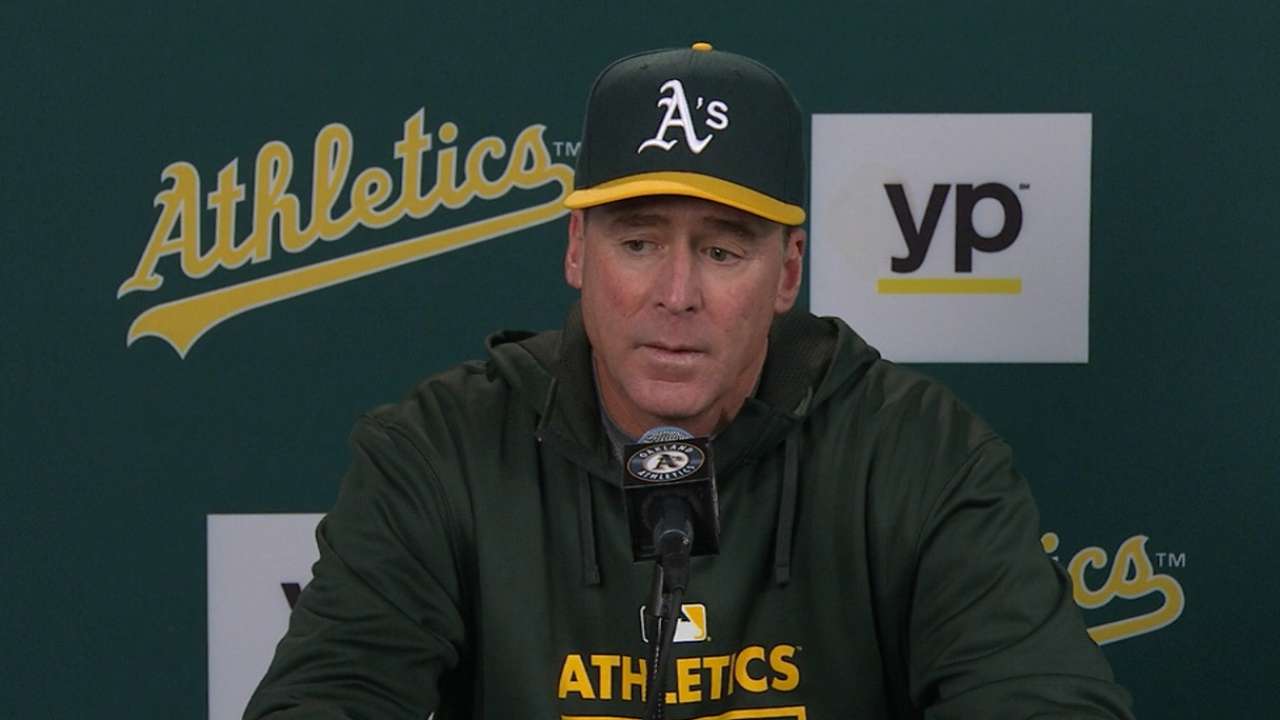 Much like Oakland's lineup, Hahn did almost enough to lead his team to a win but not quite enough. Defensively, the A's limited their mistakes in the first two games -- both wins -- but they returned to their old ways Saturday.
In the fifth, Eric Sogard couldn't handle a two-out grounder ruled a single, and Brett Lawrie missed a line drive for an error that led to an unearned run -- Hahn's American League-leading eighth of the season.
"There was a lot of energy in there," Hahn said. "We were playing hard. We wanted that win tonight."
Trevor Hass is an associate reporter for MLB.com. This story was not subject to the approval of Major League Baseball or its clubs.