'Impressive' Perez collects first big league win
Braves rookie blanks Giants over seven innings in third start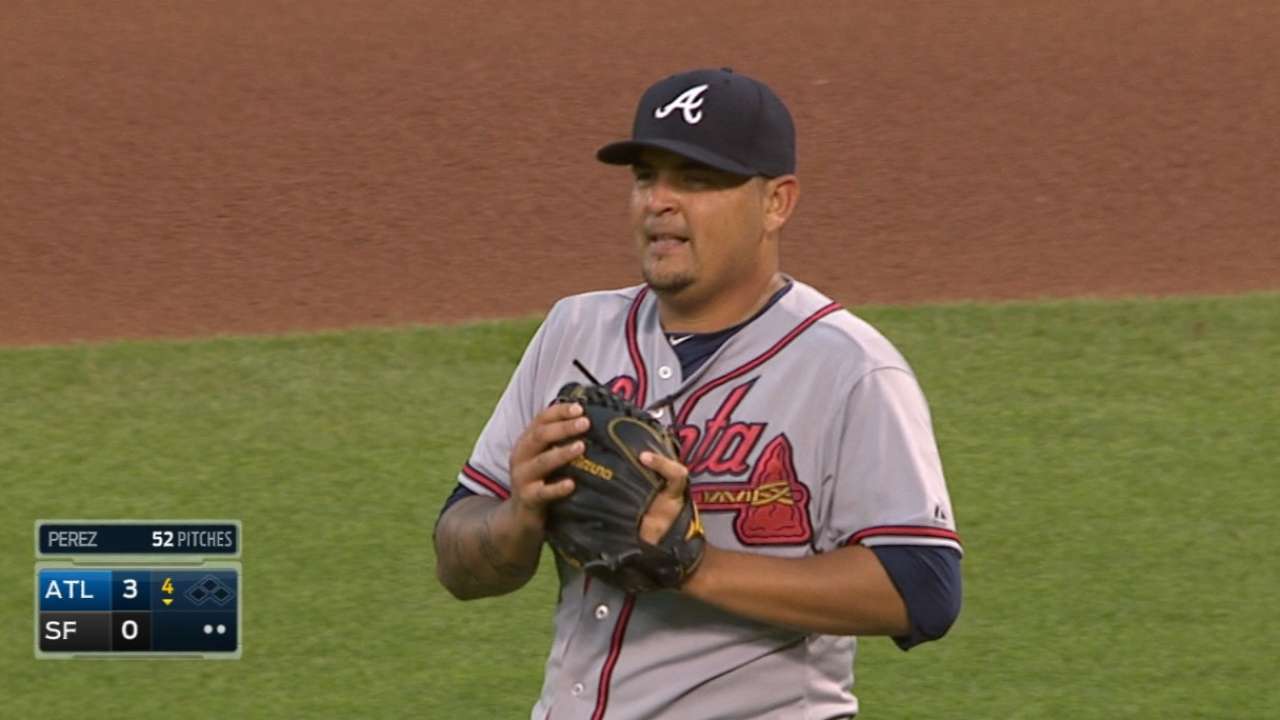 SAN FRANCISCO -- Though Braves right-hander Williams Perez had produced good results in his only two previous Major League starts, there was seemingly reason to be skeptical about the rookie hurler. But as Perez successfully navigated his way through the red-hot Giants lineup in Saturday night's 8-0 win at AT&T Park, he proved he might be more than a short-term fix in Atlanta's rotation.
"He's been impressive," Braves manager Fredi Gonzalez said. "So we'll keep running him out there. If he keeps providing these kinds of outings for us, he'll be fine."
While once again relying heavily on his effective sinker, Perez showed great poise as he scattered four hits and blanked the Giants over a career-high seven innings. The 24-year-old hurler earned his first career win and recorded his first hit -- a sixth-inning infield single -- during his 105-pitch effort.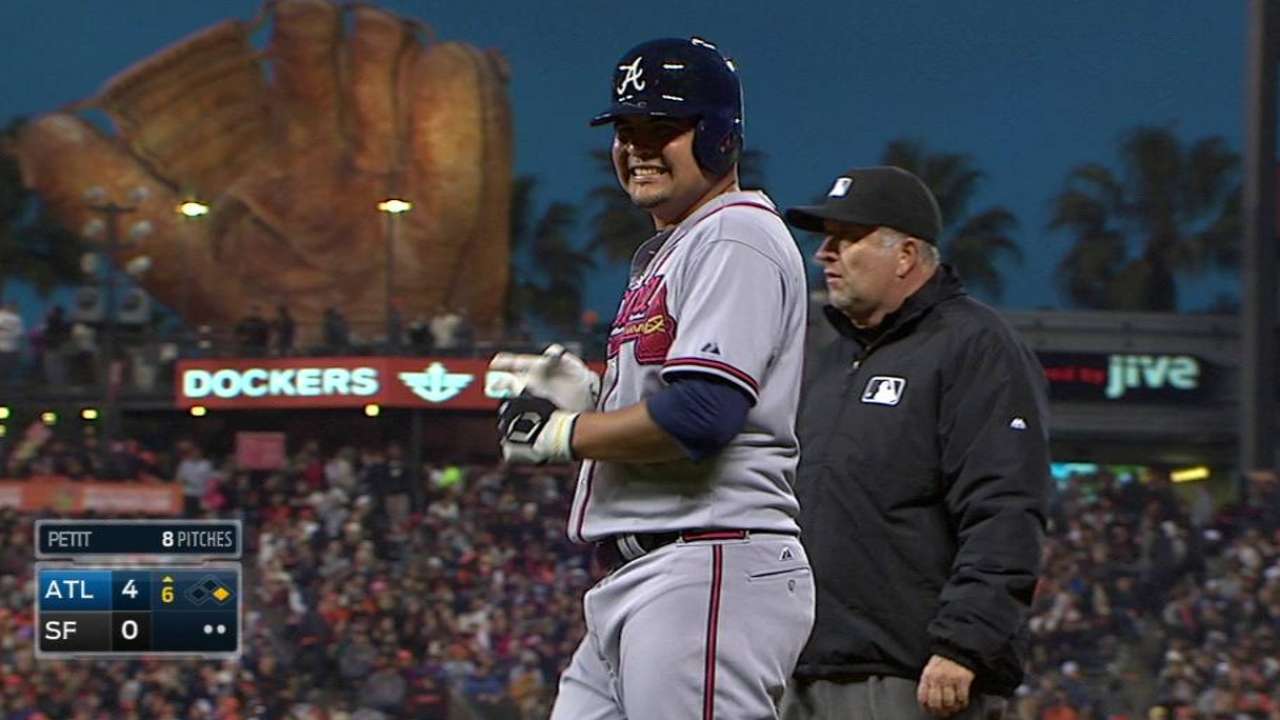 "He had guys guessing and guys off balance all night with [the sinker] and the big [curveball] he throws," said Jace Peterson, who aided Perez's cause with a career-high three hits. "He did a good job of keeping guys guessing. Any time he can command that sinker like that, he can definitely have more games like this."
When the Braves removed Eric Stults from their rotation earlier this month, Perez seemed to be targeted to serve as a short-term fix until highly regarded prospect Matt Wisler was deemed Major League-ready. But through his first three starts for Atlanta, Perez has shown why pitching coach Roger McDowell and John Hart, the club's president of baseball operations, were touting his skills during Spring Training.
Perez has allowed just two earned runs, despite surrendering 17 hits and issuing six walks, through the 18 innings that have encompassed his first three starts. Opponents have compiled a .320 on-base percentage against him during this stretch, but they've also recorded just two hits in 11 at-bats against him with runners in scoring position.
"I wasn't expecting [this early success]," Perez said with bullpen coach Eddie Perez translating. "I'm very surprised, but I'm going to work hard to continue pitching like this."
Utilizing the sinker that truly became effective as he pitched for Double-A Mississippi last year, Perez induced 12 ground-ball outs Saturday night. He stranded two runners when Brandon Crawford grounded out to end the first inning and induced Matt Duffy's double-play groundout after allowing Angel Pagan's leadoff single in the second inning.
Perez retired nine of the 10 batters he faced from the third through fifth innings and stranded runners at the corners when he concluded the sixth inning with a Crawford strikeout and Pagan groundout.
"He pitches with his eyes and sees what is going on," Gonzalez said. "He's got pretty good stuff. He's got the sinker that gets a lot of ground balls and today we saw that."
Mark Bowman is a reporter for MLB.com. This story was not subject to the approval of Major League Baseball or its clubs.