Morton fits right in, keeps starters' roll going
Pirates sinkerballer impressive in just second start since hip surgery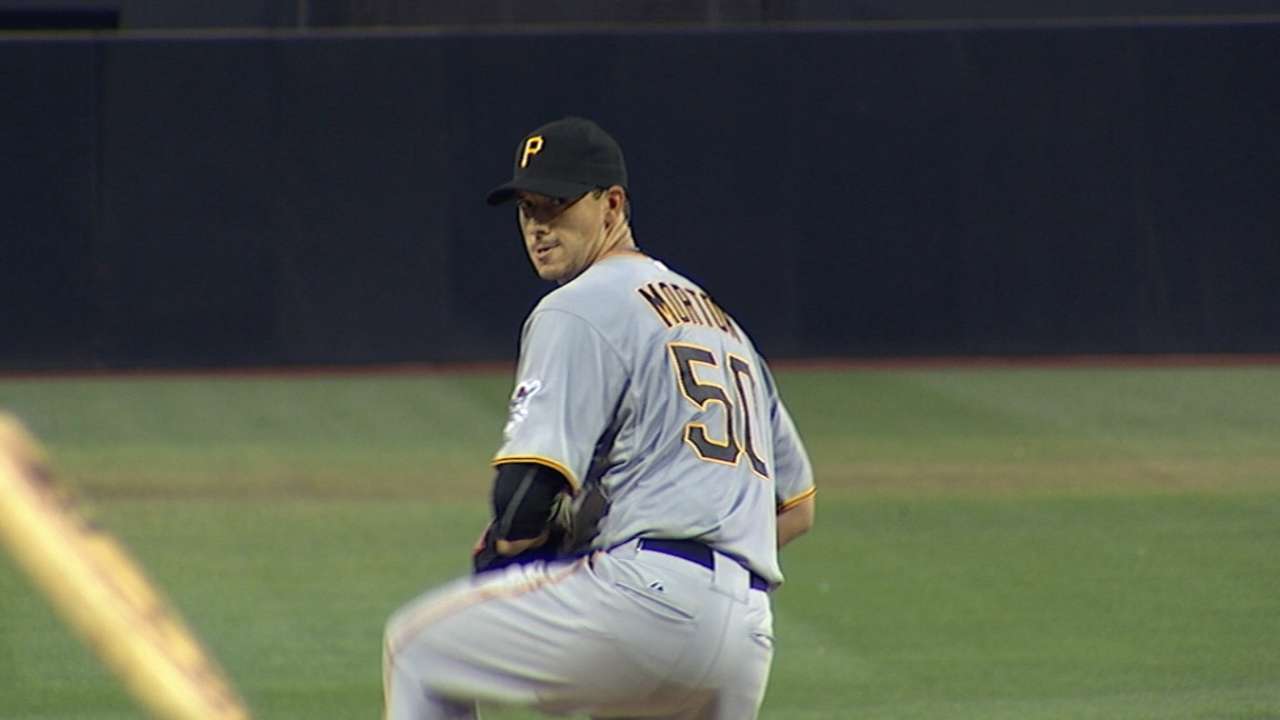 SAN DIEGO -- For a guy only recently recovered from right-hip surgery and making just his second start, on Saturday night against the Padres, Charlie Morton fit right into what the rest of the Pirates starters have been doing the last 10 games.
After a leadoff walk to Will Venable in the first inning followed by Yangervis Solarte's RBI-gap double to left center, Morton settled in and ran a clinic as a sinkerball pitcher. The Pirates went on for a 5-2 win, the eighth in their last nine games.
"The sinker had really good life," Bucs manager Clint Hurdle said. "[Andrew] McCutchen was commenting on it from center field throughout the game."
Of the 21 outs Morton recorded in his seven innings, 16 were on the ground and only one was hit to the Petco Park outfield. Of the other four, two were strikeouts and two were foul pops. The right-hander allowed only three hits and an earned run.
The secret to his seemingly instant success since returning is persistence.
"I've been working this whole time. It's not like I've been shut down," Morton said. "I was working on my mechanics. That leads me to be able to make pitches and repeat it and get action on the ball. I expect to do well. That's why I'm here."
If hitting is contagious, so seems to be starting pitching. The Bucs' starters are 8-0 with a 2.06 ERA and 73 strikeouts in the past 10 games. In the era of the deep bullpen when metric mavens disdain the win as a valid stat for a starter, the Bucs have gone against the grain. A starter has earned the win in each of the club's last eight victories.
"Yeah, I think if a starter pitches well it's still nice to mark a win next to his name. He deserves it," Hurdle said. "What these guys forget is that these pitchers have a heartbeat. It's not all about numbers."
And that's coming from a veteran manager who is super analytical in his approach to the game.
Morton had the hip surgery on Sept. 16, and when the season started was still rehabbing. He made his first three starts of May in the Minor Leagues and earned his debut five days ago with seven innings of eight-hit, two-run ball in a win over Miami.
He has seen what Gerrit Cole, A.J. Burnett and Francisco Liriano have done lately, and his comeback aside, was particularly motivated to continue the roll.
"It's infectious, it is," Morton said. "When the starters do well, they keep the team in the game and that's great. At the same time I try not to have an expectation of myself based on what other people are doing. But it's a good feeling, because you look around and guys are pitching. And it is contagious."
Barry M. Bloom is a national reporter for MLB.com and writes an MLBlog, Boomskie on Baseball. Follow @boomskie on Twitter. This story was not subject to the approval of Major League Baseball or its clubs.