Ross struggling to duplicate last season's success
Padres starter's walk rate and ERA are up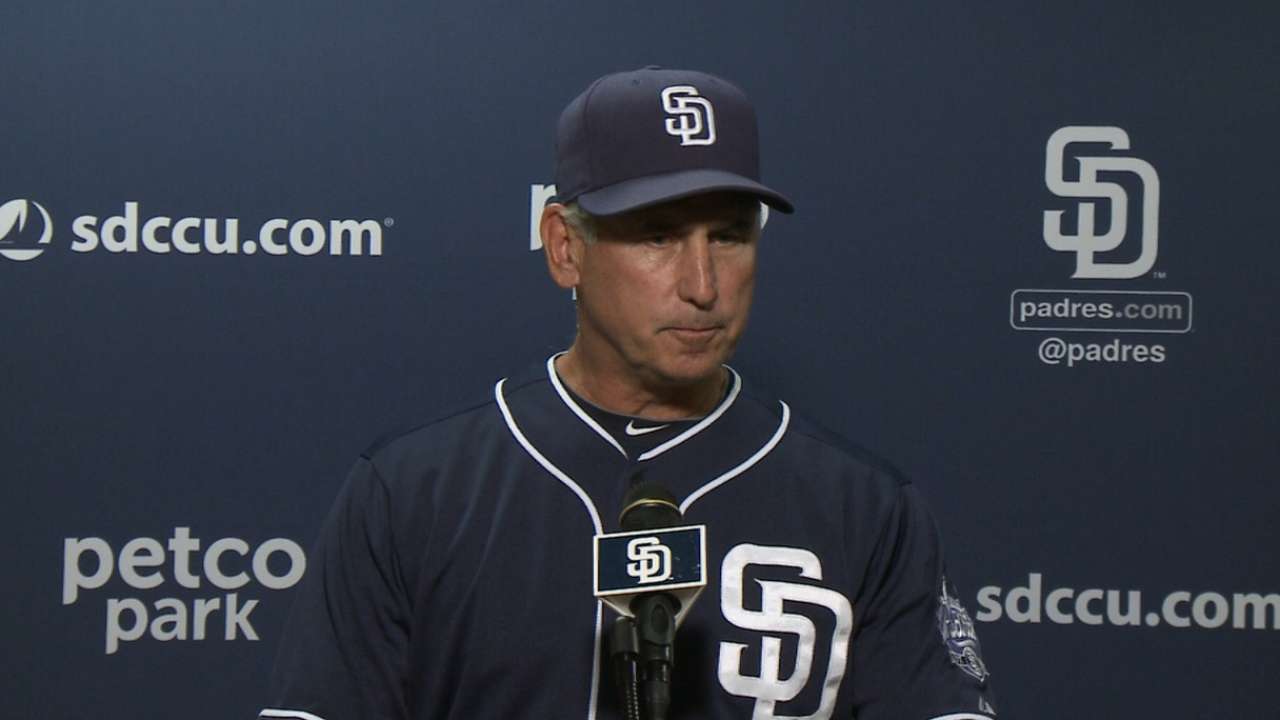 SAN DIEGO -- It probably rates as a pointless and unfair exercise to compare Tyson Ross' first 11 starts of this season to the ones he had a year ago, a blissful season where he earned a spot on the National League All-Star team during a breakout season.
At times, Ross -- who fell to 2-5 on Saturday after the Pirates pinned a 5-2 loss on the Padres -- has looked like his old dominant self, piecing together enough wipeout sliders to make hitters look silly.
But his walk rate is up from where it was a year ago at this time, as is his ERA (2.97, after his first 11 starts a year ago, to 3.76). He has also allowed 21 stolen bases compared to 12 in 2014.
What has manager Bud Black seen from Ross, who allowed two earned runs in six innings Saturday?
"He just hasn't put together the number of innings throughout the course of a game that we saw last year -- up to this point," Black said.
The inconsistency early -- and a costly error -- contributed to a slow start, as the Pirates got runs in each of the first two innings, as Ross allowed eight of the first 13 batters to reach base.
He got the first two hitters he faced out on five pitches, then needed 17 more pitches to get the last out of the first inning.
"I didn't quite execute the way I was capable of," Ross said. "… That first inning I got two quick outs and I wasn't able to shut the door right there. I've got to do a better job of executing and get the team in the dugout right there."
A throwing error by third baseman Will Middlebrooks in the first extended the inning and made that first run unearned.
Ross allowed another run in the second inning but got Starling Marte to bounce into an inning-ending double play. From there, Ross retired the next 11 hitters he faced.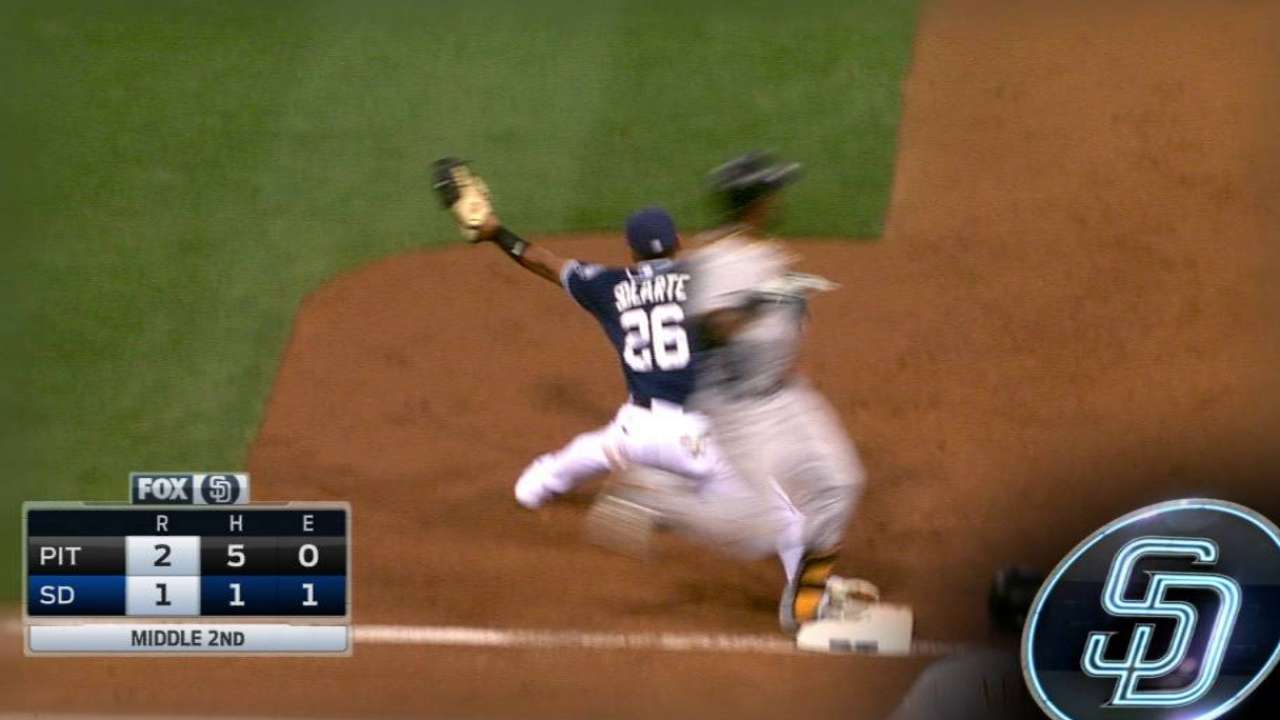 "He really had to work his way out of some jams in those first two innings. They nicked him for a run in each inning. His stuff was good, but he wasn't real sharp," Black said. "But he battled and made some pitches to minimize the damage.
"He gave us a chance through six innings."
In that second inning, Jordy Mercer, Josh Harrison and Gregory Polanco reached base on hits -- and all had stolen bases. Mercer scored on Harrison's single.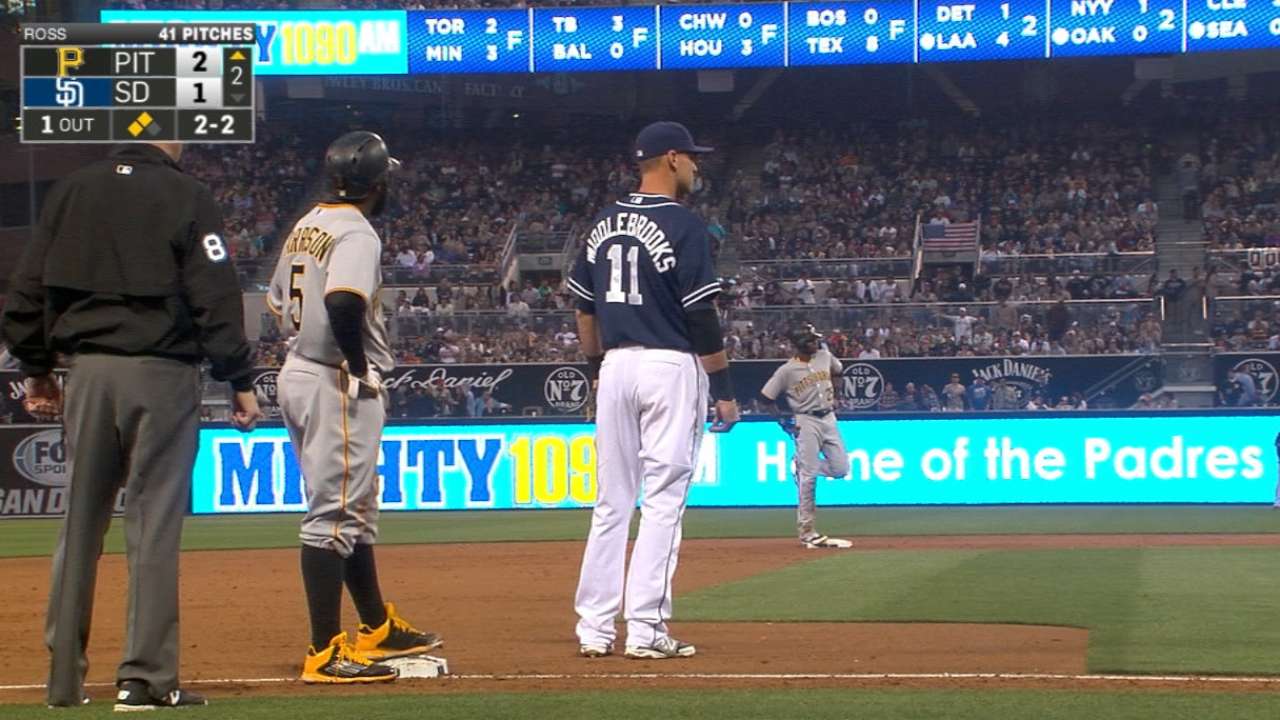 "I'm trying to get some different holds and picks for me. But for me, it's all about stuff. I'm trying to execute quality pitches," said Ross, who was adamant that he wouldn't alter his mechanics to try to hold runners on, certainly not at the risk of diminished stuff.
To date, Ross has allowed a higher opponent's average (.261 in 2015, .243 in 2014), opponent's on-base percentage (.351/.313) and walks per nine innings (4.45/3.36). But, as Black said, Ross will likely make 20-plus more starts.
There's room for improvement. And there's time for it, he said.
"Hopefully that [consistency] will show up. If it does, then you're going to see a lot of wins and lot of low-run games against Tyson," Black said.
Corey Brock is a reporter for MLB.com. Keep track of @FollowThePadres on Twitter and listen to his podcast.
This story was not subject to the approval of Major League Baseball or its clubs.