Greene allows 5 HRs, records just 5 outs
Angels hit four solo shots, 3-run blast in first two innings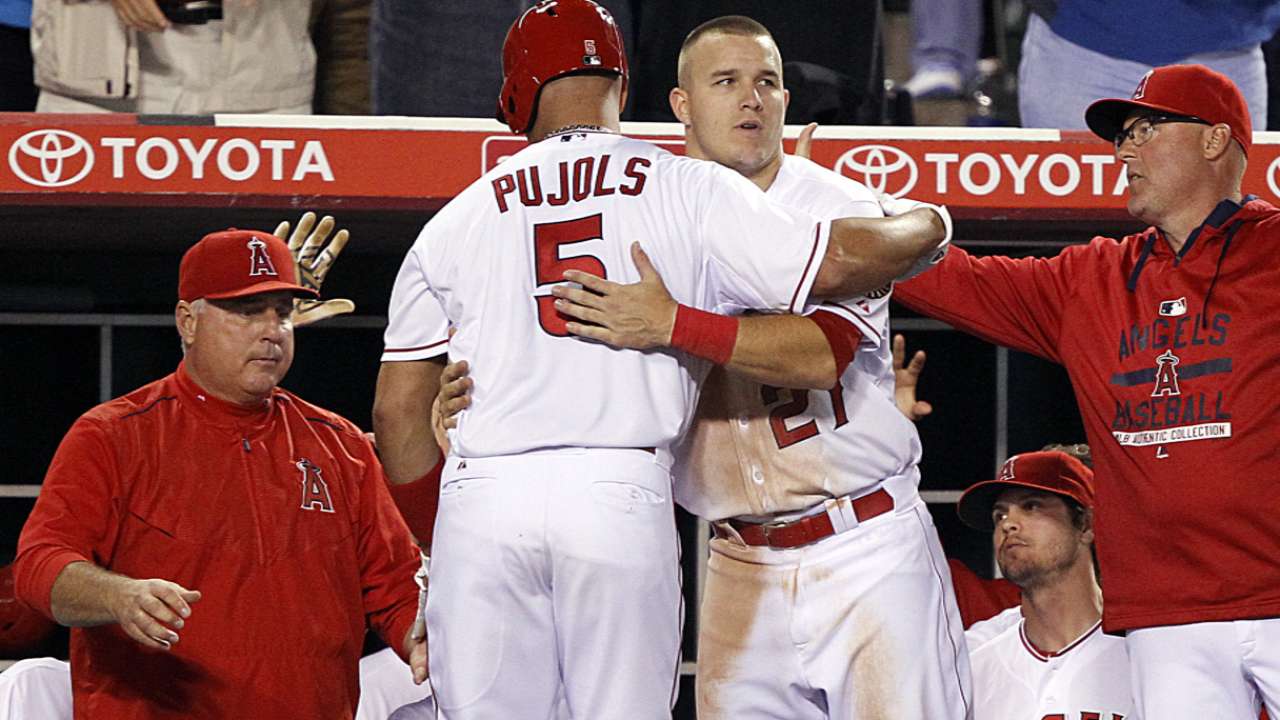 ANAHEIM -- The Tigers spent the last couple of nights being reminded that fly balls don't carry well into the cool air of the Southern California night. But by the time the sun went down around Angel Stadium on Saturday evening, the sun had long since set on Shane Greene's outing.
It's the way his pitches carried five times in 12 batters over 1 2/3 innings in an 8-6 loss to the Angels that the record books won't likely forget for a long time.
"He's a sinkerballer," Tigers manager Brad Ausmus said. "They generally keep the ball in the park. Today was not the case."
Ninety-nine pitchers over the last 101 years have allowed five home runs or more in a big league game. Greene became the first in modern Major League history to do so while recording five outs or fewer.
It was the kind of outing for which Greene's preference for few words was fitting.
"It was just one of those days," he said.
Greene had allowed just three homers over his previous 59 innings, a reflection of the sinkerball style that helped him put up 23 innings with one earned run over his first three starts. The Angels, however, have a reputation for roughing up Tigers sinkerballers, having hounded Rick Porcello the past few years before his offseason trade to Boston.
On Saturday, however, Greene's sinker didn't sink, and Angels hitters pounced. All five home runs came on fastballs, all generally in bad locations in the strike zone.
"One of those nights where everything negative lined up against him," catcher James McCann said. "Ball was traveling. He couldn't locate down. Couldn't find the corners. They're professional hitters. They took advantage of it."
Mike Trout sent a 94-mph fastball out to center field to open the scoring, as Greene alternated outs and homers for his first six batters.Trout's 12th homer and Kole Calhoun's drive out to right-center field were both solo shots, leaving Greene bruised but competitive with a 2-0 deficit.
Once Matt Joyce led off the second inning by sending a full-count fastball out to left-center, however, the barrage began anew. Backup catcher Carlos Perez followed Joyce's shot with a line drive out to center off a 94-mph fastball.
"I'm out there to get as many guys out as possible," Greene said. "Home runs are going to happen. I just have to do a better job of separating those."
Said McCann: "I think at that point, they were just so comfortable in the box, they were in attack mode. And we didn't do a good enough job early on making them uncomfortable in the box, whether that be locating better in or out, or mixing speeds. Whatever it may be, they were just very comfortable, and it showed with the results."
None of the first four home runs were really no-doubters, but the fifth one left the yard in a hurry. One out from escape, Greene walked Trout on five pitches to extend the inning for Albert Pujols, who got a 91-mph fastball on the inner half of the plate and pulled it out down the left-field line for his 11th home run.
That was it for Greene, who tied the franchise record for home runs allowed in a game, previously accomplished by Don Mossi in 1961, Jeff Weaver in 1999 and Nate Robertson in 2008. No Major League pitcher had done it since Bronson Arroyo did it for the Reds on Sept. 28, 2013.
All of them, however, pitched deeper into their games. According to baseball-reference.com, the shortest previous five-homer outing by a big league hurler was two innings from former Texas Rangers pitcher Rob Bell on Aug. 1, 2001.
Jason Beck is a reporter for MLB.com. Read Beck's Blog, follow him on Twitter @beckjason and listen to his podcast. This story was not subject to the approval of Major League Baseball or its clubs.