Hamilton proving effective from bottom of lineup
Center fielder's transition from leadoff spot has been successful so far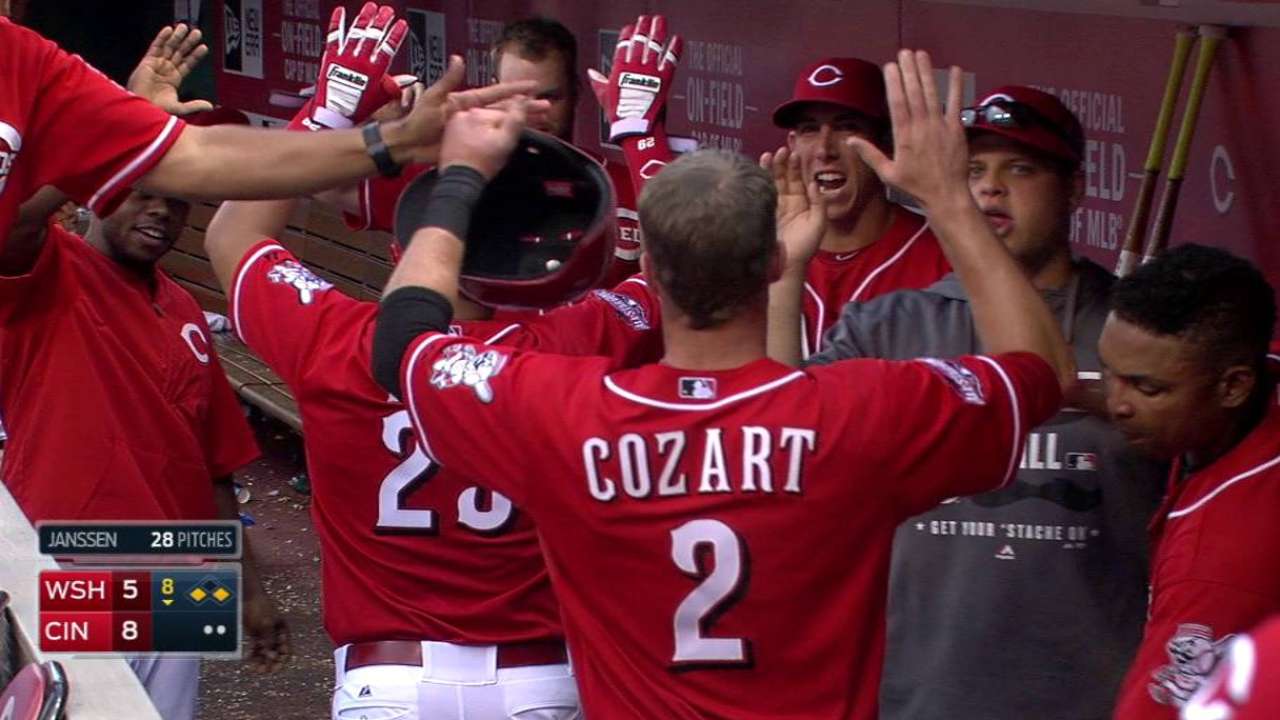 CINCINNATI -- Reds manager Bryan Price moved Billy Hamilton out of the leadoff spot back on May 17, and after another strong outing on Saturday from the speedy center fielder, it appears the move worked out nicely for Cincinnati.
With two outs in the bottom of the eighth, Hamilton drove a single to right field to bring in two runs and secure an 8-5 comeback victory over the Nationals at Great American Ball Park. The hit was Hamilton's second of the game as he continues to thrive in his new role at the bottom of the lineup.
Hamilton's pair of singles on Saturday extended his hitting streak to six games and gave him hits in eight of the 10 games since Price moved him out of the leadoff spot. Hamilton has a .363 batting average (8-for-22) and five RBIs during the six-game hitting streak.
Following another strong performance, Price said the move to the bottom of the order has helped remove the stigma of "Billy goes, we go."
"I don't want to suggest he can't handle the pressure," Price said. "I think that would be reckless on my part [or] on anybody's part. I just think it's a fact that he doesn't have to be anything but a great center fielder and a guy that goes out there and contributes as opposed to, as we say here, 'Billy goes, we go.'"
Hamilton has spent nearly all of his Major League career as the leadoff hitter for the Reds. Entering Saturday's matchup with Washington, 171 of Hamilton's 181 career starts were batting leadoff.
The successful transition thus far has been noticed by teammates. Shortstop Zack Cozart said Hamilton adds a dimension to the team regardless of where in the lineup he is slotted.
"He's dynamic in general, anywhere he is," Cozart said of Hamilton, who picked up his 20th stolen base of the season on Saturday. "If he gets on base, he wreaks havoc for the other team. They don't really know what to do with him. He's not getting a lot of love for the way that he plays defense out there. He's so good out there, he makes it look so easy that you don't talk about it. He's been huge for us."
Robert Bondy is an associate reporter for MLB.com. This story was not subject to the approval of Major League Baseball or its clubs.