Flores shines defensively in debut
Yankees outfield prospect throws out runner at plate, makes diving catch
OAKLAND -- The Yankees took note of Ramon Flores' potential this spring, impressed by a fluid left-handed stroke that seemed to send the ball a long way with ease. Those good impressions helped promote the rookie to a big league clubhouse for the first time Saturday.
Flores was recalled from Triple-A Scranton/Wilkes-Barre to replace Slade Heathcott, who was placed on the 15-day disabled list with a Grade 2 strain of his right quadriceps. Flores immediately appeared in the Yanks' lineup Saturday against the A's, batting seventh and playing left field in the 5-3 victory.
More highly regarded for his bat than his glove, Flores made an immediate defensive impact in his first two innings as a big leaguer. He fired home to throw out Marcus Semien at the plate to end the first, then made a tumbling catch near the bullpen mound in foul territory to retire Eric Sogard in the second.
"It was exciting, those two plays that I made," said Flores, ranked as the Yankees' No. 25 prospect by MLB.com. "I'm proud to play for the Yankees. Thank you to the Yankees for this opportunity. I'm going to try to play hard every day, every time when the manager puts me in the lineup, just play hard."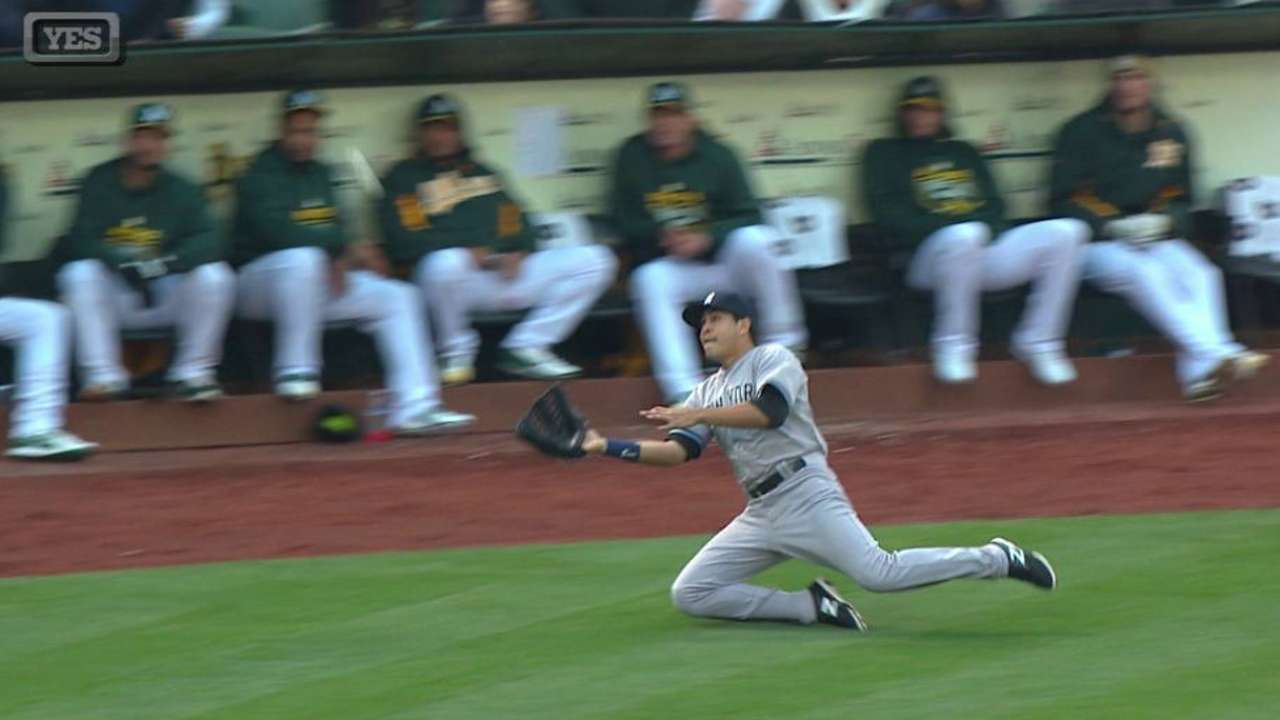 "I'm feel I'm still dreaming," Flores said before the game. "Maybe tomorrow I'll wake up and say, 'Oh, I'm here in the Major Leagues!' It's been seven years in the Minors, working very hard to get here."
The 23-year-old Flores, a product of Venezuela, had been on a recent tear with the RailRiders, going 15-for-44 (.341) in his last 11 games Overall, Flores was batting .294 (47-for-160) with four homers and 15 RBIs in 42 games.
"I think his ceiling is pretty high, offensively and defensively," manager Joe Girardi said. "You can move him around a little bit defensively, but I'll probably focus on left mostly. Just to give us good at-bats, I think that's the important thing, and I really believe he has the ability to do that."
With Flores slotted in left, Girardi shifted Brett Gardner to center, where he is expected to play while Jacoby Ellsbury mends a sprained right knee. Chris Young could also see reps in center.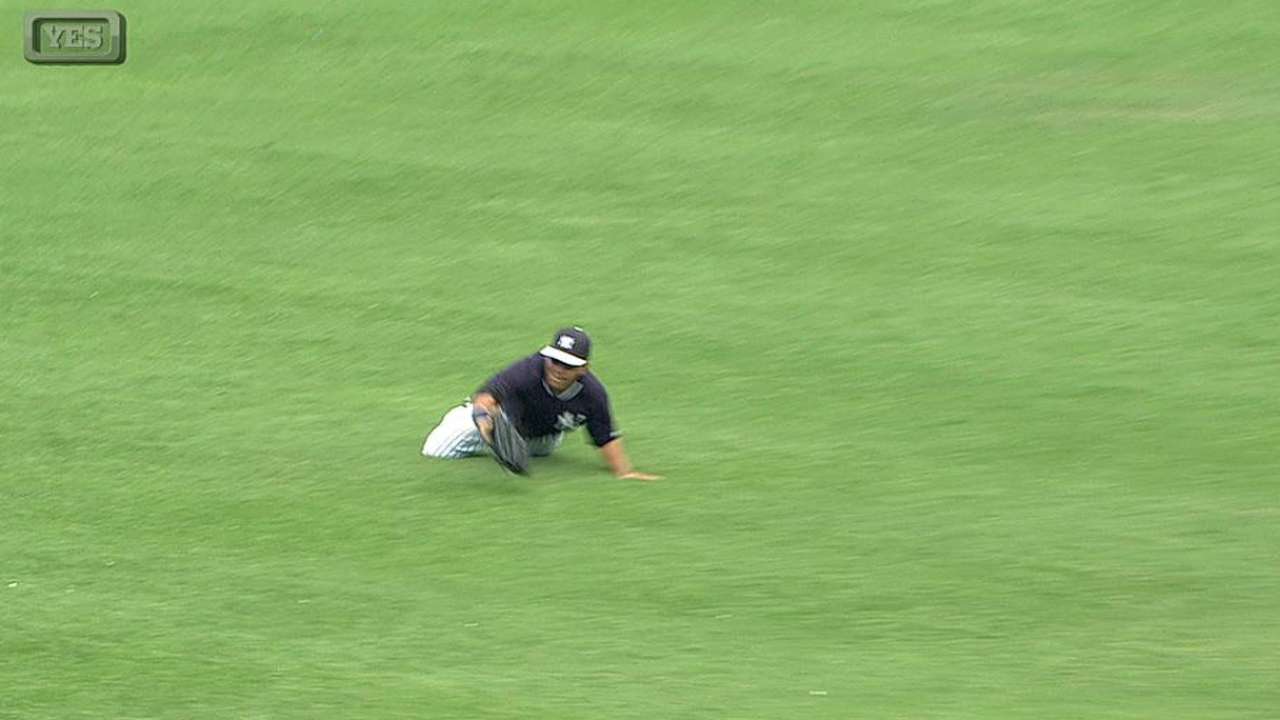 "I feel comfortable in center. I feel more comfortable there than I do in left field," Gardner said. "I've obviously played left field every day and I'm becoming more comfortable over there, but I feel perfectly normal going back to center field."
Flores said that he was in the middle of batting practice with the RailRiders when he was informed of his callup. After spending the night in a Philadelphia hotel, Flores flew direct to the West Coast on Saturday morning, getting to the Coliseum around 11:30 a.m. PT.
With 23 walks against 28 strikeouts at Triple-A this year, Flores said that his plate discipline could help him to succeed against big league pitching.
"What I like to do at home plate is look for a very good pitch to try to connect," Flores said. "I think that's what helped distinguish me in the Minor Leagues, because I have a lot of patience and I try to wait for the right pitch. I just try to enjoy the game."
Bryan Hoch is a reporter for MLB.com. Follow him on Twitter @bryanhoch, on Facebook and read his MLBlog, Bombers Beat. This story was not subject to the approval of Major League Baseball or its clubs.