Pujols limited to hitting; Angels call up Navarro
First baseman to DH after tweaking groin; Smith, Aybar working through injuries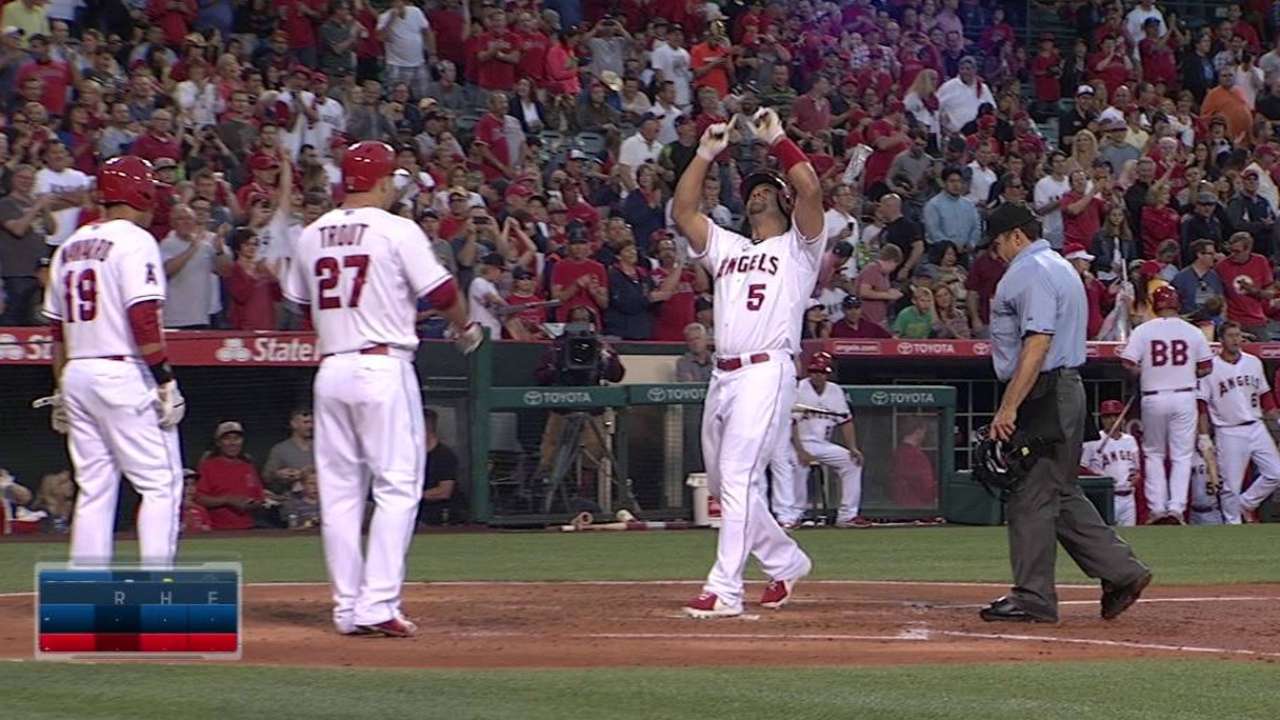 ANAHEIM -- As the Angels prepared to play their third of four games against the Tigers at Angel Stadium on Saturday night, several key members of the club -- Joe Smith, Erick Aybar and Albert Pujols -- were still dealing with various injuries, with Pujols' necessitating a roster move.
Pujols aggravated his groin during his final at-bat of Friday night's game. Angels maanger Mike Scioscia said Pujols could hit but not field, which forced the Angels to use him at designated hitter and call up infielder/outfielder Efren Navarro from Triple-A Salt Lake for first-base depth.
Scioscia said the Angels would keep Pujols, who homered for the third straight game in the Angels' 8-6 victory, off the field for "as long as it takes."
"Efren coming up is obvious with Albert just tweaking his groin a little bit," Scioscia said before the game. "We do not want him out there on the field right now. It gives us some coverage at first base. … We needed the coverage."
On the other end of the roster move was struggling reliever Vinnie Pestano, who was optioned to Triple-A.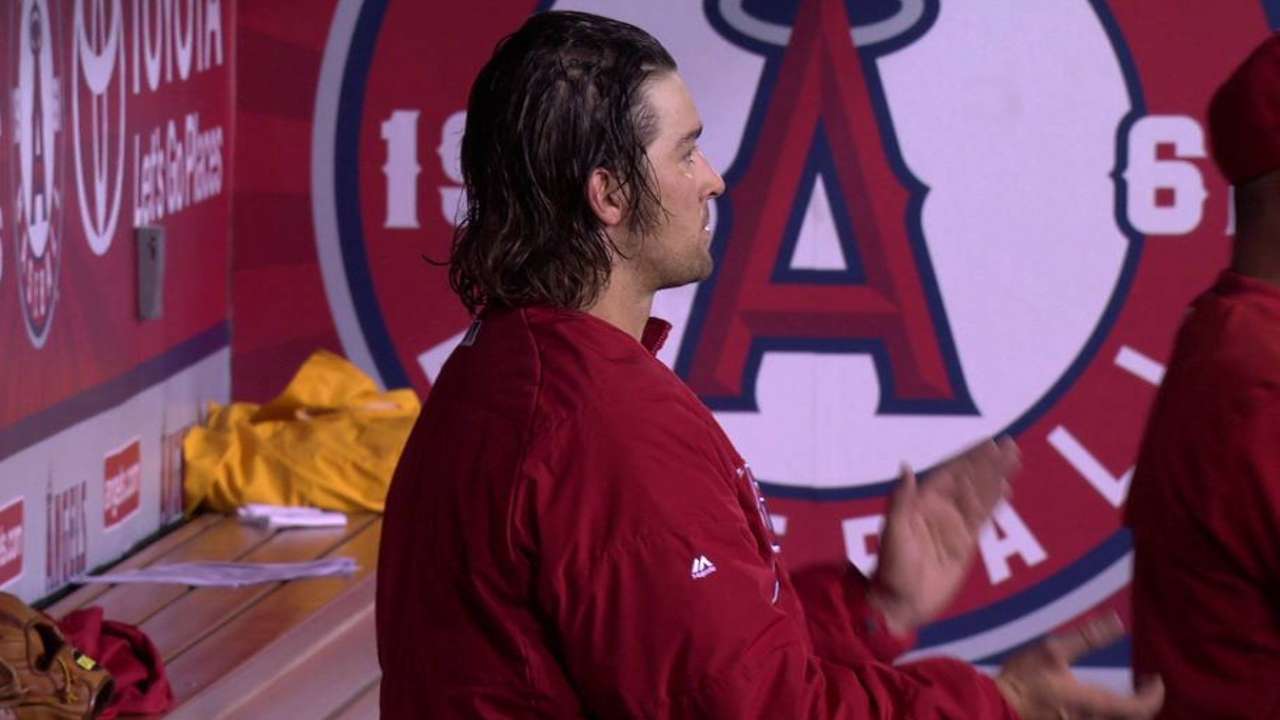 "In the big picture, Vinnie needs to go down and try to find some stuff," Scioscia said. "He's a better pitcher and can have more of an impact on us, especially against right-handed hitters, if he can find his game. It's tough the way he's been so hit-or-miss with his command right now."
Sending Pestano down leaves the Angels with a six-man bullpen, which could become a five-man bullpen depending on Smith's availability, but Scioscia said the team should be able to get by.
"You can adjust in a day with your bullpen, so if we need somebody, we can get somebody here tomorrow," Scioscia said. "But if we can hold out through the weekend, we can make an evaluation of where we are on Monday and then go from there."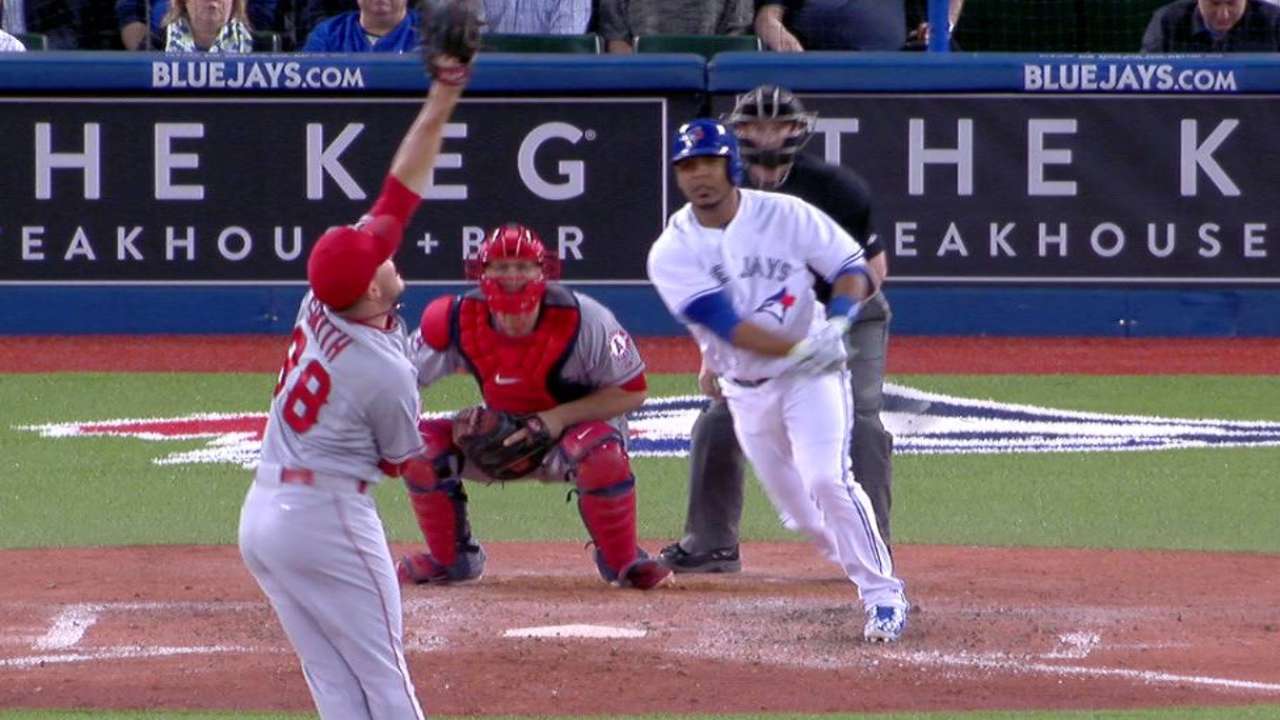 Smith was dealing with a minor neck issue, but with the Angels needing to hold onto a two-run, eighth-inning lead against the Tigers on Saturday night, there he was, coming on to get the final out.
"We wanted to give him as much time as he could," Scioscia said. "He said he was OK today, but we really were trying to stay away from him if at all possible. But at that point in the game, we had to bring him in."
Reliever Fernando Salas started the inning with the Angels leading 7-3, but couldn't finish it, allowing two runs before Smith entered with two outs and a man on second. Smith threw two pitches, getting Nick Castellanos to ground out weakly to end the threat.
After the game, Smith said he was fine health-wise. After all, he said, "I pitched."
Aybar, who tweaked his hamstring in Thursday's series opener, was out of the starting lineup for a second straight night. The shortstop said he would be able to come into Saturday's game if necessary, but he was not called on in the victory. He said that he would "for sure" be good to go on Sunday and would presumably start at short.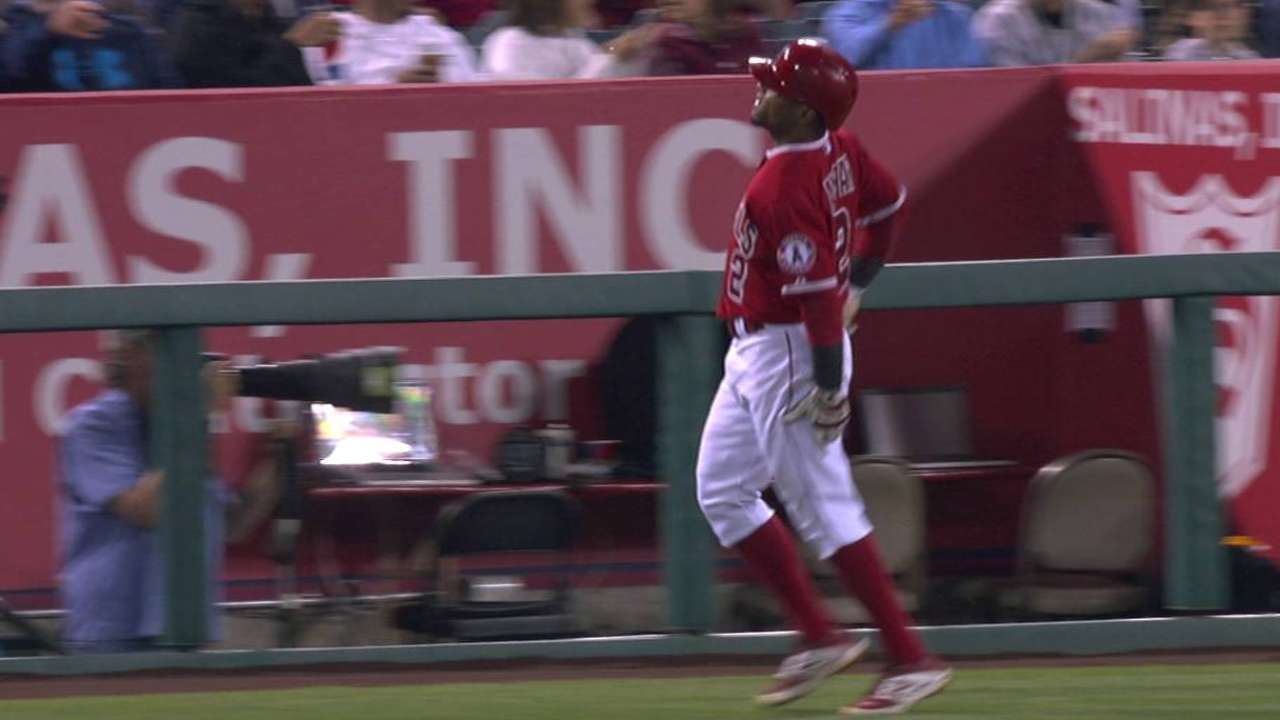 "[He] worked out today. Erick felt very, very good in his workout," Scioscia said. "If there's no repercussions from what he did today, he'll start tomorrow."
David Adler is an associate reporter for MLB.com. This story was not subject to the approval of Major League Baseball or its clubs.