Paxton to be re-evaluated after 2-week shutdown
Mariners starter recovering from tendon strain in middle finger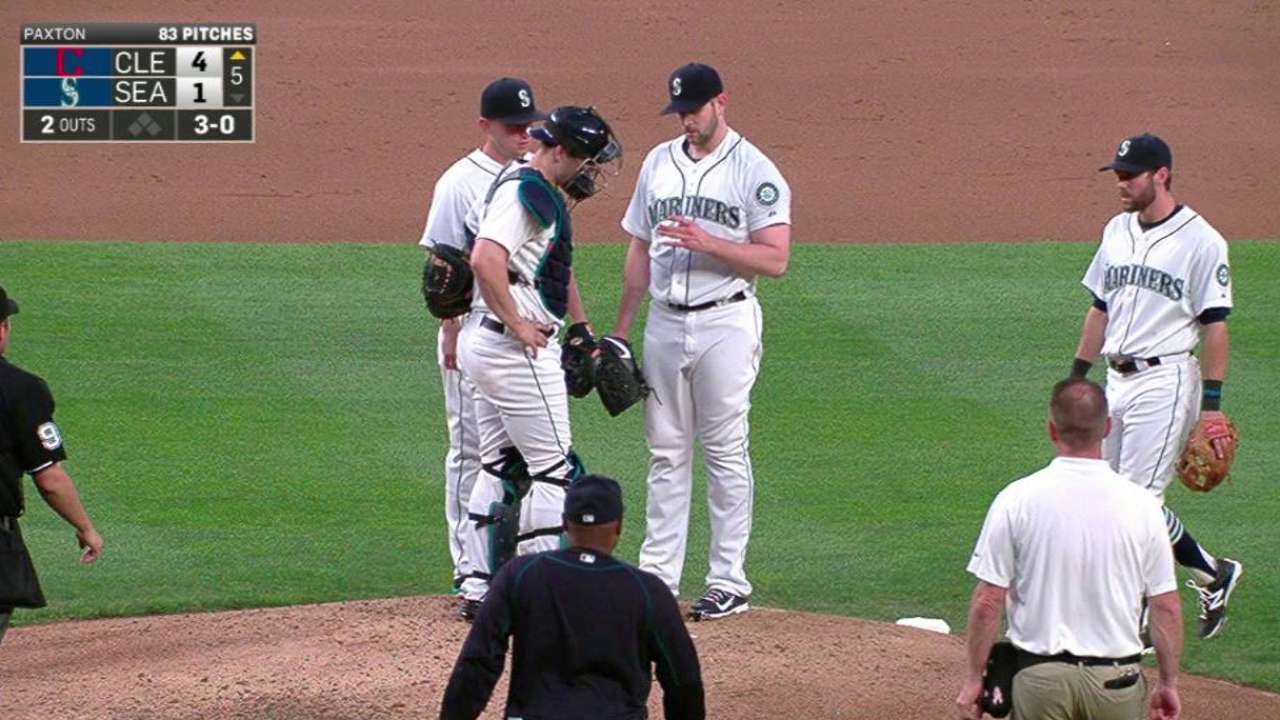 SEATTLE -- James Paxton had a small ring-like splint around his left middle finger on Saturday afternoon and the Mariners had a plan for him.
Paxton, who strained a tendon in the finger of his pitching hand while throwing a ball to Brandon Moss in his start on Thursday night at Safeco Field, will be shut down from any throwing for two weeks and then re-evaluated. An MRI exam confirmed the strain, and the Mariners placed Paxton on the 15-day disabled list on Friday.
The team will decide on a replacement starter for Tuesday's game against the Yankees.
"It is frustrating, but I'm trying to stay positive," Paxton said. "There's nothing I can do about it now. I just have to do my best to let it rest and heal it and get back as soon as possible."
Paxton said he would stay in shape and do all of his normal exercises, "and just try not to use the middle finger."
The Mariners could simply promote left-hander Mike Montgomery from Triple-A Tacoma, where the one-time top Kansas City Royals prospect is 4-3 with a 3.74 ERA. Montgomery is on the Mariners' 40-man roster and would be making his Major League debut. Seattle also could select the contract of right-handed journeyman Justin Germano, a veteran of 48 Major League starts over nine seasons, which would require designating a player for assignment off the 40-man.
Worth noting
• Second baseman Robinson Cano was back in the lineup for Saturday's game and said he was feeling better after missing all of Friday's game and most of Thursday's other than a late pinch-hitting appearance because of what the team believes was an inner ear infection.
• Lefty reliever Joe Beimel returned to the Mariners from the restricted list after a day off to attend the graduation of his son, Drew, from Bishop Montgomery High School in Torrance, Calif., on Friday. Lucas Luetge, who replaced him on Friday, was returned to Triple-A Tacoma via optional waivers.
"It feels like I just graduated," said Beimel, 38. "Even though it was 20 years ago."
Doug Miller is a reporter for MLB.com. Follow him on Twitter @DougMillerMLB. This story was not subject to the approval of Major League Baseball or its clubs.