Hurdle explains early hook for Liriano on Friday
Pirates manager was being cautious with starter, takes blame for loss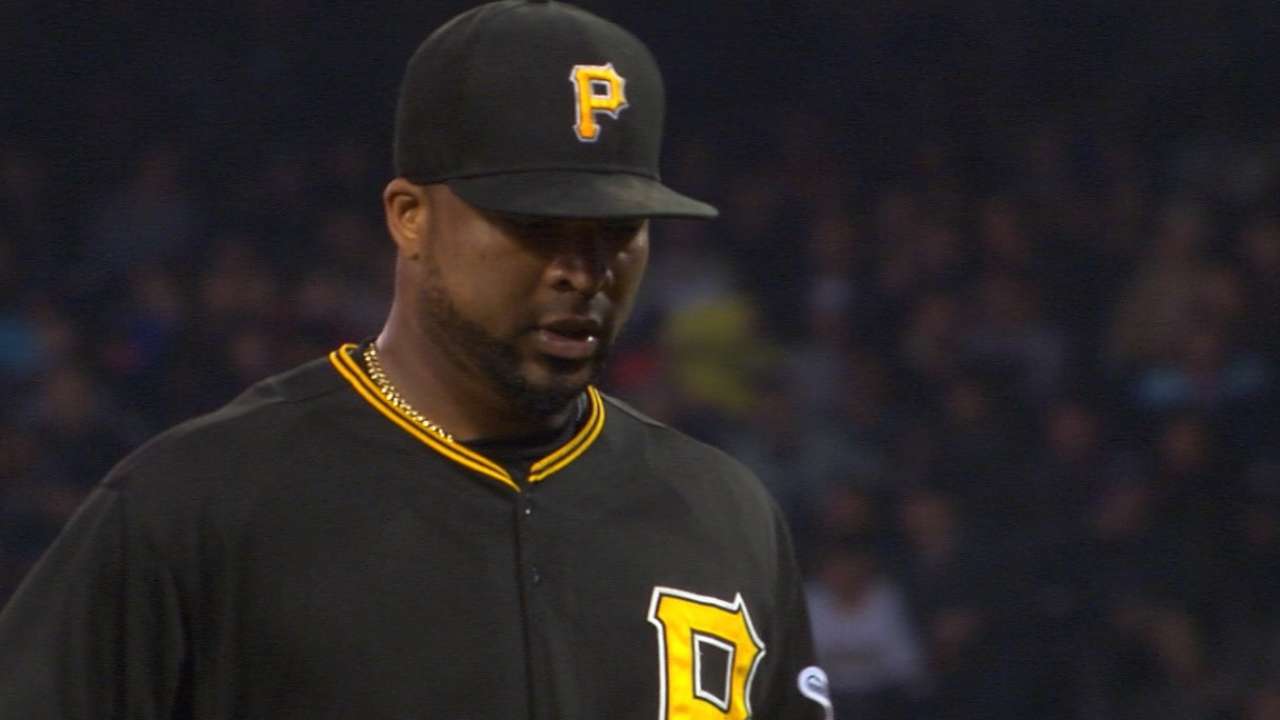 SAN DIEGO -- Lost in the craziness of the Pirates' 6-2, final-inning loss to the Padres on Friday night at Petco Park was the six innings of shutout ball tossed by Pittsburgh starter Francisco Liriano.
Pirates manager Clint Hurdle had myriad reasons to yank Liriano, after the left-hander threw only 96 pitches, striking out 11, allowing only three hits, and walking just one.
But Hurdle said there was only one person to blame after the bullpen blew a 2-0 lead and Rob Scahill fell apart in the ninth as Derek Norris ended the game with a grand slam.
"Managers make those decisions and they give you a lot of reasons. I just take the blame and the responsibility," Hurdle said Saturday, prior to the third game of the four-game series. "Whenever you go to the bullpen and it doesn't work, it's on you."
But Hurdle did have good reasons for what seemed like a tad premature hook. Liriano's next start is in an afternoon game against the Giants in San Francisco on Wednesday.
"It's not four full days of recovery," Hurdle said. "Well, yeah, you're looking forward. We're always cognizant of whether they've pitched on five days rather than on six days. And then when that fifth day comes up on a day game, it can't be overlooked, because he's getting ready now at 10 a.m. rather than 3 p.m. There's a six-hour window that's changed for him. Its not that they can't do it. It's not that they haven't done it before. You're just aware of it."
Another reason for caution was that Liriano had thrown 112 pitches the last time out, on May 24 in a win over the Mets, when he also pitched six innings and struck out 12.
"He threw 26 pitches in the fourth and an extended inning in the fifth," Hurdle said. "There's no doubt you can run him back out there after throwing 112 last time. If he starts the [seventh] inning, then your decision comes when you take him out. One of the things we try to maintain is how many leverage pitches our guys throw. The fourth and fifth innings were a lot of leverage for me. A lot of work out of the stretch."
But for his part, Liriano said he could have kept going.
"I felt great," he said after that game. "I felt physically very strong."
But these are the decisions managers have to make.
"I thought he gave us everything he had," Hurdle said. "He gave us a very good game again and so we move on."
Barry M. Bloom is a national reporter for MLB.com and writes an MLBlog, Boomskie on Baseball. Follow @boomskie on Twitter. This story was not subject to the approval of Major League Baseball or its clubs.