MLB.com Columnist
Fred Zinkie
DraftKings picks: Rizzo, Choo, Bumgarner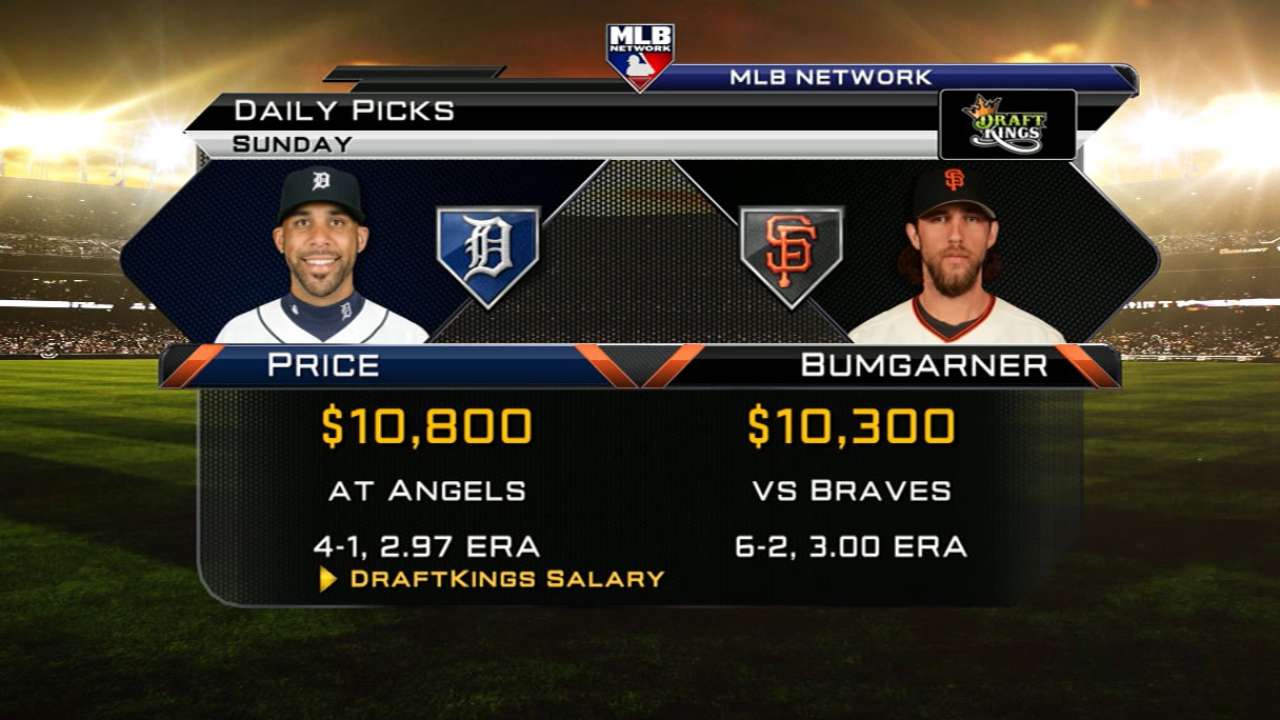 Welcome to DraftKings fantasy baseball, the Official Daily Fantasy Game of Major League Baseball.
The players listed below could provide difference-making stats for DraftKings participants on Sunday.
Anthony Rizzo (Cubs): Rizzo could rip a roundtripper when he puts his lifetime .840 OPS against right-handers (.751 vs. lefties) up against Royals righty Yordano Ventura (4.64 ERA in 2015). Since the outset of the 2014 season, Rizzo has hit 32 homers across 520 at-bats against righties, and Ventura has given up twice as many home runs to left-handed batters (16) as righties (8) in his career.
Miguel Montero (Cubs): The catcher could improve on his lifetime .797 OPS against right-handers (.654 vs. lefties) at the expense of Ventura, who in his career has managed just a 2.07 strikeout-to-walk ratio against left-handed hitters such as Montero (2.71 mark to righty hitters).
Ryan Howard (Phillies): The first baseman has enjoyed a resurgence this season, with a .250 batting average and 10 homers across 164 at-bats. Having posted a lifetime .950 OPS against right-handed hurlers (.730 vs. lefties), Howard could thrive at his hitter-friendly home park against Rockies righty Jordan Lyles (career 5.10 ERA, 1.44 WHIP).
Chase Utley (Phillies): Because he is hitting .183 this season, Utley -- who has compiled balanced career splits -- could be an economical DraftKings option. The second baseman could get on track against Lyles and a Rockies bullpen that lacks many elite options. He could also benefit from hitting into a Colorado defensive unit that ranks 27th in the Majors with a .678 defensive efficiency ratio.
DJ LeMahieu (Rockies): The second baseman -- who is hitting .329 this season -- could reach base often against Phillies righty Jerome Williams (career 1.37 WHIP). If LeMahieu can pick up multiple hits against a Phillies defense that ranks 24th in the Majors with a .680 defensive efficiency ratio, he could swipe a bag against catcher Carlos Ruiz, who sometimes struggles to thwart would-be basestealers.
Jose Altuve (Astros): With a career .354/.396/.487 slash line against lefties, Altuve has proven to be among baseball's best in said matchups. On Sunday, the second baseman could reach base often and score multiple runs when he faces White Sox southpaw John Danks (career 4.33 ERA, 1.33 WHIP). Altuve could also benefit from facing a White Sox defensive group that ranks 28th in the Majors with a .673 defensive efficiency ratio.
Evan Gattis (Astros): The slugger -- who is eligible at the catcher position in DraftKings contests -- could hit his 11th homer of the season at the expense of Danks (career 1.2 HR/9 rate). During his career, Gattis has slugged 12 homers across 221 at-bats against lefties.
Hanley Ramirez (Red Sox): Ramirez will bring an impressive career .306/.389/.527 slash line against lefties into a Sunday matchup with Rangers southpaw Wandy Rodriguez (career 1.33 WHIP). The outfielder -- who can be used at shortstop in DraftKings contests -- could drive in multiple runs at hitter-friendly Globe Life Park in Arlington.
Dustin Pedroia (Red Sox): With a lifetime .305/.390/.458 slash line against lefties, Pedroia could be part of a stack of Red Sox righty hitters against Rodriguez. In his career, the lefty hurler has allowed right-handed batters such as Pedroia to tally a .751 OPS (.697 OPS allowed to lefty hitters).
Prince Fielder (Rangers): Hitting .364 with 10 homers and 38 RBIs across 198 at-bats, Fielder is in the midst of an excellent bounce-back season. On Sunday, the first baseman could improve on his impressive lifetime .298/.409/.557 slash line against right-handers at the expense of Red Sox righty Joe Kelly (career 1.37 WHIP).
Shin-Soo Choo (Rangers): Choo has posted pronounced career splits, with a .904 OPS against right-handers that exceeds his .673 mark vs. lefties. The outfielder could reach base often or display his power against Kelly, who has produced a 6.24 ERA and a 1.45 WHIP this year.
Madison Bumgarner (Giants): Arguably the most attractive starter option on the Sunday docket, Bumgarner will work at his spacious home park against a Braves lineup that ranks 29th in the Majors with 28 homers this season. Bumgarner blends consistency and excellence, having posted a lifetime 3.06 ERA that includes a 3.00 mark in 2015.
Tanner Roark (Nationals): Roark will be making just his second start this season when he faces the Reds, but DraftKings participants should give careful attention to a hurler who posted a 2.85 ERA across 31 starts a year ago. He could be well-supported by a Nationals lineup that leads the National League with 221 runs scored.
Bartolo Colon (Mets): Colon could compile quality frames on Sunday, when he plies his trade at his pitcher-friendly home park against a Marlins lineup that ranks 27th in the Majors with a .662 OPS against right-handers.
Drew Hutchison (Blue Jays): Hutchison is coming off a shutout of the White Sox and, despite his fly-ball tendencies, he could keep the ball in the yard at pitcher-friendly Target Field on Sunday. Additionally, he could receive plenty of run support if the Blue Jays -- who lead baseball with 261 runs scored -- succeed against Ricky Nolasco (5.12 ERA, 1.61 WHIP in 2015).
All statistics are accurate through the completion of Friday's games.
Fred Zinkie is the lead fantasy baseball writer for MLB.com. Follow him on Twitter at @FredZinkieMLB. This story was not subject to the approval of Major League Baseball or its clubs.