Offense goes silent behind Chen's strong effort
Left-hander allows three runs over seven innings with four strikeouts vs. Rays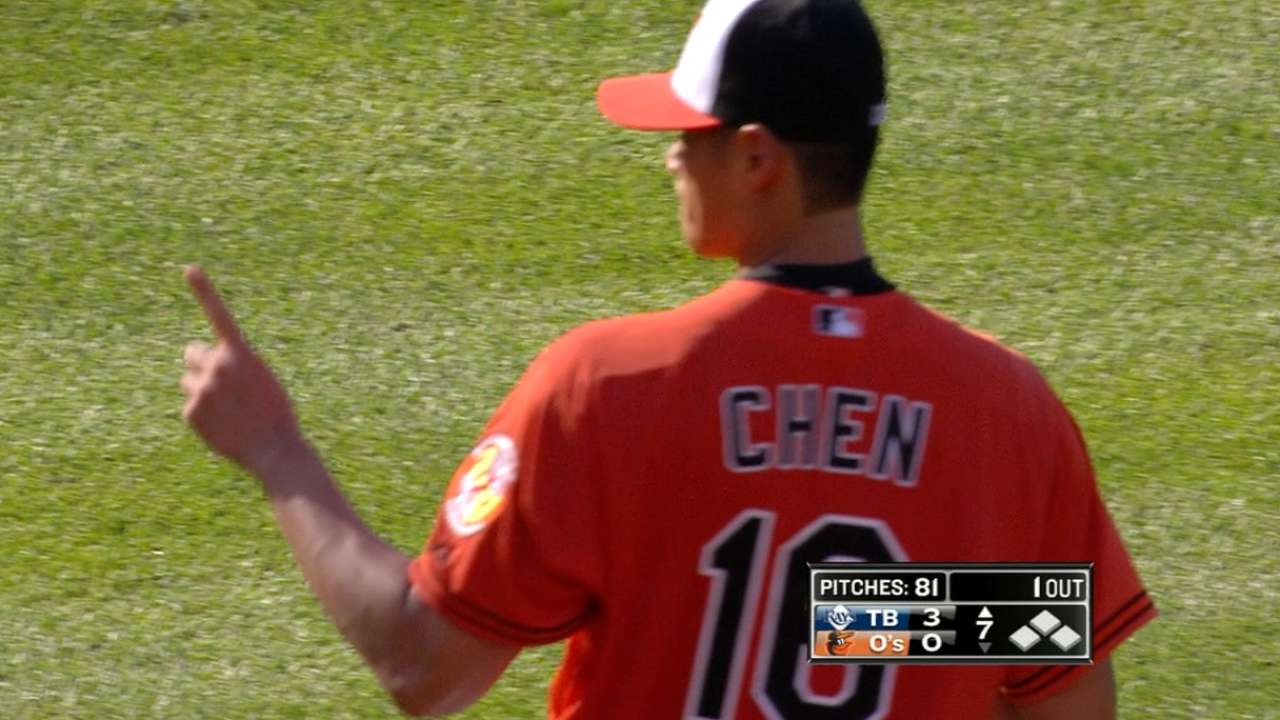 BALTIMORE -- Wei-Yin Chen gave the Orioles seven good innings on Saturday. But the left-hander allowed single runs in the first three innings, and the offense could not overcome the early deficit.
Overall, Chen allowed three runs on six hits during those seven innings. The Orioles, however, could not solve Rays right-hander Erasmo Ramirez, who shut them down en route to a 3-0 Tampa Bay victory at Camden Yards.
Chen went seven innings for the fourth times in his last five starts, but came away with a loss for the third time. The Rays took advantage of a first-inning sacrifice fly from Evan Longoria, plus solo homers from Steven Souza Jr. in the second and Joey Butler in the third for a 3-0 lead after Chen had faced only 11 batters.
After that, Chen gave up only two hits to keep the Orioles in the game, but it was too late.
"I tried to keep the ball down, I tried to keep the opponent from scoring runs," Chen said through an interpreter. "Unfortunately, I allowed some extra-base hits in the first three innings. One of the home runs, that wasn't a good pitch. It wasn't the location I wanted it to be."
The Orioles had only two at-bats with a runner in scoring position on Saturday, and had only four baserunners overall.
"Wei-Yin pitched well," Orioles manager Buck Showalter said. "We didn't do much."
Chen said he doesn't worry about the offense and its struggles when he pitches. He just focuses on his job.
"Everybody's playing hard, and we all try to win, we all try to perform, so I think everybody's doing their best, and I try not to think about that," Chen said.
Ramirez held the Orioles (23-25) to three hits in his seven innings, and they didn't get a baserunner after the fifth inning. Their only threat came in that inning when Steve Clevenger was thrown out at the plate on a Ryan Flaherty single.
Clevenger, the backup catcher, said that Chen threw very well in the loss, settling down after some of his early problems.
"Early in the game, he just made a couple of mistakes with the breaking ball early in the count, and they jumped on it and they capitalized on it," Clevenger said. "He threw the ball really well today. He mixed it in and out, had his slider working, had his changeup working. He bared down after those first two runs."
Jeff Seidel is a contributor to MLB.com. This story was not subject to the approval of Major League Baseball or its clubs.