MLB.com Columnist
Lyle Spencer
ASG debate: Aoki or Pagan from Giants?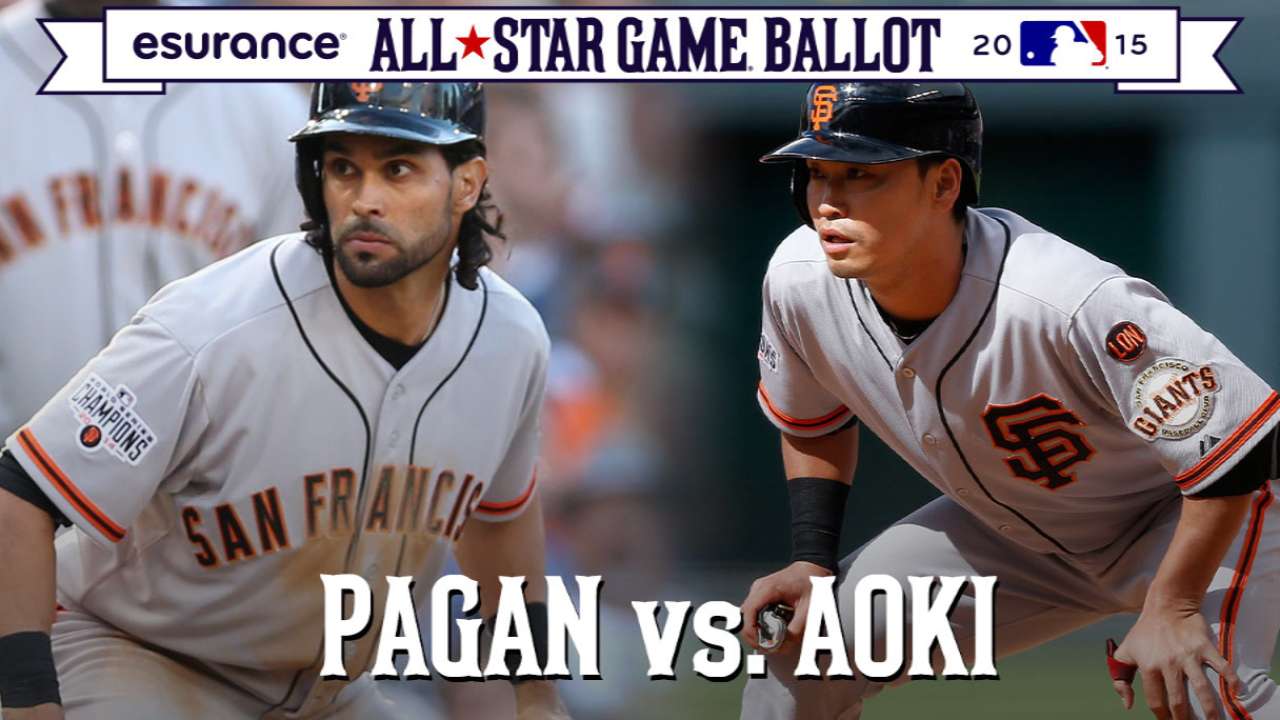 *** We will be doing daily ASG debates until 2015 Esurance MLB All-Star Game balloting ends on July 2. We will frequently be pitting one player against another and have a writer make a case for one of them, but that doesn't mean there aren't other great candidates for that position. In fact, your comments could spark a new debate for us to tackle. So let us know what you think! ***
Nori Aoki or Angel Pagan? In the most recent All-Star ballot update, the two Giants outfielders ranked fourth and fifth among National League outfielders. Both are deserving candidates, but the question is, if push came to shove and you had to take one or the other to start the Midsummer Classic in Cincinnati, which way would you go?
By a narrow margin, the choice here is Aoki. What separates him from Pagan is his production at the top of the order. Aoki, one of the smartest free-agent acquisitions of the winter, has been a superb addition to the World Series champions' cast in every respect: offensively, defensively and in the clubhouse as yet another positive presence.
• VOTE NOW: Cast your All-Star ballot
Offensively, Aoki has produced a .314/.388/.403 line for a .791 OPS. Pagan checks in with a .312/.337/.387 slash line for a .724 OPS. The edge goes to the man from Japan with the Ichiro-styled game over the man from Puerto Rico who brings unbridled passion to every inning he plays in center field.
Defensively, it is too close to call. Pagan roams the vast reaches of AT&T Park, stealing doubles and triples, while Aoki makes all the plays with smart routes and excellent instincts. On the bases, both are threats to steal and will go first to third in a heartbeat. No advantage either way there.
A plus for Aoki is his ability to play all three outfield positions with equal skill. With the Giants, he has been a full-time left fielder, but he made perhaps the pivotal play of the postseason last October for the American League champion Royals as a right fielder.
In Game 1 of the AL Division Series, Aoki made a spectacular catch against the wall in right-center at Angel Stadium, taking an extra-base hit away from Howie Kendrick. It was a game-changing play, giving the Royals momentum that they rode to a series sweep.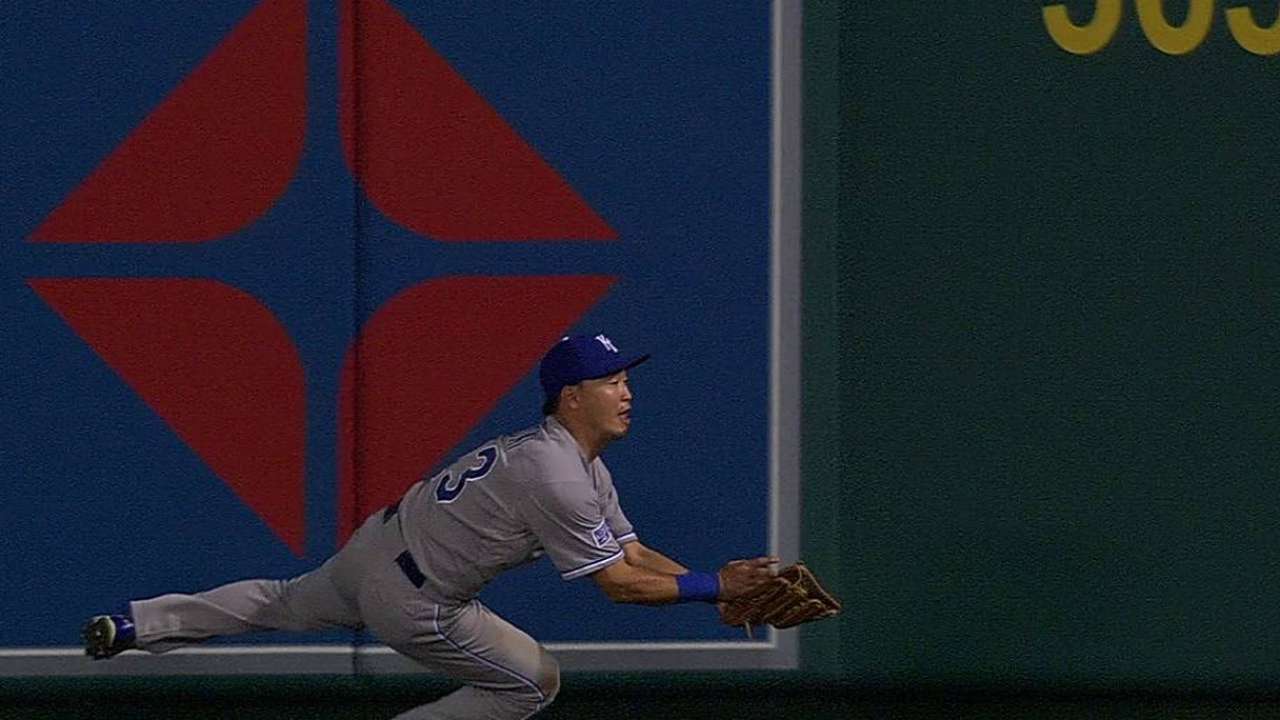 With Hunter Pence out early in the season with a broken forearm, Aoki and Pagan eased the sting of the loss with their all-around play. Pagan also can play the corners, but he is primarily a center fielder and most comfortable there.
Remarkably similar in production, Aoki and Pagan in style are a study in contrasts. Aoki's game is nuanced, subtle; for example, he drives pitchers crazy by fouling off nasty two-strike deliveries to keep at-bats alive. Pagan is explosive and exciting -- impossible to miss as he runs down fly balls and runs the bases with abandon.
In its WAR calculations, Fangraphs.com has Aoki rated as the fifth-most-valuable Giants player at 1.3, behind Brandon Crawford, Buster Posey, Joe Panik and Brandon Belt. Pagan is seventh at 1.0. Baseball-Reference.com has Aoki at 1.3 and Pagan at 0.8.
It is altogether possible that Pagan will go on a hot streak and surpass Aoki by mid-July. Or it could be Aoki taking flight. Both are highly capable. Manager Bruce Bochy is just happy to have both players in his lineup on a daily basis, playing championship-level baseball.
"Nori and Angel have been doing a great job for us consistently on both sides of the ball," Bochy said. "They're the kinds of players you know you can count on to give you effort every night."
You can vote for starters at MLB.com and all 30 club sites -- on computers, tablets and smartphones -- until Thursday, July 2, at 8:59 p.m. PT. For the first time, voting is exclusively online.
Fans may also receive the ballot by texting VOTE to 89269 (USA) or 101010 (Canada). Or text VOTA for a ballot in Spanish. Message and data rates may apply. Up to five messages. No purchase required. Reply STOP to cancel. Reply HELP for info.
Following the announcement of the 2015 All-Stars, be sure to return to MLB.com and cast your 2015 Esurance MLB All-Star Game Final Vote for the final player for each league's All-Star roster. On Tuesday, July 14, watch the 2015 All-Star Game live on FOX, and during the game visit MLB.com to submit your choice for the Ted Williams Most Valuable Player Award presented by Chevrolet via the 2015 MLB All-Star Game MVP Vote.
MLB.com will provide extensive online coverage of All-Star Week festivities.
The 86th All-Star Game will be televised nationally by FOX, in Canada by Rogers Sportsnet and RDS, and worldwide by partners in more than 200 countries via MLB International's independent feed. ESPN Radio and ESPN Radio Deportes will provide national radio coverage of the All-Star Game. MLB Network and SiriusXM will also provide comprehensive All-Star Week coverage. For more information, please visit allstargame.com.
Lyle Spencer is a national reporter and columnist for MLB.com. Follow him on Twitter @LyleMSpencer. This story was not subject to the approval of Major League Baseball or its clubs.