Paulsen making case to stay with Rockies
First baseman delivers clutch homer for second straight game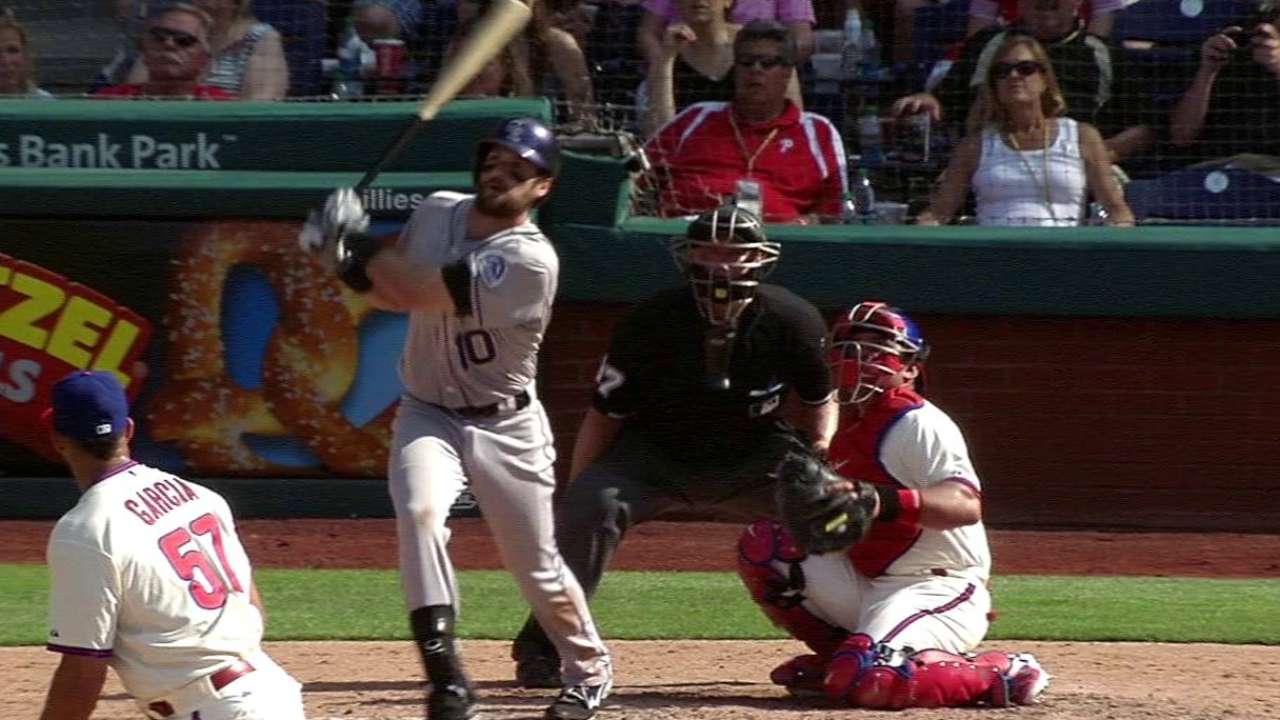 PHILADELPHIA -- Ben Paulsen was ready to help the Rockies when they summoned him from Albuquerque, partly because his Triple-A manager, Glenallen Hill, wanted him to do something more than just wait for a phone call.
"The last week I was down there in Triple-A, he challenged me as a hitter to be on balance," Paulsen said. "Even if you're fooled, be on your legs. He challenged me, saying, 'I don't care if you're 0 for your next 15 at-bats, I want you to really be on balance.'"
Paulsen is swinging the balance in the Rockies' favor these days. With Colorado leading by one run in the seventh inning Saturday afternoon, Paulsen pulled a home run off reliever Luis Garcia into the right-field seats for one of the necessary add-on runs in the 5-2 victory over the Phillies.
In Friday night's 4-1 win, Paulsen's homer to the left-center-field gap in the ninth, also off Garcia, provided the final two runs.
Since being promoted May 19, with the Rockies needing him at first base for the injured Justin Morneau and in left field for the injured Corey Dickerson, Paulsen has hit safely in 10 of his 11 games (.359, 3 HRs, 1.085 OPS). Paulsen played first base Saturday.
"He came up last year and performed extremely well and he's doing the same this year," Rockies manager Walt Weiss said. "He's a good hitter, not just a power hitter. He hits the ball to all fields and drives the ball."
Last season, the rookie Paulsen hit .317 with four homers and 10 RBIs in 31 games -- over four different callups. He was sizzling when Morneau was out, but had to go back to the Minors when Morneau was healthy. But Paulsen did enough to convince the Rockies to expand his profile to include corner outfield play. Now he is a candidate to stay whenever Morneau comes back from a neck injury and concussion symptoms.
"Glenallen always reiterated, 'You're a professional Ben Paulsen,' and things have a way of working out for the better," Paulsen said. "One door closed and another opened with the outfield."
Thomas Harding is a reporter for MLB.com. Follow him on Twitter @harding_at_mlb, and like his Facebook page. This story was not subject to the approval of Major League Baseball or its clubs.