Gibson keeps Twins in the game despite struggles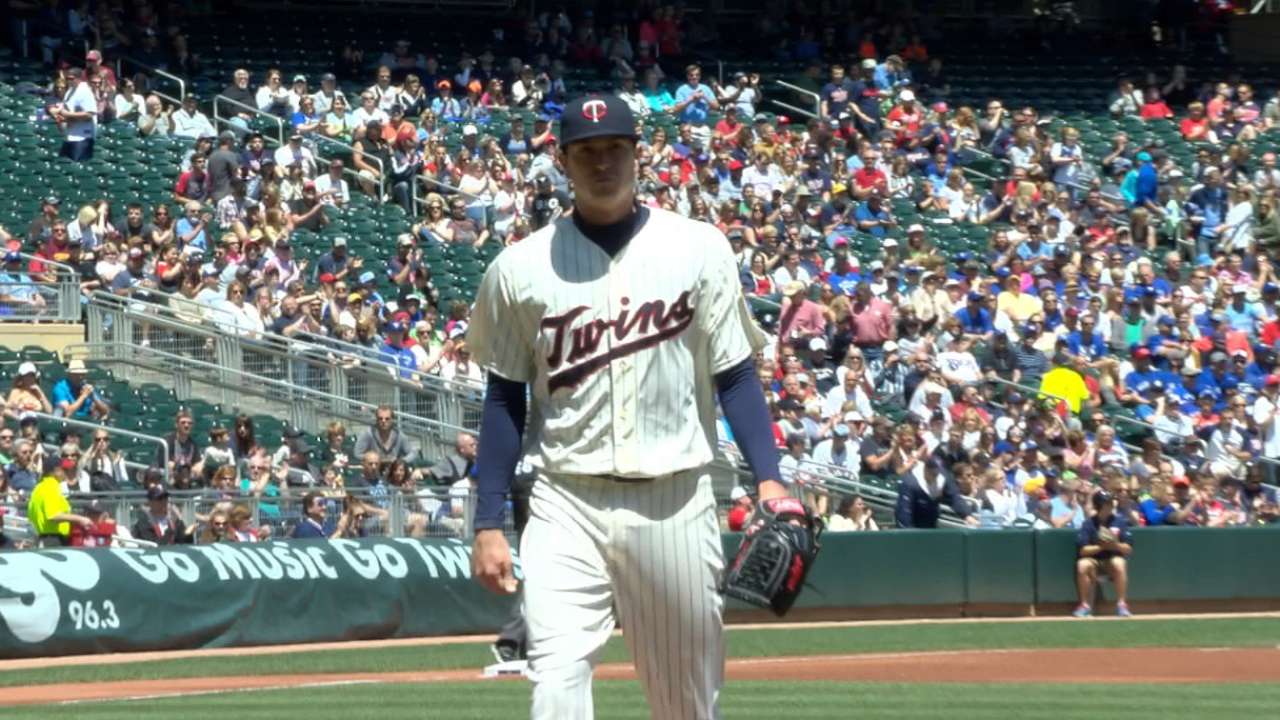 MINNEAPOLIS -- Twins starter Kyle Gibson didn't have his best stuff on Saturday. In fact, he wasn't even necessarily close to it.
Gibson struggled with his command, frequently getting behind in counts and allowing baserunners in almost every inning.
But as general manger Terry Ryan said before the game, Gibson has had better "damage control" this season and, true to form, Gibson was able to limit the damage in the 3-2 Twins victory.
Gibson induced three double plays in the first three innings and gutted his way through 5 2/3 innings, giving up just one earned run.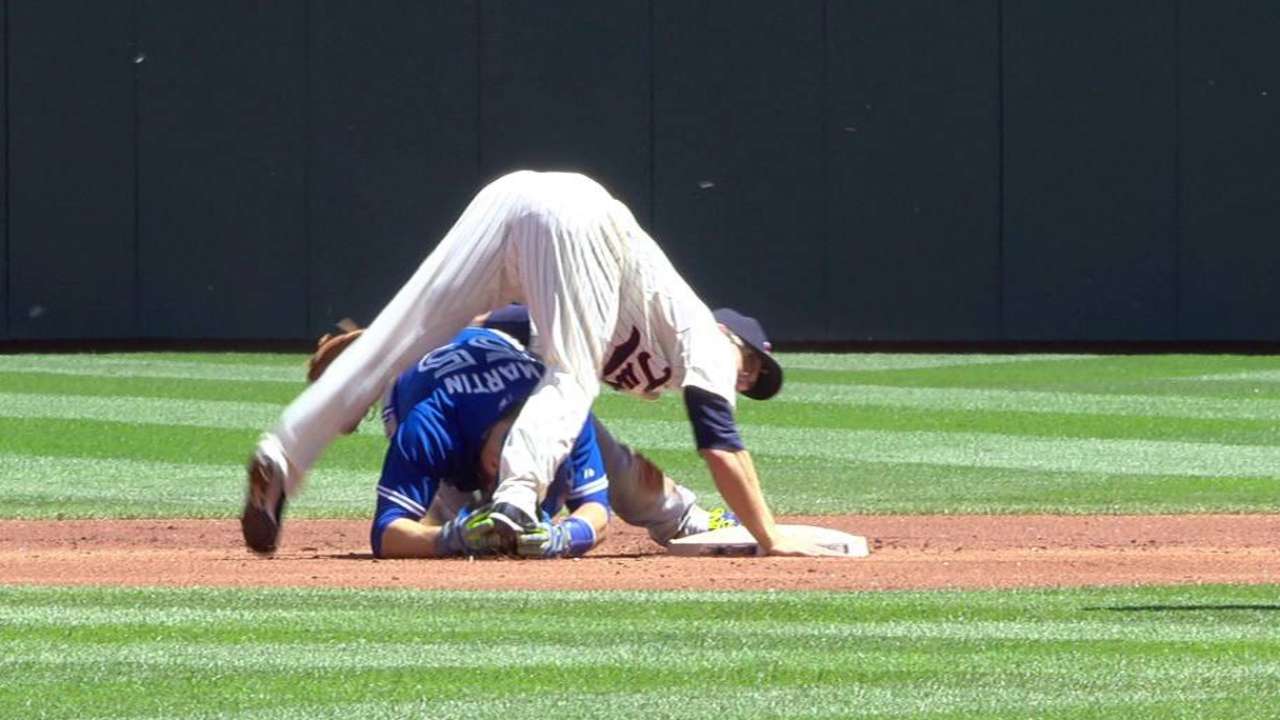 "That was a battle out there today," said Gibson. "They put a lot of good at-bats together and put a lot of pressure on me early."
Gibson said his fastball command, in particular, wasn't very good throughout the day -- as he often fell behind on the pitch. He ended the day with 45 balls and four walks.
But despite that, he still left the door open for the Twins to win, pitching in and out of his own jams.
After giving up a single to Jose Reyes to begin the third and then recording the first out, Gibson walked Jose Bautista (intentionally) and Edwin Encarnacion before getting Russell Martin to bounce back to him to start a double play.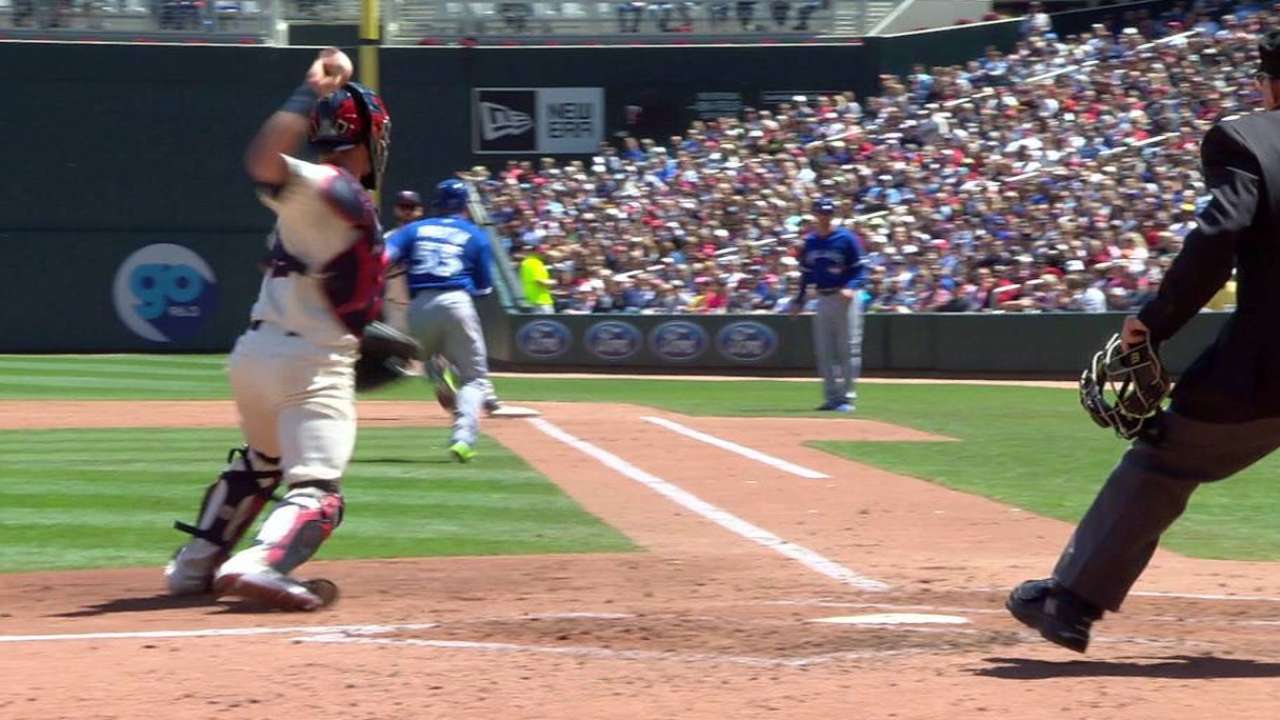 "He made some big-time pitches in a bunch of key situations to get some ground balls -- obviously that double play with the bases loaded -- that kind of stuff," said second baseman Brian Dozier. "He worked some counts against a really good-hitting team."
The only earned run Gibson did surrender to the league's top run-producing offense came on a solo home run in the fourth inning to Kevin Pillar.
But the Blue Jays had runners on base in every inning but one against Gibson, and the fact that he was just one out from a quality start speaks volumes for his performance.
Gibson took the no-decision, but lowered his ERA to 2.61 on the season.
"His numbers are really good, but there are games where he's really had to fight," Twins manager Paul Molitor said. "There are times when he's gotta figure out how to get out of innings and [his] pitch count goes up -- and we just take what we can get."
Gibson came back out to start the sixth and allowed two straight hits to begin the frame. After a sacrifice bunt turned error led to an unearned run, he struck out Pillar and induced a popout to third.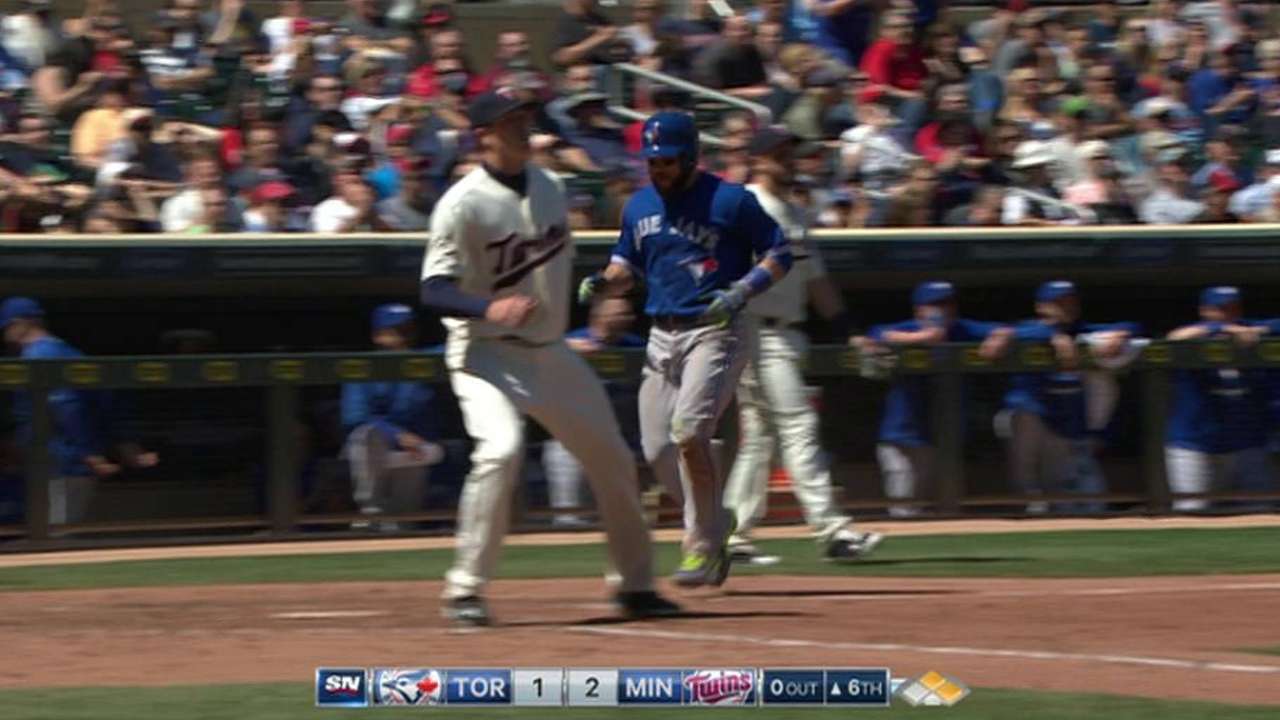 Molitor said he went back and forth in the sixth on when to go to the bullpen. After two outs, he pulled Gibson with runners on second and third and Brian Duensing stranded them there.
"Sitting [on the bench] thinking about it, I'm like, 'You know, this is a really good team that scores a lot of runs,'" said Gibson. "And to be able to do that with most likely not my best stuff, we win the game -- and I'll take that every time."
Betsy Helfand is an associate reporter for MLB.com. This story was not subject to the approval of Major League Baseball or its clubs.