MLB.com Columnist
Mike Bauman
Cardinals to observe Oscar Taveras Day Sunday
Team to honor memory of outfielder on the one-year anniversary of his MLB debut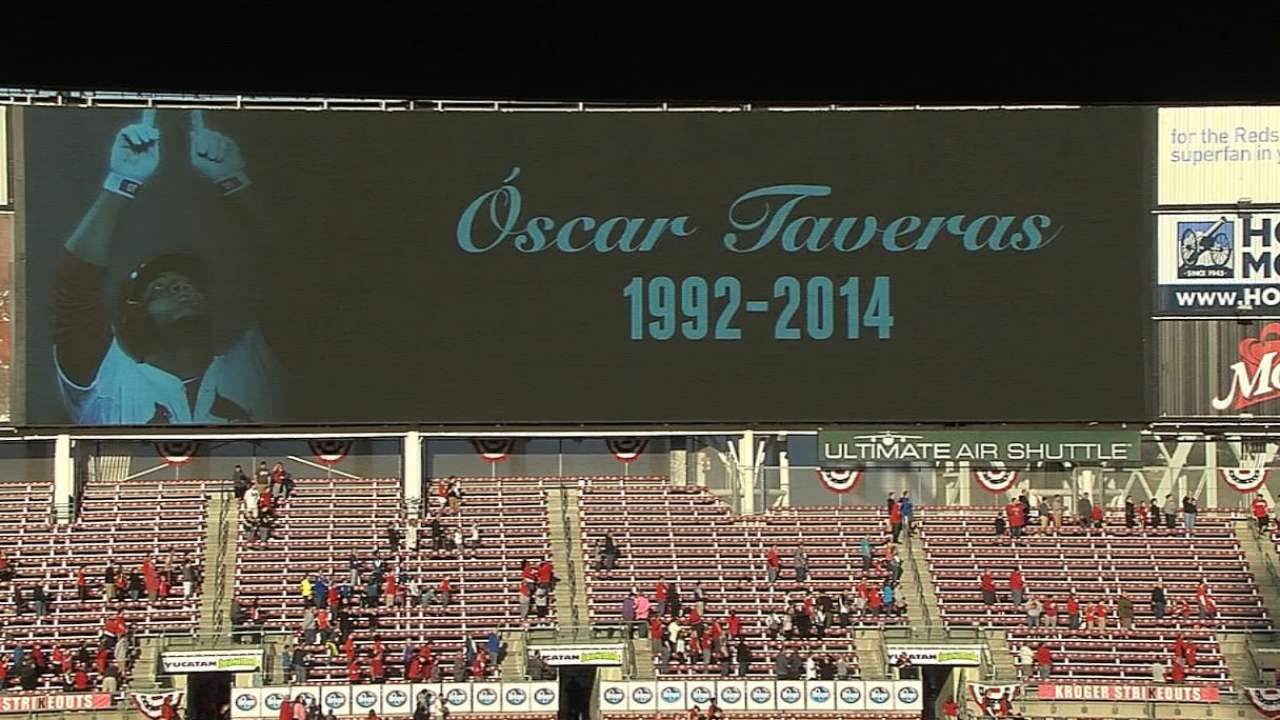 ST. LOUIS -- On May 31, 2014, the joy at Busch Stadium was pure and spontaneous and downright heartwarming.
"Everything is happy," Oscar Taveras said. And that was before he hit a home run in his first Major League game.
The outpouring of joy on that day makes the tragedy that followed seem even more of a stark contrast. Taveras died in an auto accident in his native Dominican Republic on Oct. 26, 2014.
But last May 31 was a time of bright promise. Taveras, 21, considered the gem of the highly productive St. Louis Cardinals farm system and ranked as the No. 2 prospect in all of baseball by MLB.com, was elated to be in the bigs. And very shortly, all the rest of the Cardinals and a full house at Busch Stadium would feel exactly the same way.
Taveras, who was playing right field and batting sixth for the Cardinals, came up with one out in the fifth inning of what was a scoreless game. He then drilled a 1-0 slider from San Francisco's Yusmeiro Petit 418 feet to the back wall of the St. Louis bullpen in right-center.
It was a magical moment that segued into more magical moments. The Busch Stadium crowd of 44,426 gave Taveras a sustained ovation, demanding a curtain call. Taveras' teammates and coaches urged him out of the dugout to receive the crowd's tribute.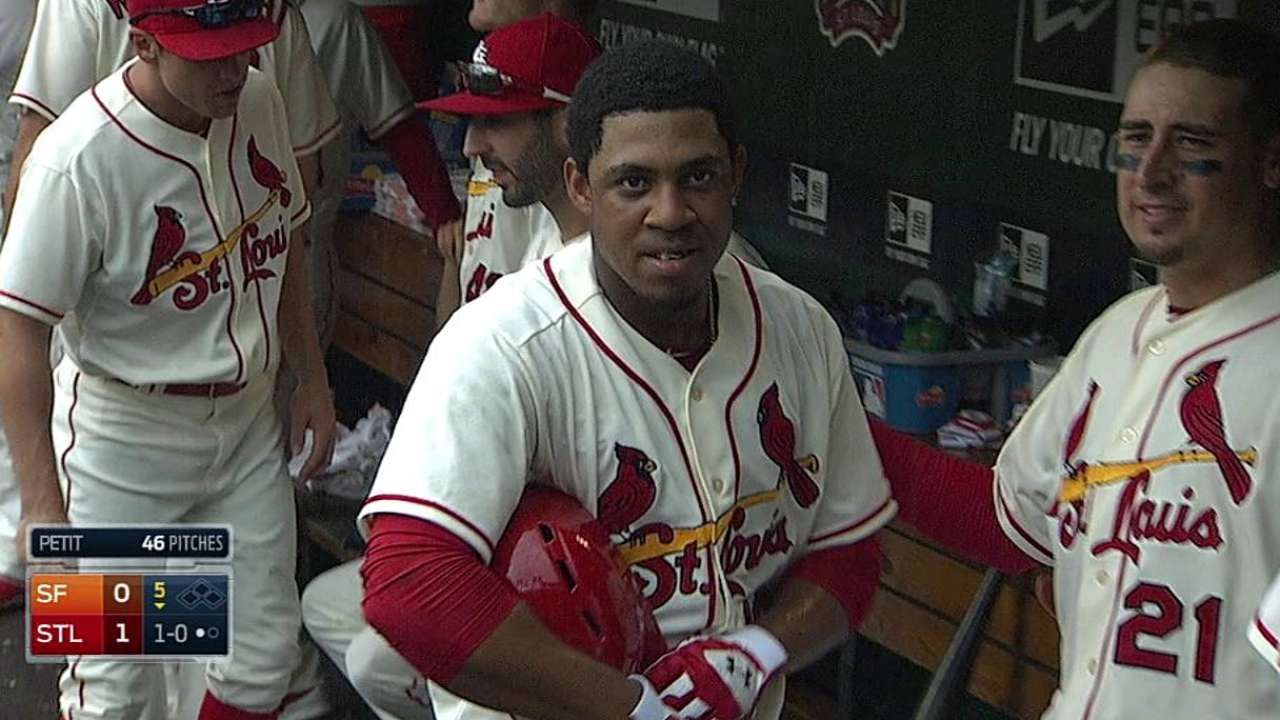 And then, as if on cue, the skies opened up, the rains came down in torrents. The game went into what would become a 47-minute rain delay. When play resumed, the Cardinals went on to win, 2-0. The Major League debut of Oscar Taveras had gone from very good to epic.
On Sunday, one year to the day later, the Cardinals, appropriately enough, will observe Oscar Taveras Day. His parents, who never saw him play in St. Louis, will be on hand. The Cardinals will also have a video tribute to Taveras.
What remains from one year ago, for those of us privileged enough to be on hand that day, are the memories of a truly joyous occasion, memories brought on by the accomplishments of one young baseball player.
"You could envision him as a guy who was going to be around for a while and be a big part of your future," said Cardinals third baseman Matt Carpenter. "He hit a home run in his first game. That's going to be something that sticks out in my mind. The excitement and the joy that brought, that's something I will remember. That was a special moment."
"He comes up and hits a home run and literally opens up the clouds," said Jason Motte, then a reliever with the Cardinals, now with the Cubs. "It was one of those amazing things."
The hype leading up to Taveras' arrival had been growing steadily. For him to deliver in his first game was doubly remarkable. Cardinals manager Mike Matheny noted that in his postgame comments.
"You never know when you put so much on a guy, I mean, there was an awful lot expected out of him," Matheny said. "To come out and do what he did, I think it validates the kind of talent that he is and hopefully, the kind of mental toughness that he has to be able to come out and put a lot of the distractions aside. All the hype is a distraction, but he's obviously the kind of player that we've been talking about.
"You know that I'm supposed to downplay it. We bring a young player up, 21 years old, and that still blows me away. But I'd be lying to you if I said I wasn't excited. There's excitement for a reason, because he's an exciting talent."
Taveras had worked diligently on his English in preparation for that day and he spoke to reporters without an interpreter. His postgame media session was another exercise in smiles.
What did he think when he hit the ball? Taveras chuckled. "Everybody knew it was gone," he said. "That was a good swing right there. I was so happy. I'm so happy that I took a good at-bat and helped the team win."
There had been a great deal of speculation about when Taveras would be called up from Triple-A Memphis. Taveras had not let it distract him. He hit .462 over his last 10 games in Triple-A. But while Taveras was at Memphis, his status had become a regular question.
"Everybody says: 'Man, why aren't you called up?' " Taveras said. "I say: 'I'm just here doing my job.' Now I'm here [in St. Louis] trying to do my job."
Oscar Taveras made May 31, 2014, a day of joyful celebration in St. Louis. One year later, the Cardinals will do the right thing by honoring his memory, and in that way, celebrating his memory.
Mike Bauman is a national columnist for MLB.com. This story was not subject to the approval of Major League Baseball or its clubs.