Tejada taking advantage of chance to play third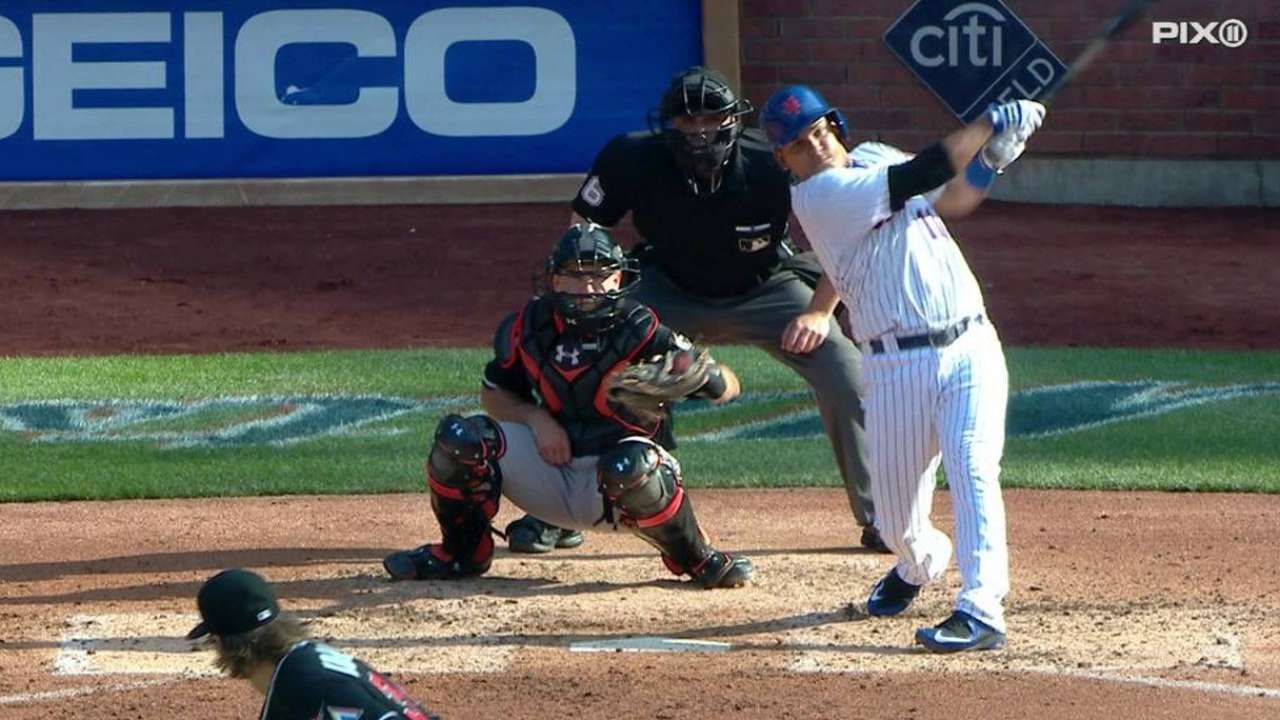 NEW YORK -- Six weeks of uncertainty separated nearly identical hits for Ruben Tejada.
In Saturday's 9-5 loss to the Marlins, he got to Marlins right-hander Tom Koehler again. Same ballpark, same inning, same pitcher.
On April 19, the Mets' utility infielder stepped in the box with the bases loaded and one out in the fourth inning. He got his pitch -- a 93 mph fastball -- from Koehler and sent it to left-center field.
By the time he reached second base, all three baserunners had scored. Koehler didn't finish the fourth inning.
Then, the uncertainty. Bouncing around the infield and the lineup, Tejada saw his playing time became sporadic: a start one day, five days on the bench, a few innings, back to the bench.
But by the end of May, Mets manager Terry Collins needed a solution to a David Wright-sized problem at third base. So into the lineup Tejada went.
With the Mets trailing 5-2 in the fourth inning, Tejada stepped in with the bases loaded and one out. He remembered that April at-bat, when Koehler threw him five straight sliders, and knew which pitch to look for.
Koehler gave it to him on the first pitch. Tejada took a 93 mph fastball and hit a double to left-center field, scoring all three runs.
"With men in scoring position, I go aggressive every time," Tejada said. "Sometimes you only have one pitch to hit."
The double was part of a 2-for-4 day for Tejada, his second multi-hit game in a row. Part of that can be attributed to his role in the starting lineup -- starting a game gives him more time to get warmed up than he has off the bench, he said.
Collins has repeatedly said Tejada is a better player than he's shown in his brief career. When he slotted him into the No. 2 spot in the lineup Friday, he told the 25-year-old he needed more from him, and Tejada has delivered.
"Tejada is a solid player, and the last couple of days have shown what he can do," Collins said. "He has good at-bats, has great hands, got a great arm. There's no reason why he shouldn't be out there more."
After the first of the two doubles, six weeks ago, Tejada immediately went into a slide. He didn't play the next day, or the day after that, and collected just one hit in his next 13 at-bats.
With the support of his manager and the third base job his to solidify, he said he's more focused this time around.
"I feel good right now," Tejada said. "They gave me the opportunity to play two days in a row, so I'll try to take this opportunity.
"You never know."
Alden Woods is an associate reporter for MLB.com This story was not subject to the approval of Major League Baseball or its clubs.