Doolittle returns to DL with strained shoulder
Lefty reliever dealing with 'stabbing pain,' won't throw for several weeks; A's call up Castro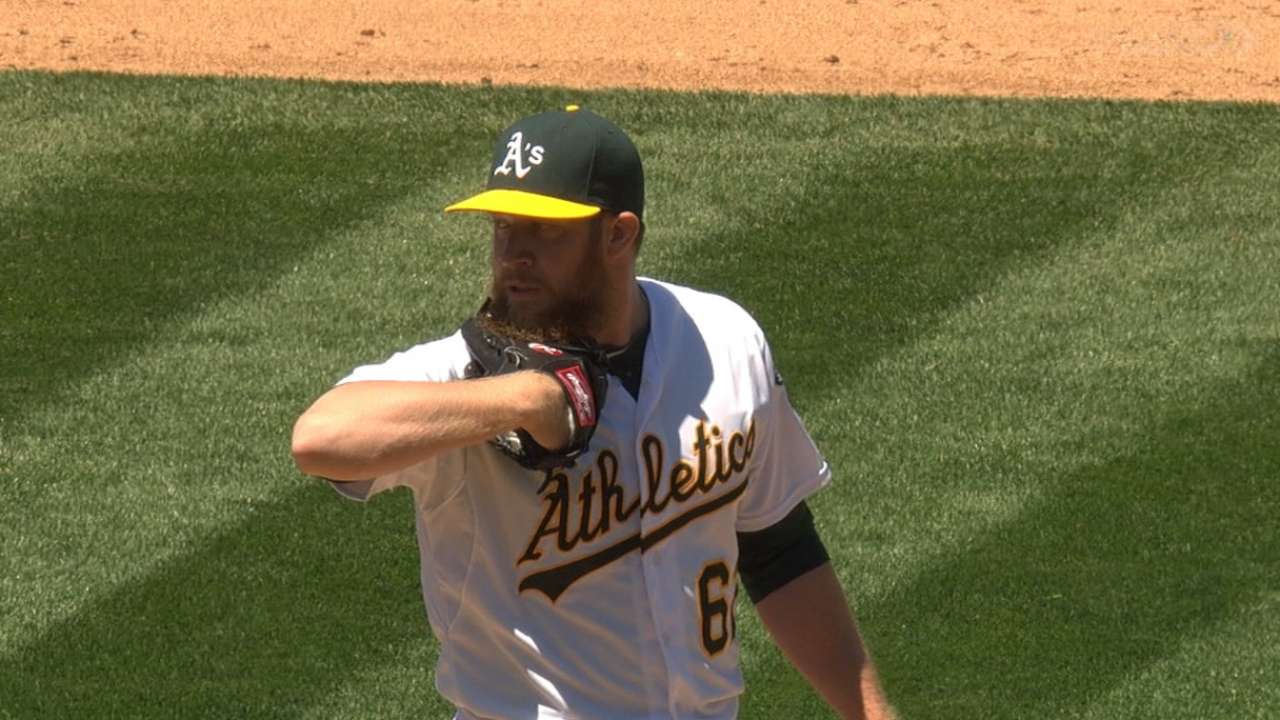 OAKLAND -- Sean Doolittle is back on the disabled list with a strained left shoulder, just four days after the A's celebrated the reliever's return. The southpaw made just one appearance before suffering yet another setback with his shoulder, described by Doolittle as a "stabbing pain" that's in a different place.
Saturday's MRI showed no structural damage to the subscapularis muscle, only inflammation, but Doolittle won't pick up a baseball for at least several weeks. When he does, he'll have to go through the motions of another throwing program, likely ruling him out through at least the All-Star break.
Right-hander Tyler Clippard, who has locked down six of seven save opportunities, will remain the closer, with Evan Scribner providing setup duties. Oakland recalled right-hander Angel Castro from Triple-A Nashville to take Doolittle's place on the active roster.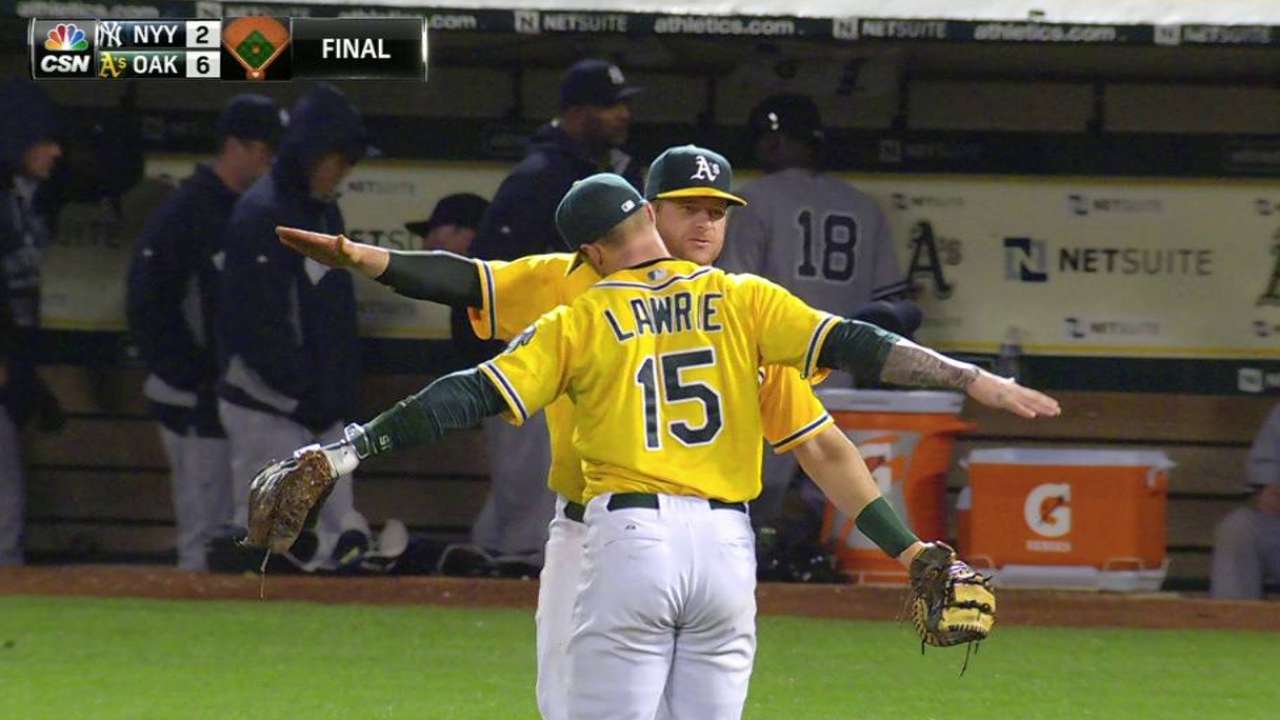 "It's really frustrating to work your [tail] off for four months, come all the way back, get back, I'm here and I'm ready to help, and I throw one inning and I'm back on the shelf," said Doolittle, who missed the club's first 48 games with a strained rotator cuff.
"I think, like any rehab process, mentally it's going to be a grind, but I've already done it once, so I'll do it again."
Doolittle struck out two and allowed one hit in a 13-pitch sixth inning against the Tigers in his season debut Wednesday and couldn't hide his excitement immediately after the game. It was later that night when he said his shoulder was "pretty painful." On Thursday, he felt better, but he couldn't even play catch out to 60 feet Friday without feeling discomfort, prompting the MRI.
The southpaw took solace in knowing his previous injury was unaffected, but he remains slightly baffled by how the new one came about. At no point during his rehab did he experience "any red flags that something wasn't right," he said.
"I feel like it's my body's way of telling me I wasn't quite ready," Doolittle continued. "And maybe because I wasn't quite ready, subconsciously maybe I was throwing a little different, and in trying to protect it, it caused something else."
Doolittle, 28, is in the second year of a five-year, $10.5 million contract he negotiated with the A's during his 2014 All-Star season, which he finished with a 2.73 ERA, 22 saves and 89 strikeouts in 62 2/3 innings -- just three years after moving from first base to the mound.
Injuries derailed Doolittle's path to the big leagues as a power-hitting first baseman, but he made the transition to one of the game's best relievers look easy.
That's one of the reasons he wasn't so concerned when he returned to the mound Wednesday topping out at 90 mph, when he was last seen regularly throwing 95-96 mph. He had already transformed himself once; why not again?
The process is on hold for now.
"He's been through this stuff before," said A's manager Bob Melvin. "The frustration period is probably for a couple days, and then you just start working on strengthening, doing the best you can with it. He's a pretty strong-minded guy.
"Obviously we'll have to do things a little bit differently and hold down the fort in the meantime."
Paul Casella is a reporter for MLB.com. This story was not subject to the approval of Major League Baseball or its clubs.