Abreu rests with ailing finger; Avisail returns
X-rays reveal no major damage for slugging first baseman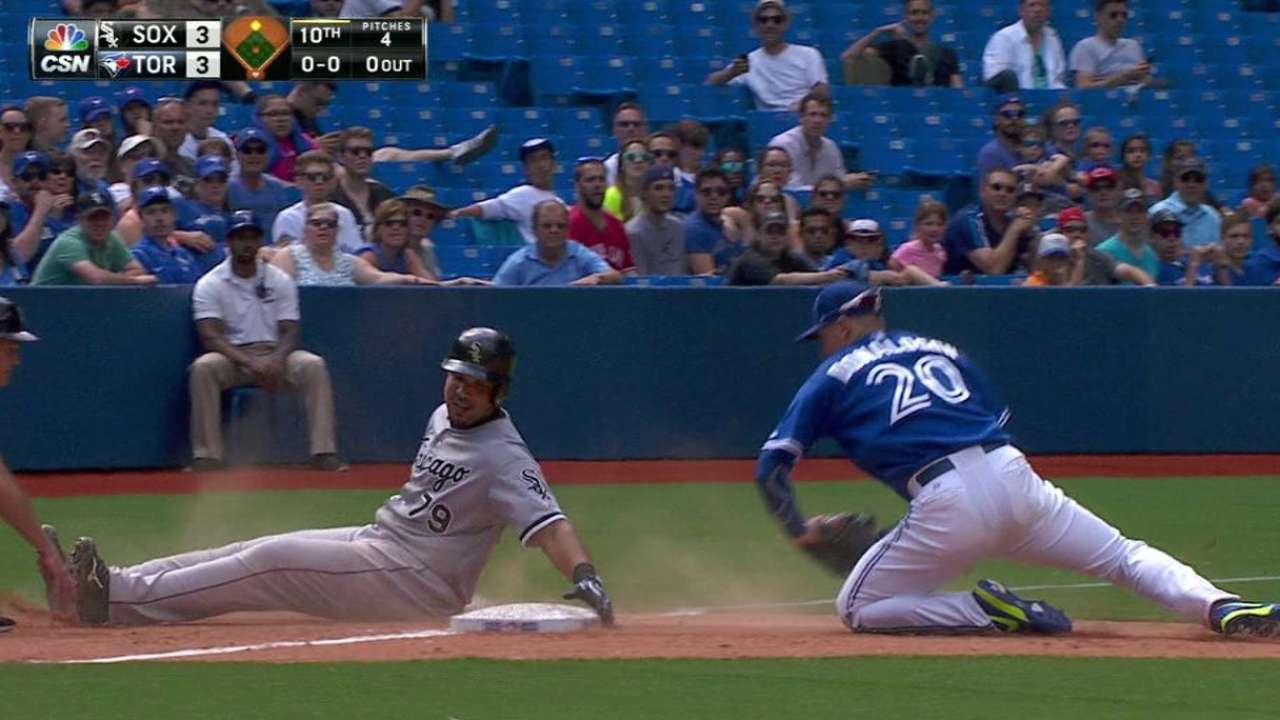 HOUSTON -- White Sox first baseman Jose Abreu sat out Saturday's game -- a 3-0 victory for the Astros -- even though X-rays came back negative for structural damage on his sore right index finger.
Abreu left Friday's game in the eighth inning after aggravating the nagging hand issue on a single off the end of the bat earlier in the game. His finger gradually swelled to the point where he couldn't throw, and it only ballooned more overnight.
"It looks like he had an airhose stuck in his thumb, but other than that, he's OK," manager Robin Ventura said. "His finger's just swollen. He'll sit there today and treat it up, and we'll go from there.
"X-ray-wise, that part looked good."
The White Sox get a day off on Monday, meaning the team could easily sneak in a three-day rest period for the Cuban slugger. However, Ventura wouldn't definitively rule Abreu out for Sunday's series finale in Houston.
"We'll see how he feels. Today, he's not doing much," Ventura said. "He's not hitting on the field before the game. Just day to day and see how he does if something surfaces or it gets better."
Abreu said the injury was nearly two weeks old, first felt after a batting-cage session at home and then again against the Indians last week. Despite the lingering ailment, he was heating up, cranking four extra-base hits (two home runs) and seven RBIs in the past week.
Worth noting
• Abreu's absence was at least somewhat offset by outfielder Avisail Garcia's return to the lineup on Saturday. Garcia missed five games with inflammation in his right knee.
Garcia notched a hard-earned single off Astros lefty Dallas Keuchel in a 1-for-4 performance, but he did seem to limp running down the line on a groundout. Ventura was pleased with Garcia's day and said he "looked good, looked healthy enough."
• Ventura, who needed an ice pack for a sore back he suffered catching Tyler Flowers' tumble into the dugout during Friday's game, said his back was just fine. In fact, he felt good enough to toss batting practice before the game.
Chris Abshire is a contributor to MLB.com. This story was not subject to the approval of Major League Baseball or its clubs.