Hechavarria sits due to left shoulder injury
Marlins shortstop collided with left fielder Yelich on Friday; likely out rest of weekend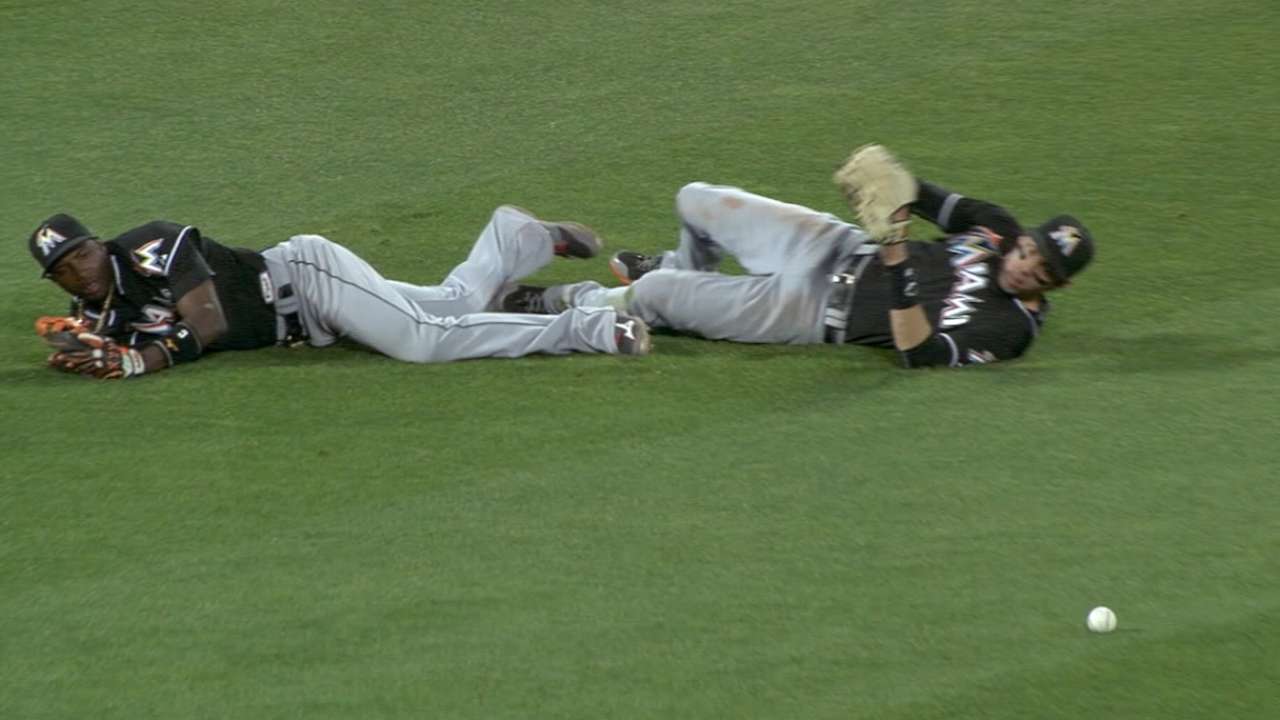 NEW YORK -- Marlins shortstop Adeiny Hechavarria expects to miss at least a couple of games after he was involved in a collision in the ninth inning of Friday's 4-3 win over the Mets at Citi Field.
Hechavarria, who started each of Miami's first 49 games, injured his left shoulder after running into left fielder Christian Yelich on Daniel Murphy's bloop double. Donovan Solano got the nod at shortstop on Saturday.
More on Hechavarria's status will be known after he is examined by a doctor at Citi Field on Saturday. Hechavarria did say he wouldn't be able to play on Sunday, either.
"I'm just waiting for the doctor to come in and evaluate me, and then I'll have a better understanding of where I'll be after today," Hechavarria said.
Manager Dan Jennings said Hechavarria is dealing with a bruise.
"It's day-to-day," Jennings said. "He just has a bruise. It was an ugly collision. When you watch it over and over, you see Yeli's right knee go into that shoulder pretty hard."
Hechavarria and Yelich were both shaken up on Murphy's floater that landed between the two Miami defenders.
"I was looking to see how deep Yelich was playing," Hechavarria said. "I noticed he was getting close to me, and I slowed down. I went down to the ground, and he slid at the same time. That's when it happened."
Yelich escaped unharmed, except for a small bruise on his right shin.
"That stuff happens," Yelich said. "He's got a lot of range, and I can cover ground."
The collision occurred with one out, but Hechavarria stayed in the game, although he knew he wouldn't have been able to go to the plate if the game went to extra innings.
"As far as hitting, I knew I couldn't hit," he said. "My shoulder was bothering me. It was tight. … My shoulder hurt. I got the wind knocked out of me, and it was tough for me to breathe. There was one out. If a play was hit to me, I was going to do whatever I could to get them out."
If Hechavarria is out for an extended period, shortstop Miguel Rojas is a likely candidate to be called up from Triple-A New Orleans.
Hechavarria is having an All-Star-caliber season, batting .300/.330/.394.
"It's a good thing it was my left shoulder," the shortstop said. "My right shoulder is what I use to throw. If my right shoulder hurt, I wouldn't be able to throw."
Joe Frisaro is a reporter for MLB.com. He writes a blog, called The Fish Pond. Follow him on Twitter @JoeFrisaro and listen to his podcast. This story was not subject to the approval of Major League Baseball or its clubs.