MLB.com Columnist
Tracy Ringolsby
Recent Draft picks making their mark
Gonzalez, starting for Rangers Saturday, follows Bryant, Rodon, Finnegan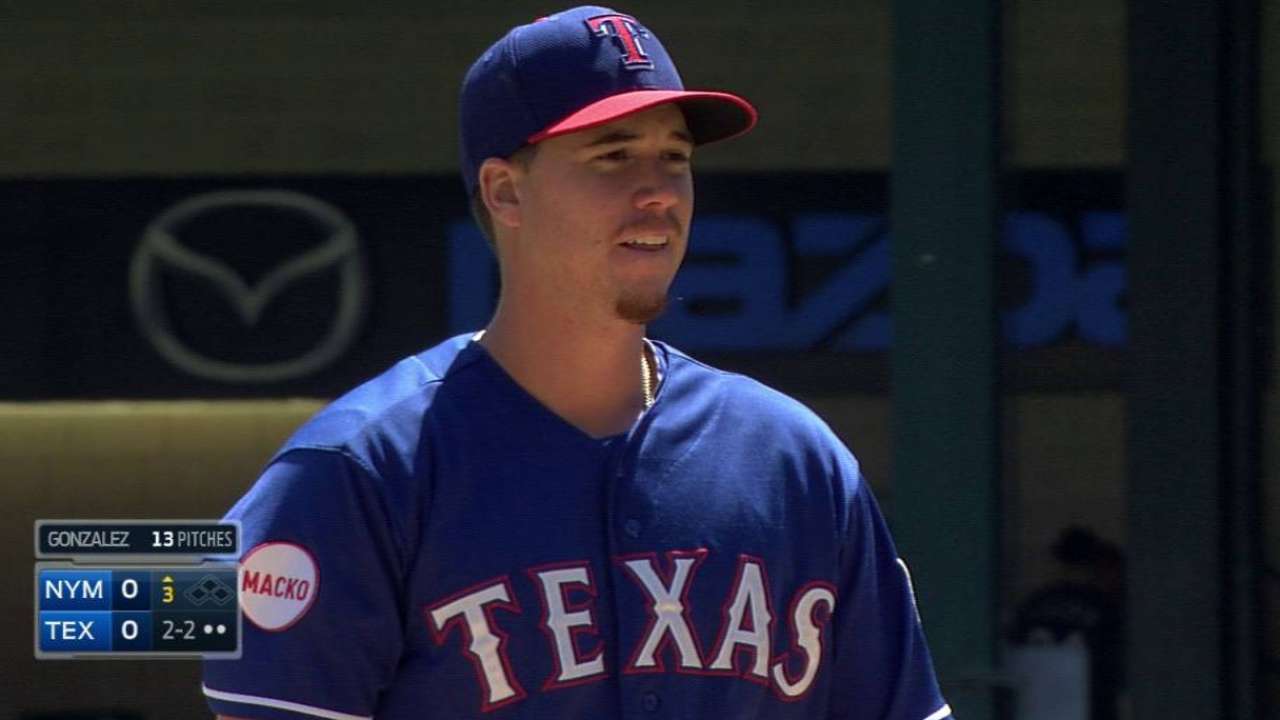 Two years ago, Chi Chi Gonzalez had just completed his junior year at Oral Roberts University (Tulsa, Okla.), and was waiting for the annual MLB Draft so he could begin his professional baseball career.
The Texas Rangers came calling, selecting Gonzalez in the first round with the 23rd selection overall. Saturday, the Rangers reaffirmed their belief in the right-handed pitcher's big league potential. He was called up and scheduled to start against the Boston Red Sox at Globe Life Park in Arlington.
Gonzalez's ascension through the Minor Leagues was quick, but not unprecedented. He will become the 12th player out of the last two Drafts to make his big league debut, including highly-touted Cubs third baseman Kris Bryant, the second player taken overall in 2013.
Bryant is the only non-pitcher.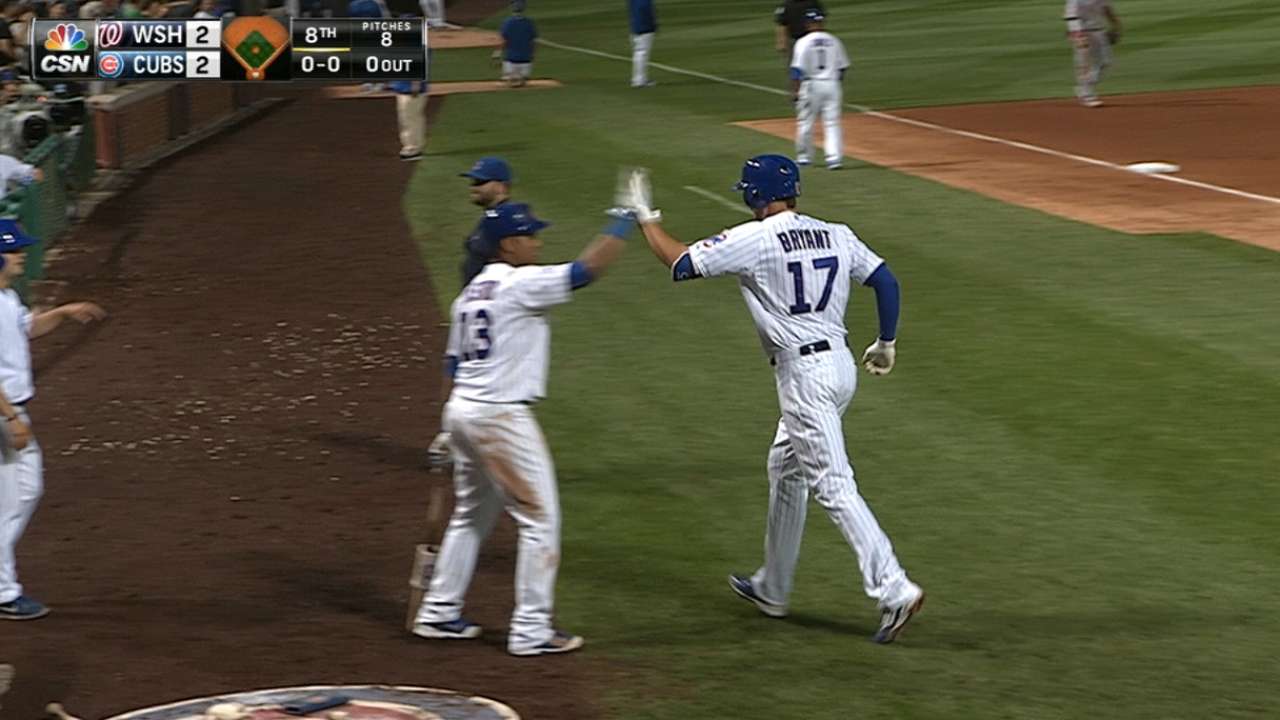 Three players drafted last year have already made The Show: left-handed pitchers Carlos Rodon, No. 3 overall to the White Sox; Brandon Finnegan, No. 17 overall to Kansas City, and Jacob Lindgren, the Yankees' second-round pick, 55th overall. Finnegan was up for the stretch run with the Royals last year, and he pitched in the postseason.
In addition to Bryant, players from the 2013 draft who have made big league debuts include left-hander Marco Gonzales, No. 19 overall to the Cardinals; right-hander Michael Lorenzen, No. 38 overall to the Reds; right-hander Corey Knebel, No. 39 overall to the Tigers; left-hander Kyle Crockett, fourth round, No. 111 overall to the Indians; right-hander Buck Farmer, fifth round, No. 156 overall to the Tigers; left-hander Tyler Olson, seventh round, No. 207 overall to the Mariners, and right-hander Kendall Graveman, eighth round, No. 235 overall to the Blue Jays.
Graveman was one of four players Oakland received from the Blue Jays during the offseason for third baseman Josh Donaldson, and the righty is 2-2 with a 5.79 ERA in six starts for the A's this year. Graveman has made two starts since being recalled from a refresher course at Triple-A, and the A's won both games.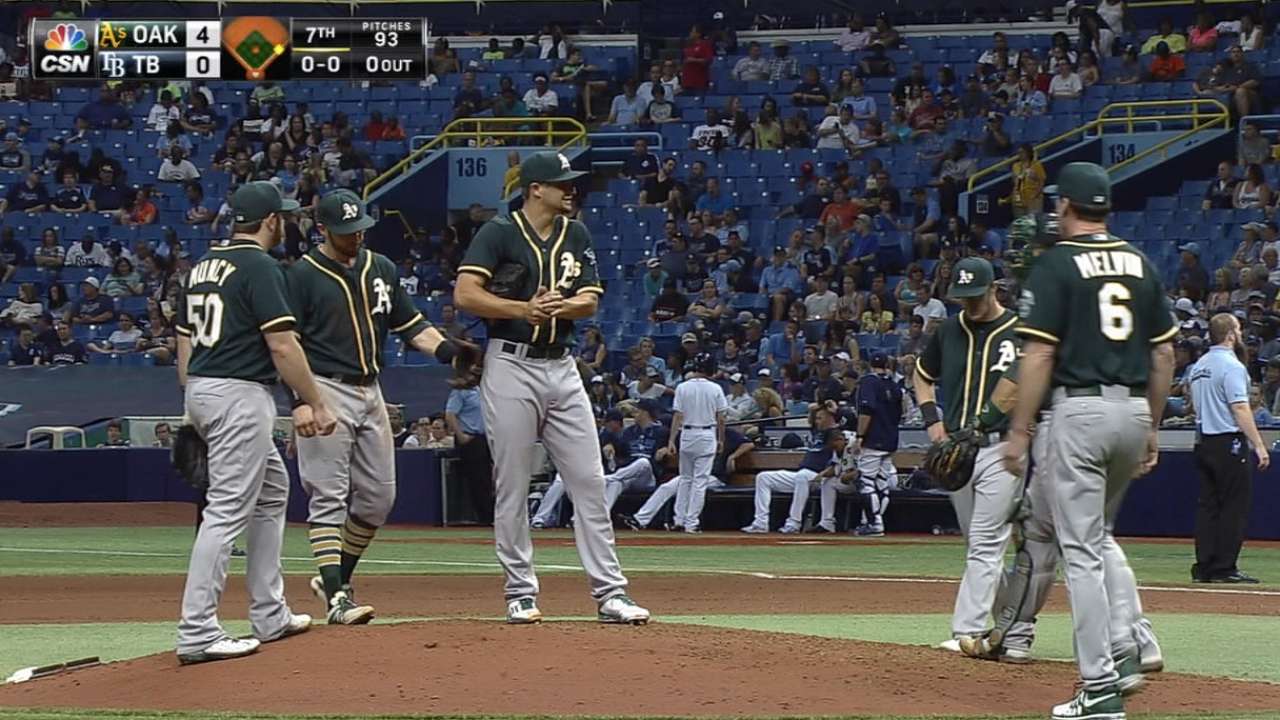 NO-HITTER
Lefty Jon Lester knows how to get hitters out. He is 120-70 in his big league career. With the bat, however, Lester has struck out -- literally. After spending his career in the American League, Lester is making his National League debut this year, and he is 0-for-23 with 13 strikeouts for the Cubs. That extends his career futility to 0-for-59 with 35 strikeouts.
During his days with Boston and Oakland, Lester only had to hit in Interleague games played in NL ballparks. His career high for plate appearances prior to this season was seven in 2013. He has one career walk, five sacrifice bunts and a sacrifice fly.
The 59 at-bats are the most in a career for a player without a hit, according to Stats Inc.
Randy Tate is second at 0-for-41, followed by Tony McKnight and Bo McLaughlin, both of whom were 0-for-37, and Daryl Patterson, who was 0-for-35. Tied for the second-longest hitless streaks among active players are Rockies right-hander Chad Bettis and Padres righty Brandon Morrow.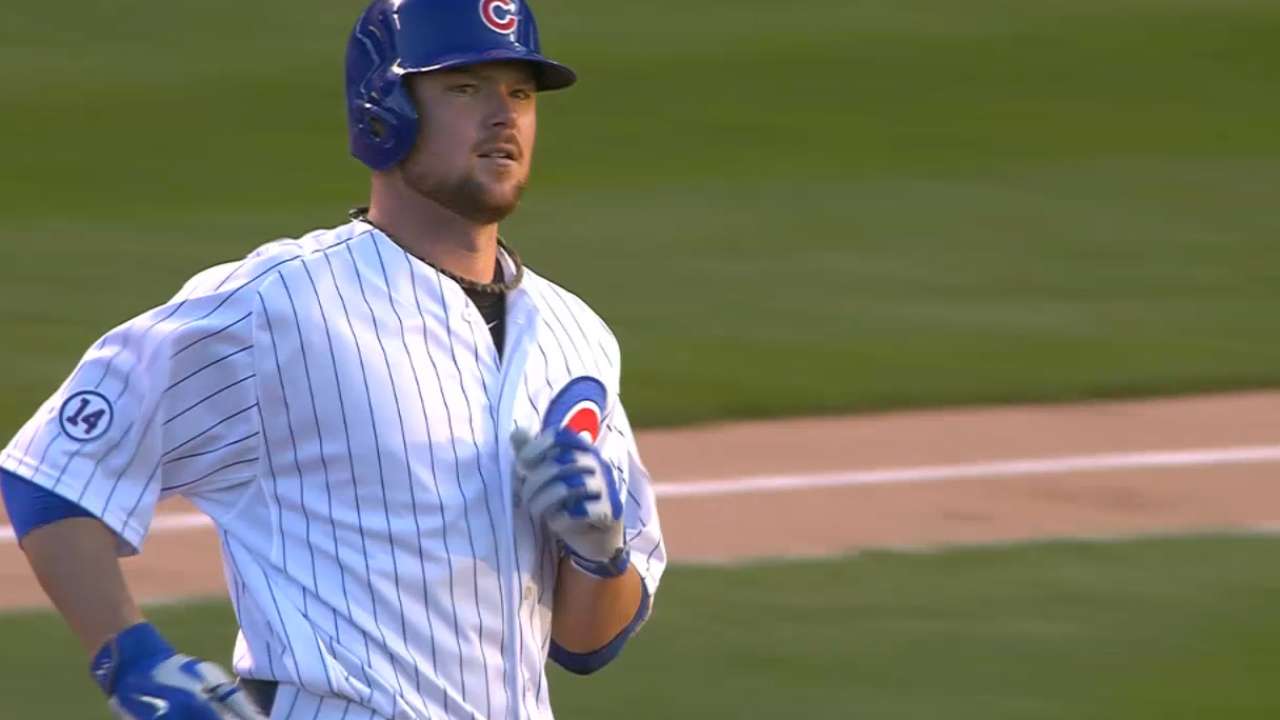 Lester's 23 hitless at-bats this season are far from the single-season record. Bob Buhl, who was 76-for-857 (.089) in his career, went 0-for-70 with the Cubs and Braves in 1962. Bill Wight is second on the single-season hitless list with 61 at-bats for the 1950 White Sox.
Among active players, Lester is tied for the fourth-longest hitless season. J.A. Happ was 0-for-26 in a season split between the Phillies and Astros in 2010, and Oakland catcher/first baseman Stephen Vogt was 0-for-25 with Tampa Bay in 2012. Odrisamer Despaigne was 0-for-24 with the Padres last year. Lester's Cubs rotation mate Jake Arrieta is also 0-for-23 this season. Other active players who have gone hitless in 23 at-bats in a season include Anibal Sanchez with the Marlins in 2009 and Jake Peavy with the Red Sox and Giants last year.
HAPPY ANNIVERSARY
Sunday is the 50th anniversary of the first lineup to include an all-switch-hitting infield: first baseman Wes Parker, second baseman Jim Lefebvre, third baseman Jim Gilliam and shortstop Maury Wills of the Dodgers. It didn't help that day. The Reds beat the Dodgers, 6-1.
Monday is the 90th anniversary of Lou Gehrig's first appearance in his streak of 2,130 consecutive games. He pinch-hit for Pee Wee Wanniger, and 83 years ago on Wednesday, Gehrig became the first player in the 20th century to hit four home runs in a game. The Yankees had 50 total bases in that 20-13 victory against the Philadelphia A's.
QUICK HITS
• Bettis retired the first 18 batters he faced in the Rockies' 4-1 victory at Philadelphia on Friday, a franchise best for a pitcher at the start of a game. He worked 7 1/3 no-hit innings before Cody Asche took advantage of a shift and rolled a ground-ball single through the shortstop hole. It was the second longest that a Rockies pitcher has carried a no-hitter behind Ubaldo Jimenez, who no-hit Atlanta on April 17, 2010.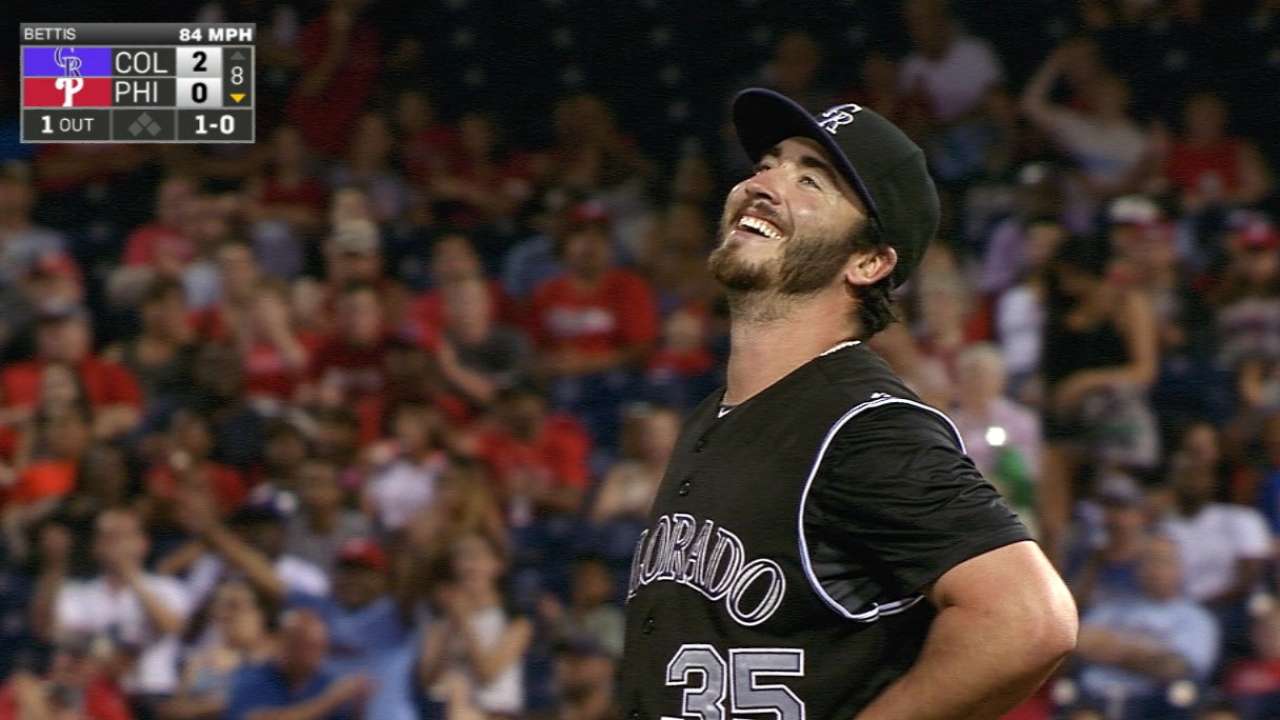 • In the initial All-Star voting announcement the Royals had four players leading vote-getters at their position -- catcher Salvador Perez, outfielder Lorenzo Cain, third baseman Mike Moustakas and shortstop Alcides Escobar -- and a fifth player, Alex Gordon, who is third in outfield voting, which would give him a starting spot. In their previous 46 seasons, the Royals have had as many as three players in the starting lineup only once -- 1979 with George Brett, Darrell Porter and Frank White. Perez started in 2014, the first Royals player to draw a start since Jermaine Dye in 2000.
• It's been a bad news/good news season for San Diego closer Craig Kimbrel, but the Padres aren't complaining. Yes, he went into Saturday with a 4.74 ERA and already has given up more home runs (three) this year than he did all of last year. But he is 12-for-13 in save situations, and the Padres won the one save he couldn't convert.
Tracy Ringolsby is a columnist for MLB.com. This story was not subject to the approval of Major League Baseball or its clubs.