Will Morrow replace Despaigne or Kennedy when he returns?
Right-handed starter could start rehab Tuesday on same day struggling Kennedy starts for Padres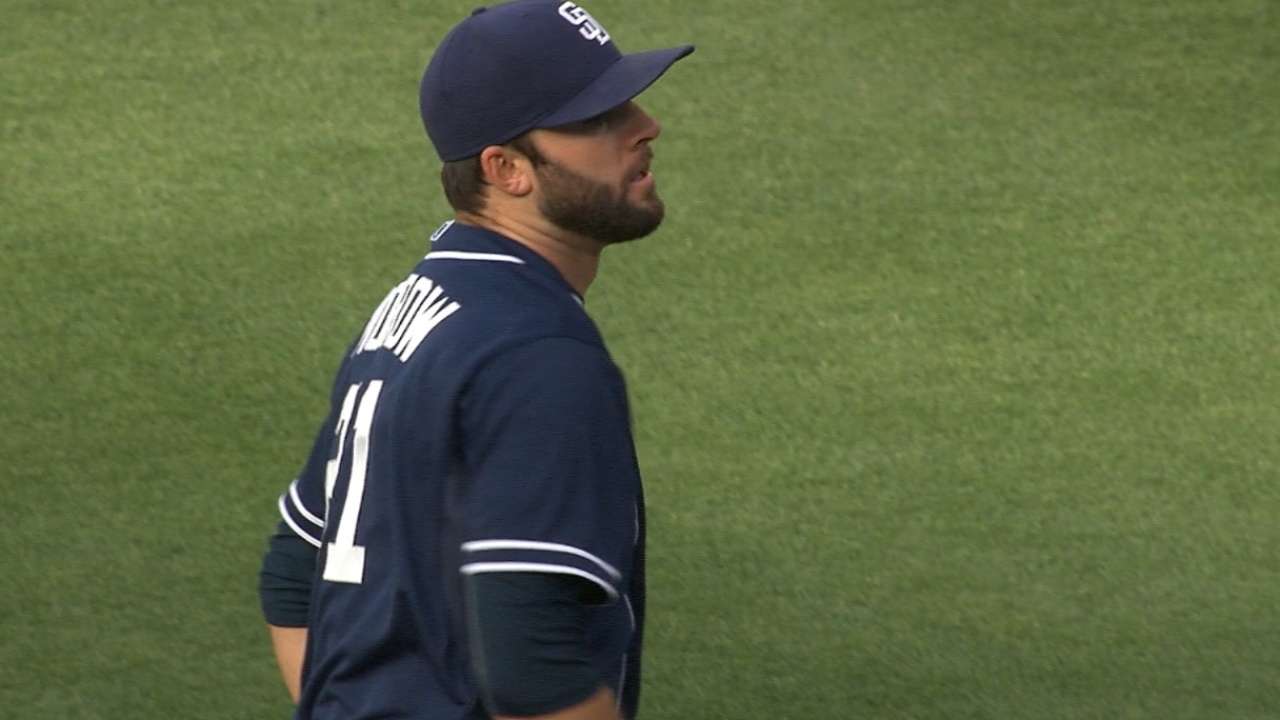 Bill Center, longtime sportswriter for U-T San Diego, is an employee of the Padres.
If everything goes to plan, right-handed starter Brandon Morrow could return to the Padres rotation on June 7-8 or June 12-13.
Morrow emerged from his three-inning simulated game Thursday feeling fine. The next step in his rehab from shoulder inflammation is a routine bullpen session Saturday afternoon at Petco Park. If that goes off with no problems, Morrow will make a rehab start next Tuesday.
"He's on a normal schedule right now for a starting pitcher," Padres manager Bud Black said Friday afternoon of the pitcher who has been on the disabled list since May 3.
At the moment, Black is unsure about Morrow needing one or two rehab starts to get his pitch count back up. If it is one, Morrow will be set to return to the Padres rotation June 7-8 - an off-day in the schedule next Thursday making the timing indefinite. If Morrow needs two rehab starts, he would be on pace to return June 12-13.
But when Morrow returns, who does he replace in the rotation.
The obvious choice would be right-hander Odrisamer Despaigne, who has twice this season moved from being the long man in the bullpen to the rotation due to injuries to Ian Kennedy (left hamstring strain in April) and currently Morrow.
But after two bad starts in his first two outings in Morrow's slot, Despaigne has allowed two runs on 11 hits and two walks with nine strikeouts in 12 innings in his last two starts.
Meanwhile, Kennedy has fallen on difficult times.
Kennedy Thursday gave up seven runs on seven hits (including three home runs) and two walks in 3 2/3 innings. He is 2-5 on the season with a National League-worst 7.15 earned run average among starting pitchers. He has allowed 44 hits and 14 walks with 37 strikeouts in 39 innings. He has also given up 12 home runs resulting in 23 runs.
Despaigne's ERA is 5.23.
Could Morrow replace Kennedy in the rotation rather than Despaigne?
The timing of Morrow's simulated game Thursday puts him on the exact same time schedule as Kennedy. Morrow is scheduled to make his first rehab start next Tuesday on the same day that Kennedy is scheduled to make his ninth start of the season against the New York Mets at Petco Park.
Over the first month of the season, Morrow was the Padres most effective starter. He was 2-0 in five starts with a 2.73 earned run average. The Padres were 5-0 in games Morrow started.
Stay tuned.
FROM THE SCOREBOOK:
--Catcher Derek Norris hit the sixth walk-off grand slam in Padres history Friday night and the first since Adrian Gonzalez connected on June 2, 2010 against the Mets. It was also the second grand slam of Norris' career and his second walk-off homer. Norris is also the first player in Major League history to hit a walk-off grand slam after striking out four times in the game.
--Padres manager Bud Black says he wants first baseman Yonder Alonso to get at-bats on his rehab assignment, which continued at Triple-A El Paso Friday night after two games with high Single-A Lake Elsinore. But Alonso has drawn five walks in three games. He is 1-for-9 when swinging.
Alonso will play at least two more games with the Chihuahuas, but could rejoin the Padres as soon as Monday. When Alonso returns, the Padres will return to a seven-man bullpen. They are carrying eight relief pitchers at the moment.
--Left fielder Justin Upton has hit in six straight games, going 10-for-22 (.455) with a double, a homer and eight RBIs. He is hitting .358 (19-for-53) over his last 15 games with a double, four homers, 13 RBIs and 11 runs scored.
--Right-handed closer Craig Kimbrel worked a perfect ninth inning Friday and got his first win as a Padre when Norris hit his walk-off grand slam. Friday was the first time in eight appearances since May 8 that he retired the side in order. In 21 appearances this season, Kimbrel (1-1, 4.74 ERA) has retired the side in order only five times.