Rox scratch De La Rosa from 2nd straight start
Colorado southpaw continues to be sidelined by cut on left middle finger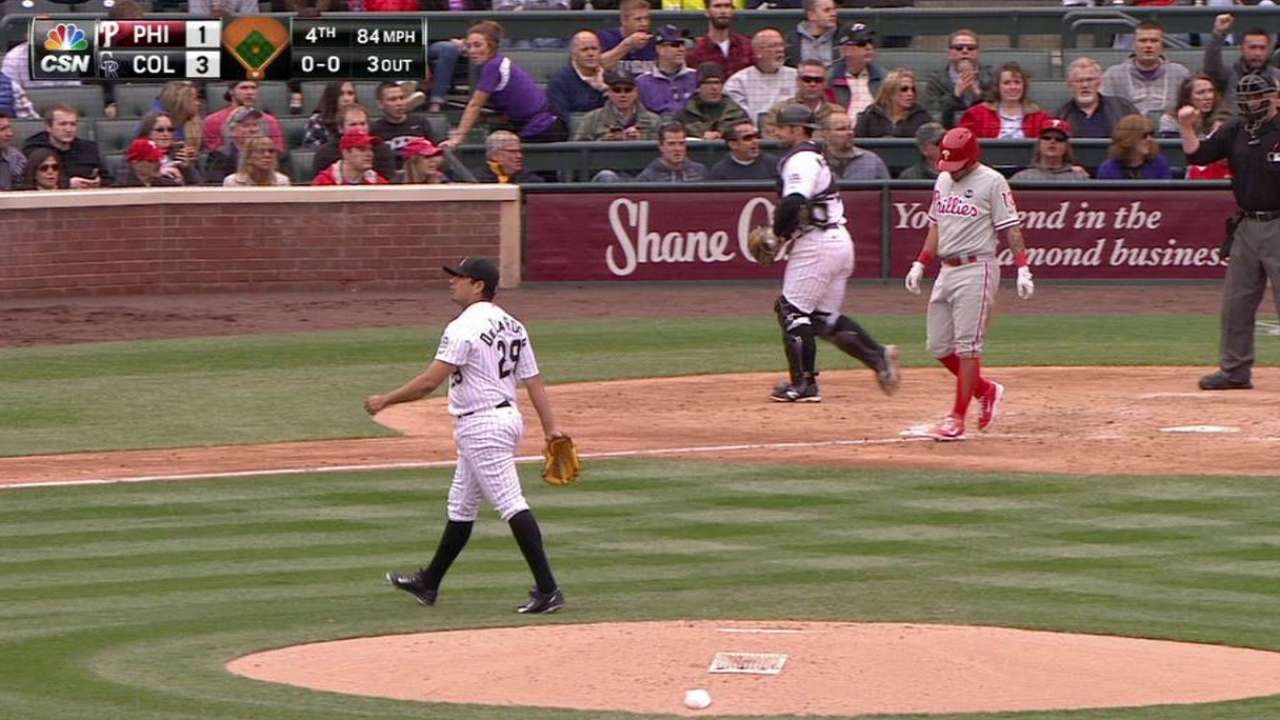 PHILADELPHIA -- The Rockies on Saturday scratched left-hander Jorge De La Rosa for the second straight start because of a cut on his left middle finger. Righty Eddie Butler, who was originally scheduled to pitch Monday, started in his place this afternoon against the Phillies.
De La Rosa (1-2, 6.51 ERA) suffered the cut during a pregame bullpen session before a start against the Phillies on May 21, and he lasted just 4 1/3 innings after giving up three runs on five hits in a no-decision. The Rockies pulled De La Rosa from his scheduled start Tuesday at Cincinnati. The Rockies called up lefty Chris Rusin from Triple-A Albuquerque, and he held the Reds to one earned run, four hits, four walks and five strikeouts in seven innings.
De La Rosa's next start has been pushed to Tuesday in the first game of a doubleheader against the Dodgers at Coors Field. No second-game starter has been announced.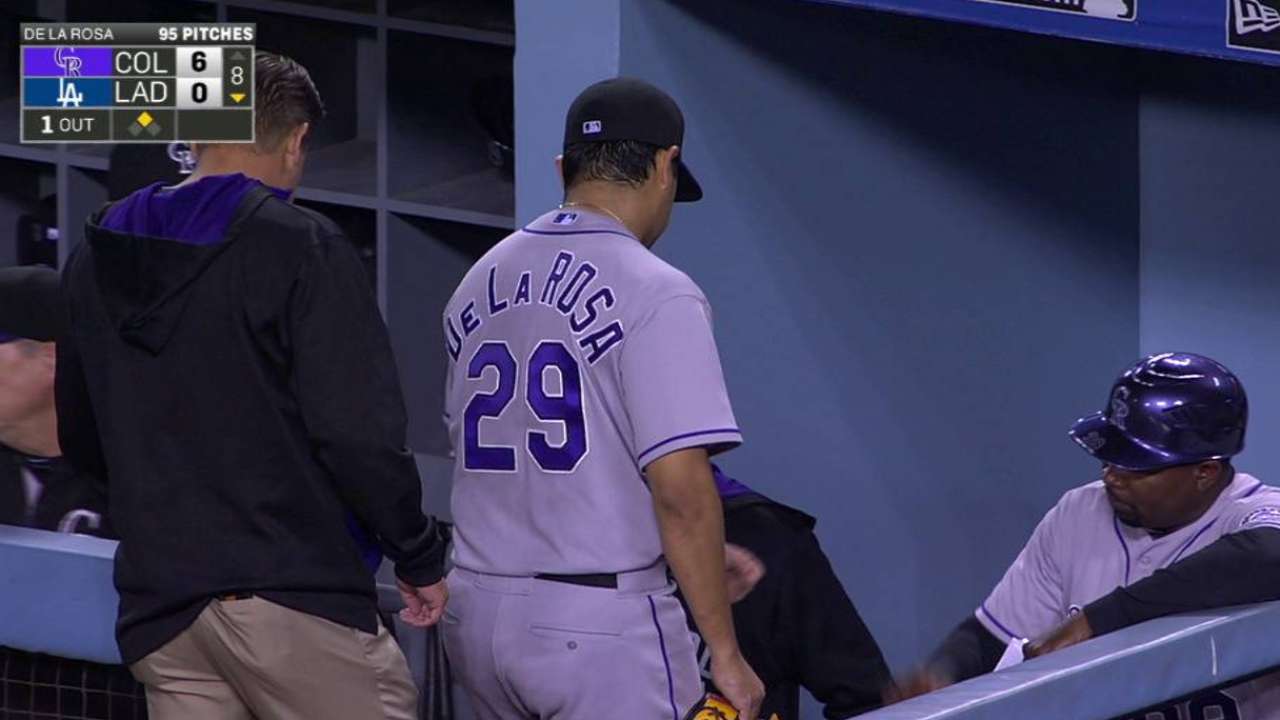 "I thought it would be a little quick," De La Rosa said when asked if Saturday was too soon.
De La Rosa began the year on the disabled list with a left groin strain and struggled in early outings. He appeared to be turning the corner when he held the Dodgers scoreless for 7 1/3 innings in a May 16 victory. He left that game when he aggravated the groin, and the cut on the finger materialized before his following start.
The Rockies' staff shaved the skin on the cut to try to promote even healing, and as late as Friday the club said De La Rosa was in line to start before announcing the change Saturday morning.
Butler (2-5, 4.60 ERA) made his last start Monday against the Reds, and gave up four runs and nine hits in a no-decision as the Rockies won, 5-4.
Worth noting:
• Righty Jordan Lyles, who suffered a sprained left big toe in his last start and had his next outing pushed from Friday to Sunday, earned confidence from manager Walt Weiss by passing some tests Friday. "We put him through the ringer. He did all right, so we feel pretty good about him making the start," Weiss said.
• Reliever LaTroy Hawkins, who has been on the disabled list since April 22 with right biceps tendinitis, is scheduled to face hitters at Coors Field on Monday, before the team considers sending him for a rehab assignment. Hawkins had thrown two games during a Minor League rehab assignment before the team backed him off because of soreness.
• First baseman Justin Morneau, who hasn't played since May 14 because of a cervical neck sprain and concussion symptoms he suffered as a result of whiplash from diving for a ground ball, has been receiving soft-tissue treatments for the neck but has not been cleared for full workouts because of the concussion's effects. Morneau will have to strengthen the neck before returning.
• Outfielder Drew Stubbs, whose .118 average with 31 strikeouts in 51 at-bats led to his demotion to Triple-A Albuquerque, has continued his struggles -- going 4-for-25 with nine strikeouts in the Pacific Coast League.
"Nothing really mechanical -- it's more rhythm and timing more than anything else," Weiss said.
Thomas Harding is a reporter for MLB.com. Follow him on Twitter @harding_at_mlb, and like his Facebook page. This story was not subject to the approval of Major League Baseball or its clubs.