MLB.com Columnist
Tracy Ringolsby
Yanks need Tanaka to resume ace status
Club leads AL East despite inconsistent rotation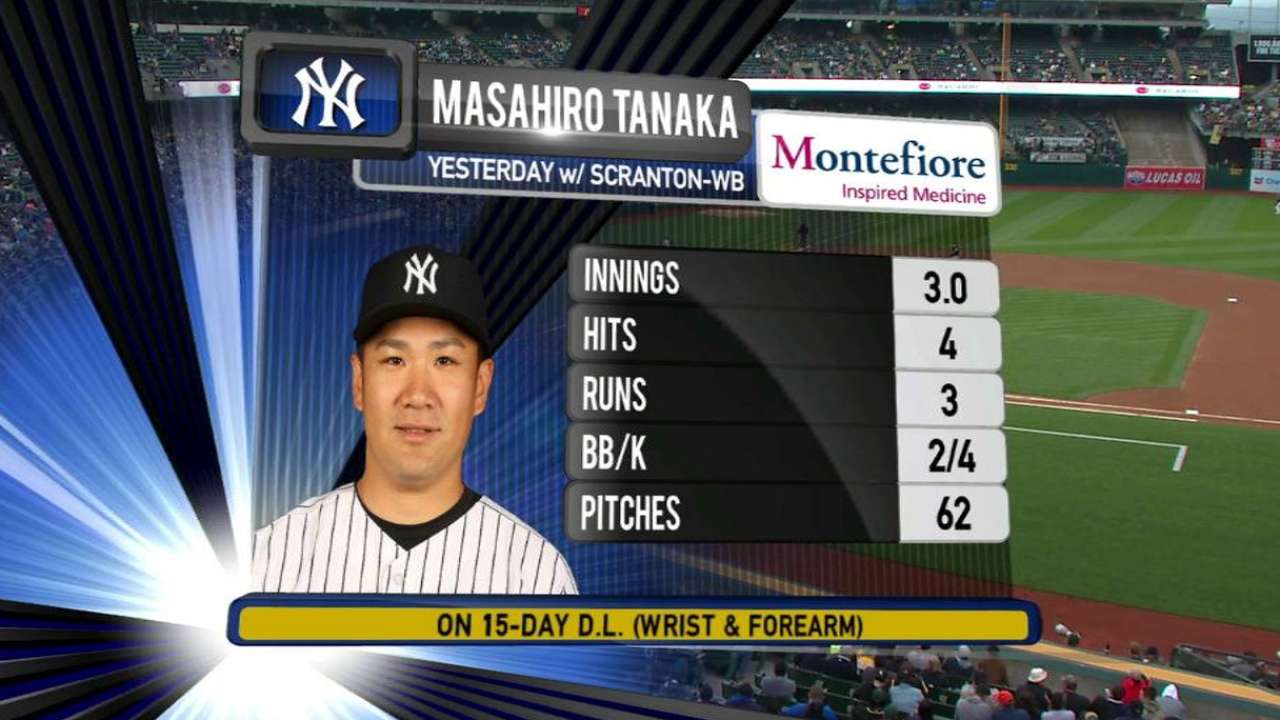 OAKLAND -- The New York Yankees are sitting atop the American League East.
The position, however, is precarious.
And they know it.
It is as apparent as the way they have welcomed Masahiro Tanaka back to the rotation, confirming Friday that the 26-year-old right-hander will come off the disabled list and start Wednesday in Seattle.
They know Tanaka is not the Tanaka who was 12-3 with a 2.27 ERA by July 3 a year ago, but made only three more starts in his first season outside of his native Japan because of a slight tear in his right ulnar collateral ligament, which Tanaka chose to rehab instead of undergoing surgery.
They aren't even sure he will be the same Tanaka who opened this season 2-1 with a 3.22 ERA in four starts before he was sidelined with tendinitis in his right wrist and a strained right forearm.
They do, however, know that Tanaka rejoined the team Friday after a Minor League rehab assignment, and said he was ready to go. And it is no secret they are looking for reinforcements for their rotation.
Manager Joe Girardi isn't trying to fool anybody.
"I hope he is back in midseason form, but I know he is not going to have a big pitch count right away," said Girardi. "I hope for 80 [pitches] Wednesday and see what happens."
And Tanaka gets it.
"I don't have much expectations," he said before Friday's 6-2 loss in Oakland. "I just want to go out there and pitch the best I can so I can give the team a chance to win."
That's just what the Yankees want, too. They envision a healthy Tanaka being able to provide a jump start to what has been an inconsistent season. With back-to-back losses to open a four-game weekend series in Oakland, they have lost 12 of their past 16 games. They have gone from nine games over .500 to one victory over break-even.
They are a game ahead in the AL East, but the 25-24 record says more about the challenges the Yankees are facing than a simple glance at the standings.
And the biggest challenge is getting the rotation in order.
How big a challenge is it?
Well:
• Their starters are a combined 18-19, making them the only one of the 13 teams with an overall winning record that doesn't have a rotation on the plus side of .500.
• The starters are averaging 5 2/3 innings, which ranks 23rd among the 30 teams.
• The rotation has a 4.30 ERA, which ranks 20th.
Given all that, Girardi admits, the fact the Yankees are in first place is impressive, "especially" in light of the struggles of the last two weeks, which was hidden a bit by a three-game sweep of AL Central-leading Kansas City earlier this week.
"The division is up for grabs," said Girardi.
There is, after all, only a three-game spread between the division leading Yankees (25-24) and the last-place Boston Red Sox (22-27). Tampa Bay (24-25) and Baltimore (23-24) are both a game from the top, and Toronto (23-27) is 2 1/2 games back.
That's why the Yankees see Tanaka as a potential difference maker.
Tanaka most likely will step in for lefty Chris Capuano, who on Friday night made his third start since coming off the disabled list and is 0-3, having allowed nine earned runs in 12 1/3 innings. The other possibility would be Adam Warren, who spent the last two seasons in the bullpen, but is 3-3 with a 3.91 ERA in nine starts this year. Despite losing two of his last three starts, Warren has allowed only six earned runs in 19 2/3 innings.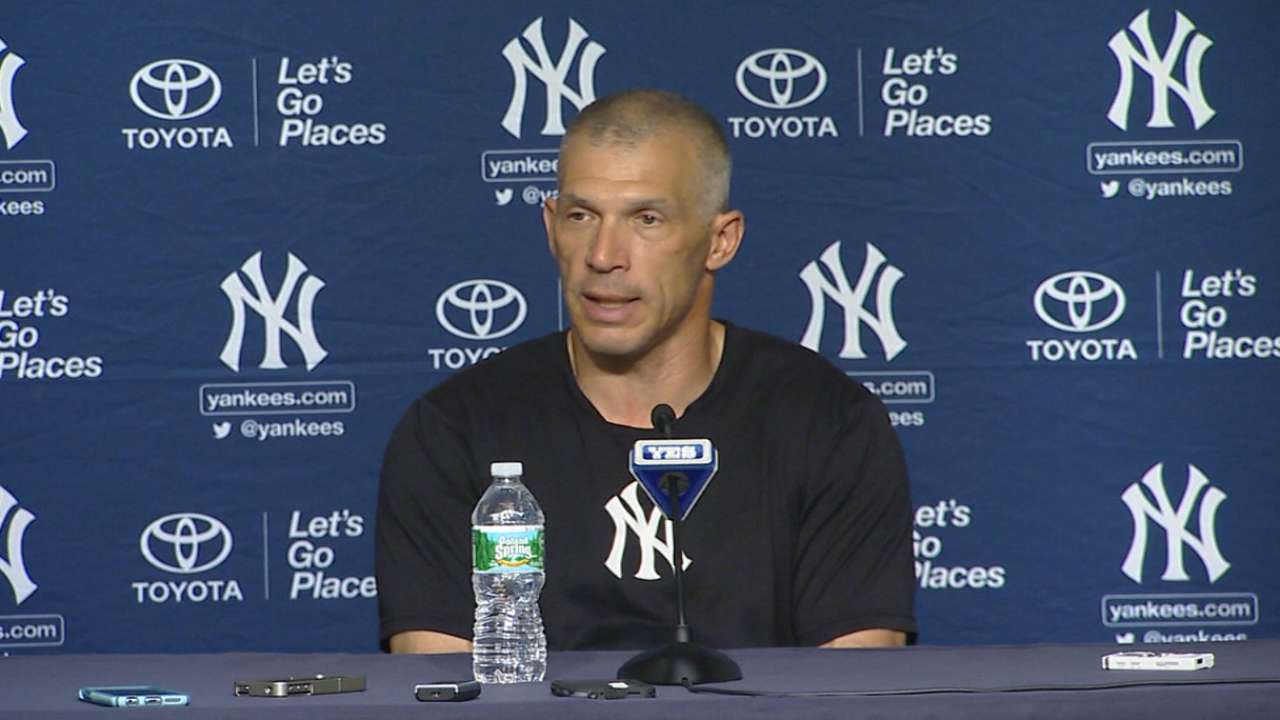 It would seem safe to assume that veteran CC Sabathia, despite the Yankees having lost seven of his 10 starts, is set in the rotation, along with Michael Pineda, who is 6-2 and has seen the Yankees win seven of his 10 starts, and Nathan Eovaldi, who is 4-1.
Girardi, however, isn't making anything official.
"A lot can happen between now and Wednesday," he said. "I don't want any player looking over his shoulder."
Girardi and the Yankees want to look ahead.
They are looking for a rotation that can step up and provide some leadership in the next four months, and help the team get back into the playoffs after missing out each of the last two years, the second and third time they have been October observers in the past 20 years.
Tracy Ringolsby is a columnist for MLB.com. This story was not subject to the approval of Major League Baseball or its clubs.