Santiago, defense Angels' keys for success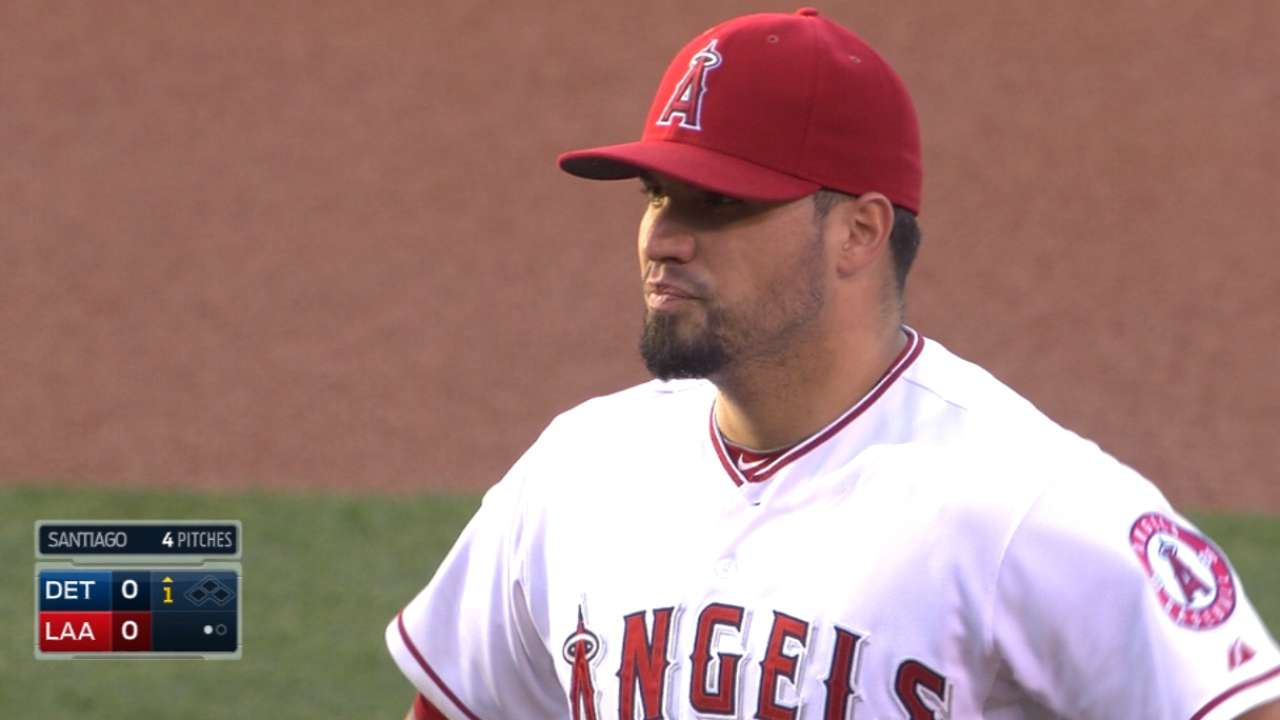 ANAHEIM -- There was no repeat 12-run outburst on Friday night, but the Angels didn't need that, anyway. Mostly thanks to Hector Santiago and the eight men behind him on defense.
The Angels scored a 2-0 win over the Tigers in winning for the second straight time in the four-game series, and they did it with pitching and defense in a duel between Santiago and Anibal Sanchez.
Against a solid team with a quality lineup, the Angels have found a couple of recipes for success -- scoring in bunches in Thursday's series opener.
Santiago was lights-out over 7 1/3 innings, allowing just three hits and lasting into the eighth on 112 pitches on a night when setup man Joe Smith was unavailable with a minor neck issue. It was the left-hander's fifth straight quality start, and his 2.18 ERA is his career best through 10 starts.
"That's about as strong an effort as we've seen from Hector," manager Mike Scioscia said. "That's a great outing to pitch that deep against that lineup, especially with all the tough right-handed hitters they have."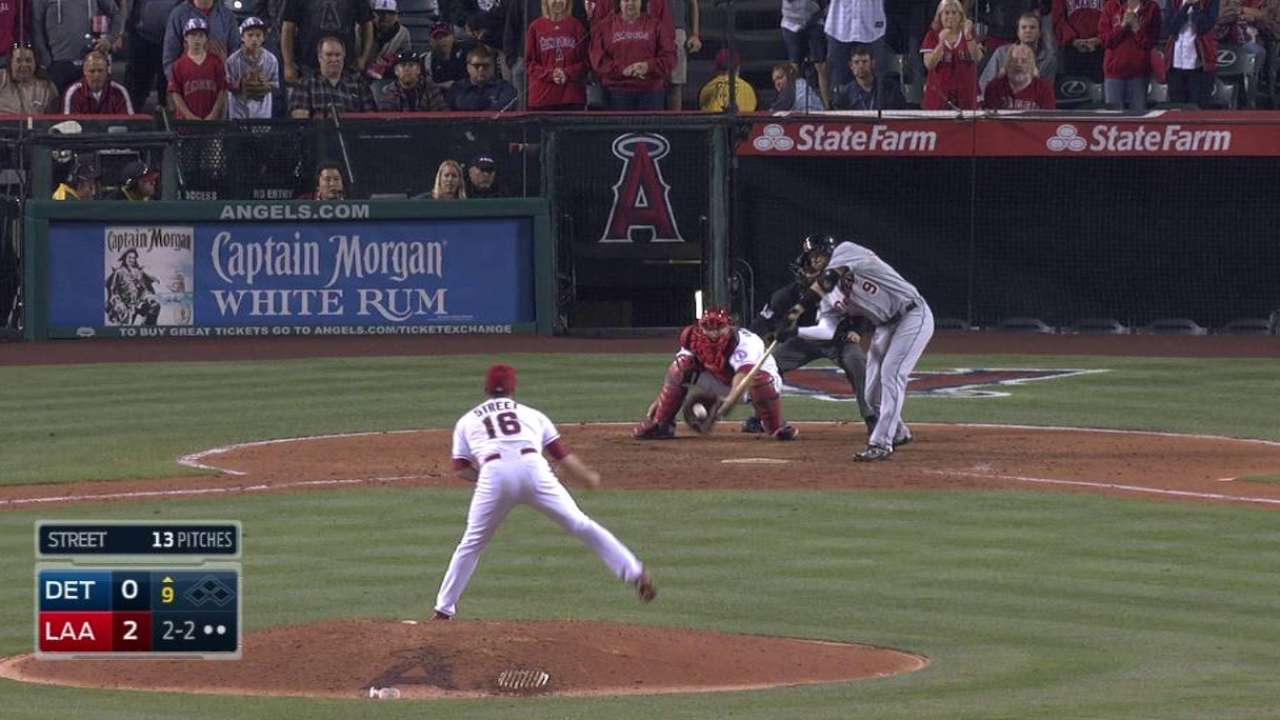 Santiago shortening the game for the bullpen enabled Scioscia go to closer Huston Street for a four-out save after things got dicey in the eighth, when reliever Cam Bedrosian loaded the bases with two out.
"They called down before the inning and said, 'Can you go four outs today?' The answer is always 'Yes.' ... I wanted to pitch today no matter what."
Santiago made it much easier to get to Street by getting himself some big outs in a close game -- his inning-ending called strikeout of Nick Castellanos with two on in the seventh might have been the biggest -- and left to a loud ovation from the crowd of 41,901. But Santiago needed some equally big plays from his defense to keep Detroit off the board.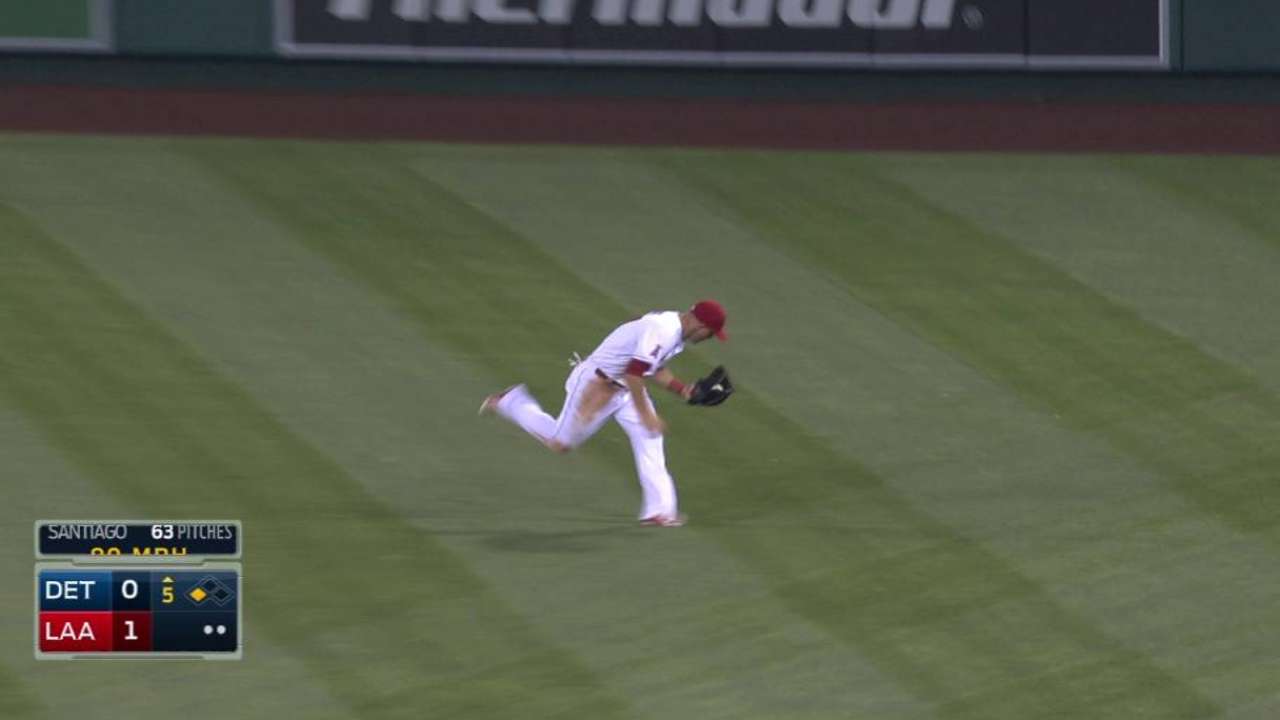 In the top of the fifth, with two outs, J.D. Martinez on third and the Angels leading, 1-0, Hernan Perez flared a soft line drive into shallow center field. But Mike Trout came sprinting in to make the catch and strand Martinez.
In the sixth, catcher Chris Iannetta chipped in. After Rajai Davis walked and stole second in front of Iannetta's throw, the Tigers' leadoff man tried to swipe third during the same at-bat. Iannetta didn't miss twice, nailing Davis to take the runner out of scoring position.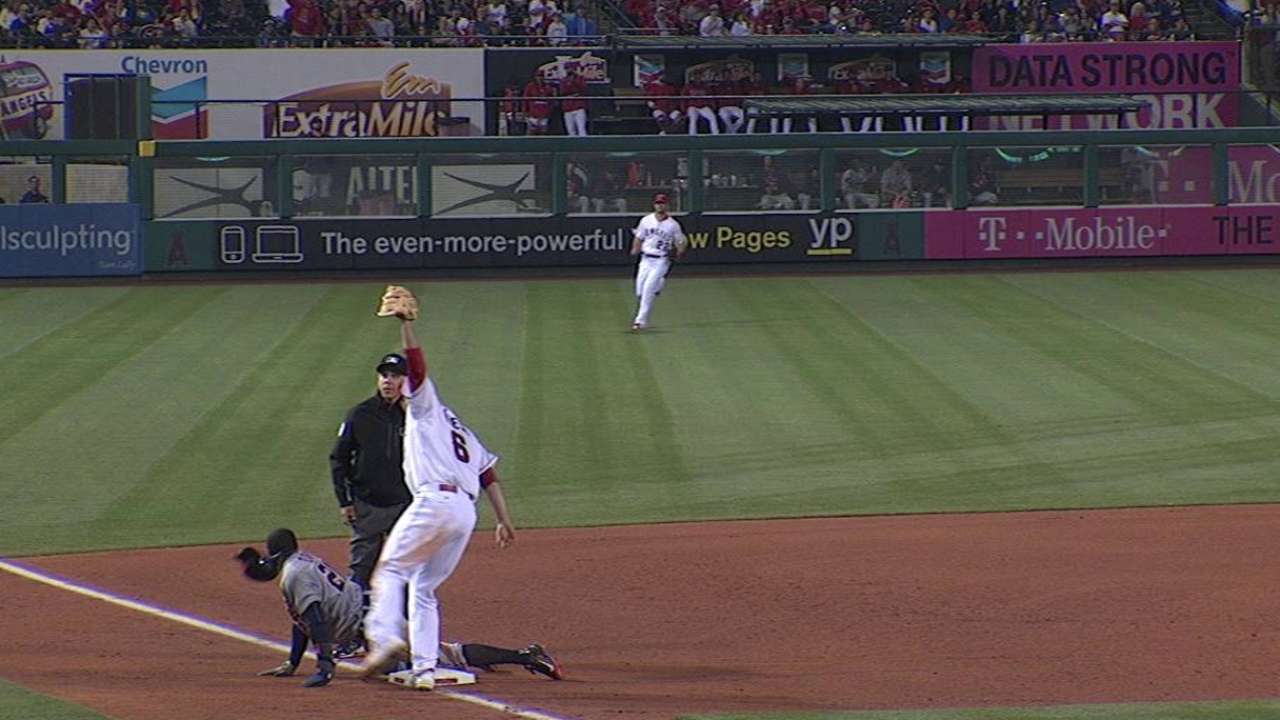 And in the seventh, with the Angels holding a 2-0 lead after a long sixth-inning homer by the resurgent Albert Pujols -- who has homered in two straight games and is 8-for-19 this homestand -- it was left fielder Kirk Nieuwenhuis' turn to contribute defensively in his first start for the Angels.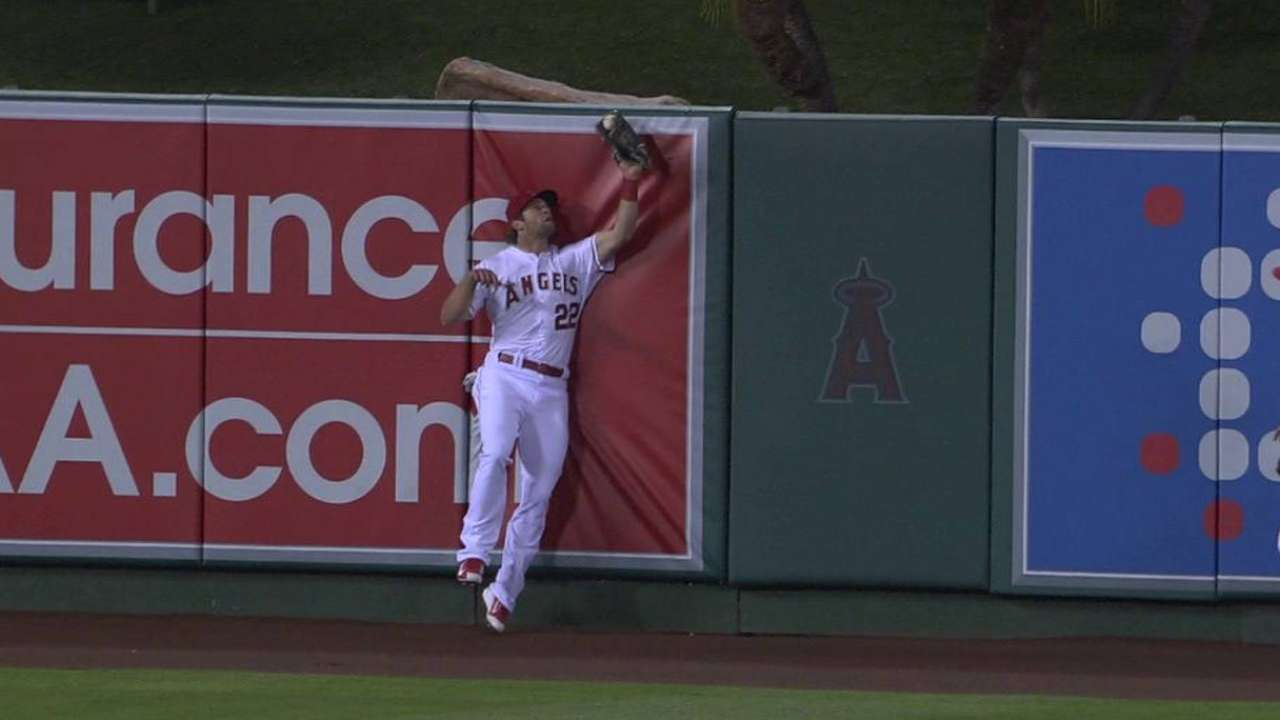 With Miguel Cabrera on first, Nieuwenhuis grabbed Martinez's long fly ball at the top of the left-center-field fence -- holding onto the ball as his glove contacted the wall to take extra bases and a potential run away from the Tigers.
"Phenomenal," Santiago said. "We got Trout out there, but now we got Nieuwenhuis out there just running into walls. And that's a great play. That saved the game."
David Adler is an associate reporter for MLB.com. This story was not subject to the approval of Major League Baseball or its clubs.