Buehrle survives first, tosses complete game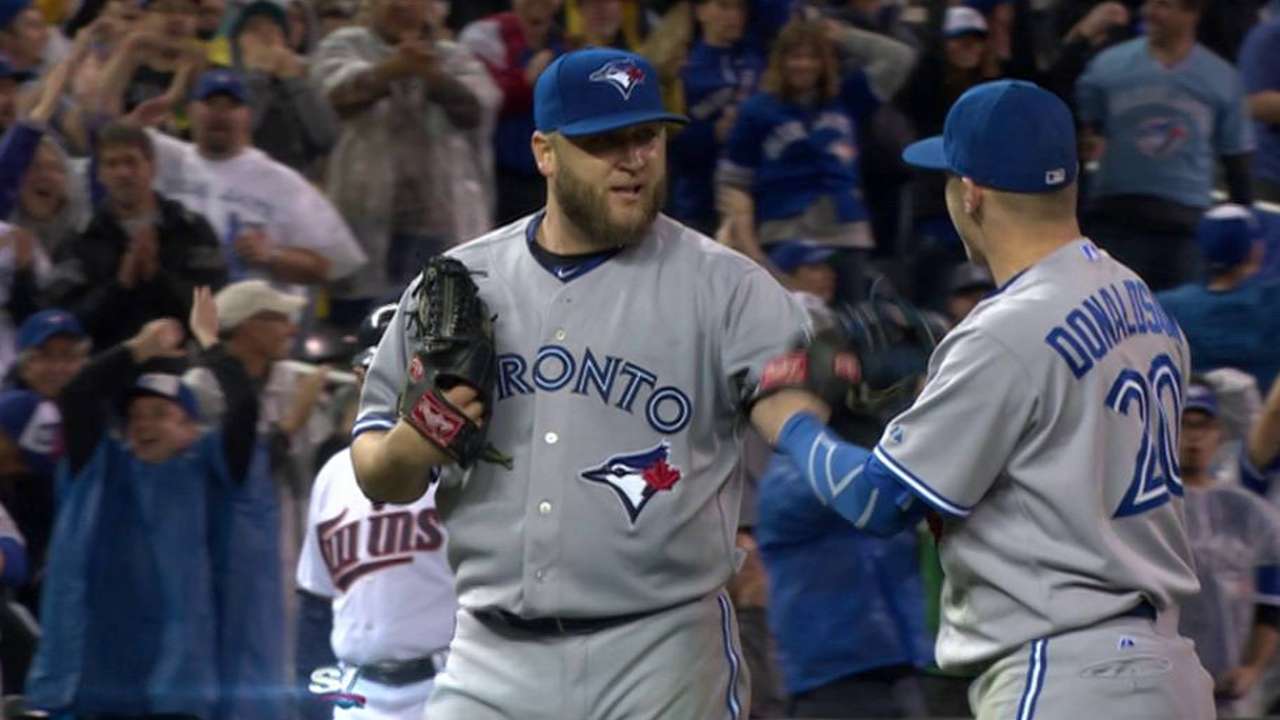 MINNEAPOLIS -- In less than three hours, Mark Buehrle somehow went from a pitcher who looked completely down and out in the first inning to a guy celebrating the 31st complete game of his career in the Blue Jays' 6-4 win over the Twins.
Buehrle appeared destined for a very short night when he allowed four runs on five hits in the first. Almost every ball was getting hit hard and Blue Jays manager John Gibbons had the bullpen warming up in preparation for the worst.
The outing could have easily gotten away from him, but instead Buehrle shocked almost everybody in attendance at Target Field by not only staying in the game, but dominating the rest of the way. He didn't allow another run and patiently waited for his offense to do the rest of the work.
"I came up and had a drink and told myself, 'I need to relax,'" Buehrle jokingly said to a group of reporters. "I felt too good and everything was up. I've had plenty of games where I've given up a lot of runs early in the game and settled down and went deep in the game."
Buehrle allowed three consecutive hits to open the game on Friday night. He then retired Trevor Plouffe before allowing a double to Torii Hunter and an infield RBI single off the bat of Kurt Suzuki as part of the four-run first.
After the Suzuki single, Buehrle faced the minimum the rest of the way. The only baserunners to reach base from that point on were Danny Santana and Plouffe. Santana reached in the fifth inning on an error while Plouffe singled in the sixth but both were later erased on double plays.
Buehrle admittedly got off to a slow start this year, but has started to turn things around lately. He has recorded complete games in two of his last three starts and all of his last four outings have lasted at least six innings. The fact that Buehrle was able to weather the storm didn't come as a total surprise to his manager. He's seen this kind of thing before.
"We've seen it before in his three years here and the White Sox have seen it," Gibbons said. "He's one of those guys, he knows how to survive. I can even look back to a game at Tampa, last year or the year before, I think he gave up seven in the first couple of innings, then he goes seven innings, and we come back and win that game.
"Tonight was a masterpiece. I think he gave up one hit after the first. It's pretty special, but there aren't many guys who can pull that off."
Gregor Chisholm is a reporter for MLB.com. Read his blog, North of the Border, follow him on Twitter @gregorMLB and Facebook, and listen to his podcast. This story was not subject to the approval of Major League Baseball or its clubs.