Karns, Cash confident in bullpen despite setback
Right-hander throws 87 pitches over six, allows one hit with six strikeouts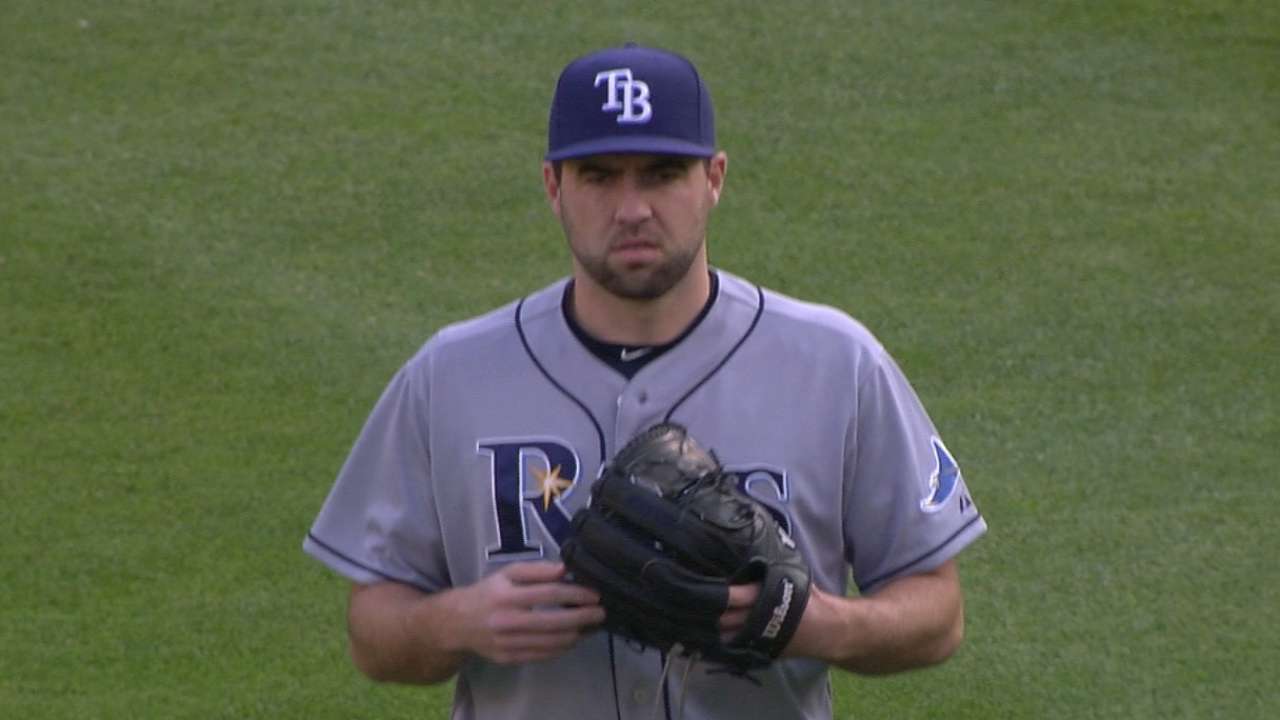 BALTIMORE -- Tampa Bay manager Kevin Cash and Nate Karns both echoed the same sentiments after the Rays' 2-1 loss to the Orioles on Friday night at Oriole Park at Camden Yards: They have a lot of confidence in the Rays' bullpen.
Yet Karns also had a lot of confidence in himself after the sixth inning. The rookie right-hander had given up just one hit, struck out seven and was sitting at 87 pitches, but it was Kevin Jepsen who trotted out for the seventh inning.
"You're done, that's about it," said Karns about the explanation he received from Cash about ending his outing.
Jepsen was able to retire Adam Jones on a grounder, but Chris Davis followed with a long home run to right field that tied the game at 1. David Lough picked up another single in the inning, allowing the Orioles to double the amount of hits they had against Karns in just one inning.
Cash said it was probably the best he had seen Karns all season, but felt confident enough that his bullpen would get it done for the rest of the game.
"I think it's always a tough decision when a guy is throwing well, but again, that's how much confidence we have in all of our guys," he said. "That's how we feel is our best opportunity to win ballgames."
It was Karns' eighth start out of his last nine that he allowed less than two runs, and his fourth start of the season where allowed two hits or less.
"I want to go out there even if I have like 120 pitches," Karns said. "That's just a starter. We want to go as long as we can, and we kind of take pride in that."
The Rays ended up using five more pitchers after their starter, and the last reliever, Steve Geltz, gave up a walk-off single to J.J. Hardy to start off the team's 10-game road trip.
Friday was the seventh consecutive game where the Rays' relievers have given up at least one run. Despite the results, the confidence remains.
"We are going to have our lows, we are going to have our highs, but we have each other's back and I know our bullpen is really, really good," Karns said. "I still have all the faith in the world in them."
Connor Smolensky is an associate reporter for MLB.com. This story was not subject to the approval of Major League Baseball or its clubs.